Wearable tracker makes personal wellness fun for health IT guru
Bill Bunting, a popular Twitter health IT commentator, uses his Fitbit wearable tracker to make personal wellness fun and thinks wearables have a future in healthcare.
Bill Bunting looks at his Fitbit wearable tracker as part of the gamification of daily life.
Continue Reading This Article
Enjoy this article as well as all of our content, including E-Guides, news, tips and more.
The EMC executive, who has become well-known in the health IT social media world with his popular Twitter commentary on wearable health technology and other health tech topics, said his Fitbit Charge SR wearable tracker simply makes getting more steps fun.
A walker and bicyclist, Bunting, like many users of wearable trackers, avidly counts his steps, and that includes going to Target or the grocery store on bad weather days when being active outside isn't so pleasant.
Bunting works remotely from his Greenville, S.C., home. He and his wife, a physician assistant, have two children ages 2 and 4, and for him, even bounding upstairs to play with the kids is a good way to add steps toward his daily goal of 10,000 -- a standard wearable tracker metric.
"One of the biggest things for me is turning it into a game," Bunting, director of healthcare solutions at EMC, said.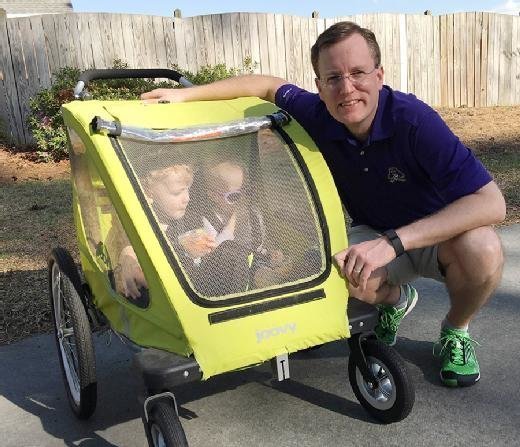 Another trick to get more steps: walking around the house while brushing his teeth with his Phillips electronic toothbrush, until the device's two-minute timer sounds. Of course, Bunting doesn't hit his 10,000-step goal every day, but "on weekends I obliterate that," he said.
Beyond trying to stay fit, Bunting, 34, uses his Fitbit as part of a concerted effort to keep his high blood pressure under control, with the aid of medication.
The Fitbit also comes in handy in measuring his resting and active heart rate, he said. "For me, the Fitbit is a daily reminder to up my daily activity," Bunting said. "The biggest thing is the awareness factor."
Although he's a Fitbit fan, Bunting also has some gripes. For one, his model doesn't issue "stand up now" reminders, as many wearable trackers do. For a remote worker, especially, that can mean extended sedentary sessions at the desk.
Also, he has misgivings about the accuracy of his Fitbit's sleep tracking mode. For example, if he's immobile in bed after waking, on his smartphone, and tending to his Twitter account or catching up on the latest news on the Internet, the Fitbit may count that as sleep.
But Bunting is generally sanguine about the prospects for wearable trackers in health IT. "If nothing else, there's the potential to directly control your data," he said. "But I think we're still a ways off from providers putting a lot of trust in the data we're getting from the devices."
As wearable trackers become more accurate, though, users and providers will be able to get more "actionable insights" from the devices and change their behavior.
Already, many major employers, including EMC, offer health insurance discounts and other benefits to employees who use wearable trackers and are willing to share the data they produce, Bunting noted.
Bunting also noted that at the recent HIMSS 2016 health IT show, much discussion revolved around mobile health apps and wearable health technology and their potential to create patient engagement.
"As patients get on these things, we've seen patient engagement grow," he said.
Dig Deeper on Mobile health systems and devices