Wearable health device helps former ONC coordinator rack up steps
Former ONC national coordinator Dr. Farzad Mostashari piles up thousands of daily steps with his Fitbit band, but he remains skeptical about the efficacy of wearable health technology.
There's a wearable health device clasped on the left wrist of Dr. Farzad Mostashari practically around the clock, but the former national health IT coordinator remains skeptical about wearable technology in healthcare.
At least for now.
Mostashari, whom many IT experts see as the most tech savvy, and, probably, forceful, leader of the Office of the National Coordinator for Health Information Technology in ONC's 13-year history, harbors a severe distrust of hype, even about his own wearable health device.
He headed the agency from 2011 to 2013 and was principal deputy for two years before that, when he oversaw, among other things, the historic enactment of the HITECH Act of 2009, which resulted in the adoption of EHRs by most health systems across the country.
The wearable health device that Mostashari uses now, incidentally, is a middle-of-the-line Fitbit Charge.
I like walking. As I get older, I actually do less 'exercise' exercise, where you actually get sweaty, and I try to work activity into my day.

Dr. Farzad MostashariCEO, Aledade, and former ONC coordinator
The fitness band helps Mostashari track the steps he racks up daily and weekly, usually on the shared-use Capital Crescent Trail along the Potomac River in Bethesda, Md.
Mostashari, 48, purposely located the startup he co-founded after leaving ONC -- Aledade Inc., -- of which he is CEO, at the nexus of the recreation trail to encourage employees to talk about work and walk simultaneously. The three-year-old firm is a value-based care company that operates accountable care organizations.
"I like walking," Mostashari said in a recent interview during one of those work walks. "As I get older, I actually do less exercise exercise, where you actually get sweaty, and I try to work activity into my day."
"I try to be out on the trail," he said. "As many of my one-on-ones I can do walking, I do. On a good day, I can get three, three and a half hours [of] walking in."
So for wearable health technology aficionados familiar with what have become fairly universal step count standards, Mostashari's numbers are pretty impressive: as many as 20,000 a day, with a 15,000 daily average and a 100,000 weekly goal.
He sort of competes with his friend, Arien Malec, a member of ONC's Health IT Standards Committee and a vice president at interoperability and population health company RelayHealth, on the seven-day metric.
In addition to his walkathons, Mostashari bikes the 3.5 miles each way to and from work, a 15-minute activity that his Fitbit, and most other wearable trackers for that matter, doesn't register as steps -- though his Google Fit smartphone app does.
In the meantime, while Mostashari, an internist and epidemiologist, depends on his device to register his steps, he said he has seen no scientific evidence that wearables have tangibly improved the health or boosted the activity of the millions of people who use them.
He also bears a gripe about health wearable vendors that echoes a key health IT industry problem he battled as ONC coordinator -- a distinct lack of interoperability between wearable systems and apps. For example, an Apple Watch user can't share or compare her activity data with a Fitbit or Samsung Gear user.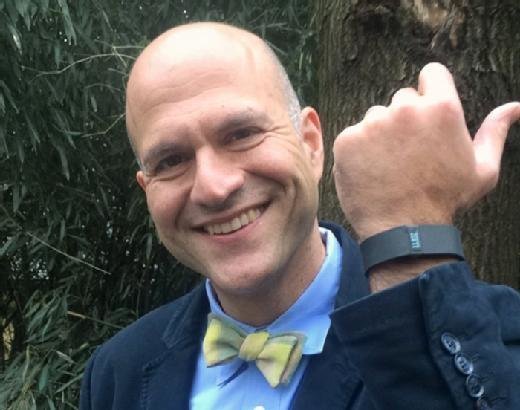 "It's a hell of a lot easier to share step counts with another app than it is to share medication lists, but the same sort of business interoperability questions appertain," Mostashari said. "Does Fitbit want their device to easily sync into Google Fit? Or would they rather keep people inside their walled garden where you'll compete with other people who have the Fitbit?"
"The real reason it doesn't integrate isn't because it's technically challenging," he added. "It's because they made a business decision not to interoperate."
As for the prospect of the widespread use of wearable health devices in the larger medical sphere beyond personal fitness and wellness, Mostashari is cautiously positive about a future filled with ubiquitous, invisible, interconnected sensors aiding clinicians, patients and family members.
But he's also pointedly skeptical about the present, despite the proliferation of wearable health devices from seemingly every wearable and watch vendor.
"The impact of technology is always overestimated in the short term and underestimated in the long term," Mostashari said.
Dig Deeper on Mobile health systems and devices