Wearable activity tracker helps health IT analyst train for marathons
After trading in a budget wellness band for a high-tech Fitbit, a health IT analyst finds the new wearable helps him train more efficiently for marathons.
Brian Eastwood knows his marathon training routes so well he doesn't need the GPS function on his wearable activity tracker, nor does he use the device's smartwatch notification functions.
But after 21 years of dedicated distance running, the 35-year-old analyst with the Chilmark Research health IT consulting firm in Cambridge, Mass., has found that his new Fitbit Surge wearable activity tracker has helped improve his training sessions in small, but significant ways.
Eastwood, a former health IT reporter for TechTarget (SearchHealthIT's publisher), IDG and FierceHealthcare, has a history with wearable activity trackers, but his others haven't been nearly as advanced technologically as his black Fitbit.
He had been amazed that an old running watch he bought for $7 from Wal-Mart lasted more than 12 years.
A little more than a year ago, Eastwood added a simple clip-on wearable tracker called the "Max" from employee wellness company Virgin Pulse and used both on his often grueling workouts on running paths.
"I did kind of get sick being that guy, after a while, running with two devices," Eastwood said.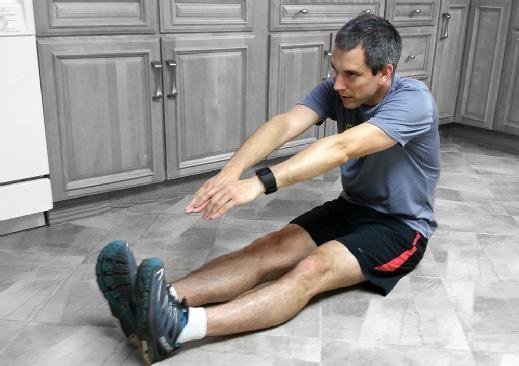 His logic for trading up from the Max: "I wanted an activity tracker that could also serve as a running watch, and that's where the Surge came in."
A contrary view on 10,000-step benchmark
Interestingly, under his health insurance plan, Eastwood has earned incentive-based discounts and cash awards for reaching activity goals with both the Max and the sleek $250 Fitbit.
However, unlike many wearable aficionados who roll with the de facto, industry-standard 10,000-steps-a-day goal, Eastwood -- who runs 30 to 50 miles a week training for 26.2-mile marathon races, including the occasional Boston Marathon -- reaches for quarterly goals. For the record, he averages 15,000 steps a day, a hefty total given his regular "off" days from his training regimen.
Actually, that 10,000-step metric is one of Eastwood's peeves about the wearables culture. He said he feels that it's an arbitrary number that can actually drive potential long-term users away when they find it often unattainable.
Meanwhile, the Fitbit proves most useful to Eastwood by honing the rhythms of his runs by tracking his distance, time and pace. Every mile, the device vibrates and tells him how fast he ran the last mile.
Eastwood also checks his heart rate data at the end of runs, but doesn't use advanced tracking features such as stride measures.
"It helps me figure out my pacing a little more exactly," he said. "What I like about it is it offers a good amount of data during a run, but without the overload."
Wearables must appeal to the chronically ill
As for wearable activity trackers' role in health IT and clinical use in general, Eastwood, who as an analyst specializes in consumer engagement and care coordination, said he's guardedly optimistic.
The key challenge, he said, is for vendors to connect on a much bigger scale with users beyond the active, already-well crowd, such as people with chronic health conditions, such as diabetes and heart disease.
"I also think price points need to come down to sort of extend that adoption circle to folks who may need them a little bit more," Eastwood said.
For Eastwood, though, it's full adoption.
He only takes his Fitbit off when he showers, a break that also serves as the device's recharge time.
At night, the wearable activity tracker monitors his sleep and becomes an "inactivity" tracker.
Dig Deeper on Mobile health systems and devices