Luis Louro - Fotolia
News
Stay informed about the latest enterprise technology news and product updates.
VNA systems market ramping up
As meaningful use pushes image sharing to more providers and patients via Web portals, vendor neutral image sharing archives are gradually displacing older PACS.
When Dax Ewbank and his team of imaging specialists at Integris Health in Oklahoma City embarked on a challenging health IT implementation -- converting hundreds of thousands of medical images and studies from outmoded physical media to a modern vendor neutral archive (VNA) system -- they knew the stakes were high.

Download this free guide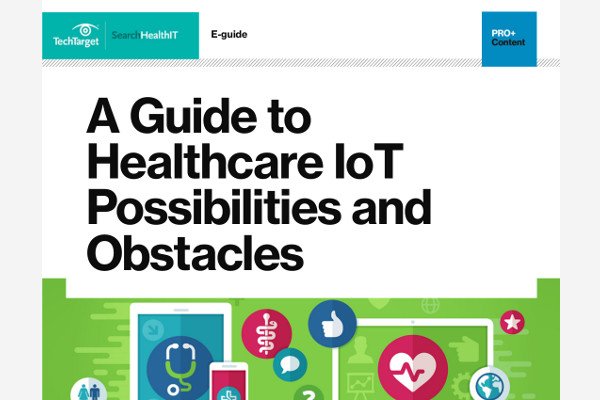 Download Complete Guide to Healthcare IoT Now
Healthcare IoT has the potential to greatly improve patient care – but it's not without its challenges. Download this essential guide in one PDF and learn how to overcome the obstacles: security, data overload, regulations, and more.
It was an expensive investment. It was time-consuming. And it was a new experience with a technology that only in recent years has gained serious momentum in healthcare systems that need speedy or near-instant access to images not only from radiology but also, increasingly, from disparate hospital departments such as cardiology, oncology, ophthalmology, dermatology and the emergency room.
To do the job, Oklahoma's biggest healthcare system bought Evercore, a VNA platform from TeraMedica Inc., a small but well-regarded Wisconsin-based VNA vendor formed from the roots of the Mayo Clinic.
"It saved our data," Ewbank said. "We were coming out of an antiquated situation with stuff stored on old technology, tapes and MODs [magneto-optical drives]. The prospect of coming out of it in good shape was pretty grim."
VNA market growing
VNAs are distinguished from picture archiving and communication systems, which first brought digital image sharing and storage to radiology and cardiology in the early 1980s, by functioning more as central buckets for images from many sources and diverse vendors. PACS are proprietary systems that share little, if at all, and are scattered around a healthcare system.
The market for VNAs, if not booming, is healthy and expanding, according to analysts. That development is happening despite financial hurdles. The federal budget sequestration in 2013 took $11 billion out of Medicare hospital incentives, which was a major blow for some hospitals. Others chose to spend limited cash on new EHR installations, or upgrading existing EHRs from large vendors such as Epic Systems Corp. and Cerner Corp.
"The industry is not quite there yet, but many people have brought on a VNA. I would say it's steadily growing," said Ben Brown, an analyst at KLAS Enterprises. "In the long term, VNAs … will more replace the A in PACS than all PACS."
The PACS sector is "fairly saturated" and will likely be more or less supplanted by VNAs a decade from now, Brown said.
Integris Health goes with TeraMedica VNA
Ewbank said he deliberately chose an independent, VNA-only company like TeraMedica rather than a competing VNA from one of the large imaging companies that have been operating for decades in the PACS market, and lately, in the VNA space.
Integris and TeraMedica declined to reveal the price of the system Integris bought. But VNAs in the $500,000-to-$900,000 range are common, and more-than seven figure systems also are out there. Partnering with Fujitsu, TeraMedica recently installed a big one in the Australian state of New South Wales, with a total price tag of about $26.3 million in U.S. dollars, according to TeraMedica.
Having complete control over its image archive was important to Integris; health IT managers say they didn't want to cede management or storage to an outside company. Instead, the healthcare system expanded its own server banks to accommodate the huge influx of new imagery data being hypermigrated to the new VNA from Integris' scattered PACS archives and old physical media. For now it is mostly radiology images, but plans are for the VNA to also soon start ingesting imagery from cardiology, ambulatory clinics and other departments.
VNA industry boasts varied offerings
The generally bigger, traditional PACS companies that are alternatives to VNA-only vendors such as TeraMedica and one of its top competitors, Perceptive Software-Acuo Technologies, include Agfa HealthCare, GE Healthcare, Novarad Corp., Royal Philips and Siemens Healthcare USA, which lately has formed a partnership with Dell Inc. The market contracted earlier this decade, asLexmark International Inc., acquired Perceptive, which later merged with Acuo.
Another PACS vendor with "the interfacing experience and variety on par with TeraMedica or Acuo" is Merge Healthcare Inc., according to a KLAS 2013 market research report, Finding Out What Is in Store for VNA.
Also cited in the report, which surveyed 150 healthcare providers using VNAs and PACS about the evolution of separate PACS toward the vendor-neutral approach, as "on the radar" in the VNA sphere: BridgeHead Software Ltd., Carestream Health Inc., Cerner, CoActiv Medical, Fujifilm Medical Systems U.S.A. (which has partnerships with TeraMedica and Acuo), Iron Mountain Inc., Mach 7 Technologies, McKesson Corp. and Sectra AB.
The four fully KLAS-rated vendors with the most customer adoption and the "strongest reputations for functionality and ongoing development" are Acuo, Dell, Merge and TeraMedica, according to the KLAS report.
One well-known radiologist and advocate for cutting-edge medical technologies, Rasu Shrestha, M.D., chief innovation officer at University of Pittsburgh Medical Center, said of VNAs: "They're a hot topic."
What's truly vendor-neutral?
But Shrestha warned that any conversation about VNAs must include a mini-controversy that's sort of a running plot line in the industry: what constitutes a truly vendor-neutral VNA.
The VNA-only vendors, for example, TeraMedica and Acuo, argue that only their products -- as opposed to those from traditional PACS companies -- enable users to look at images from various makes of hardware systems that shoot the images, with a single image viewer, their own.
"There really isn't a lot of vendor neutrality because most of them still work with a [PACS] vendor," Shrestha said.
But Shrestha said the evolving VNA vendorsphere is benefiting from a de facto standard, DICOM (Digital Imaging and Communications in Medicine), which he said portends well for true interoperability and integrating what he calls the "family of ologies" into VNA image banks.
"Now you have a way to manage content. The big notion is to enable a greater degree of interoperability across various systems," Shrestha said.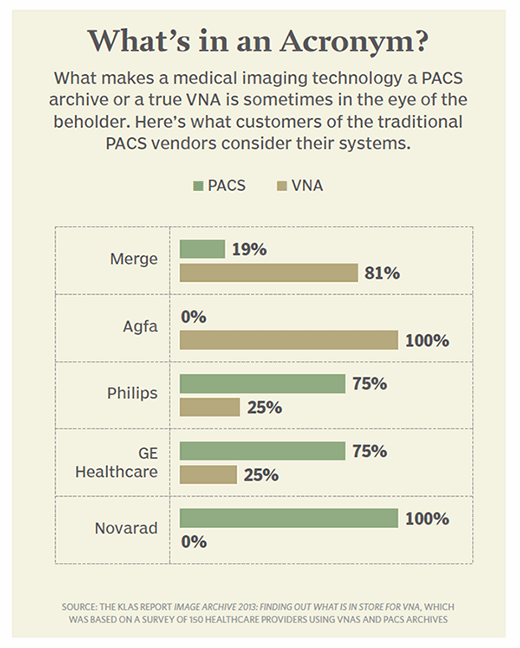 Meanwhile, at Pomona Valley Hospital Medical Center in California, veteran PACS administrator Herb Medford is pursuing the same goal of converting an older constellation of PACS archives to a central VNA repository for images from standard X-rays and CT scans to sonogram studies and video clips of surgical procedures.
While the data is stored temporarily on Pomona's premises, for four or five months, the healthcare system went the opposite way from Integris by downsizing its server corps to save on cooling, heating and hardware upgrade and maintenance costs and outsourcing image storage to the Siemens-Dell partnership.
"It made good sense. We had a great challenge in moving from a legacy … the PACS of yore," Medford said.
A VNA cloud
Pomona contracted for the Siemens ISA (Image Sharing and Archiving) service, a hybrid enterprise-cloud storage system that backs up the images in what the company claims is a fail-safe process. First, the image data is moved from California to Siemens' capacious server farm at the German conglomerate's U.S. headquarters in Malvern, Pa., and then up to Dell-maintained cloud storage enabled by Dell hardware.
Medford said he ran speed tests on retrieving images from Malvern compared with Pomona's servers, and the results were usually about the same -- 35 to 40 seconds. In any case, whether the images are stored locally or remotely, "it's invisible," Medford said.
"And you're constantly backed up."
Siemens touts such redundancy as a primary benefit of its system. "If disaster happens, and, God forbid, a plane crashes into one of the [storage facilities], the data is safe," said Rik Primo, Siemens director of strategic partnerships.
Customers -- in Siemens' case, mostly accountable care organizations and integrated delivery networks such as Pomona -- pay Siemens a monthly fee for the service, which includes as much bandwidth as is needed to maintain the terabytes of data that reside in the cloud.
Primo said the "popular belief" is that cloud storage for mammoth, disk-consuming medical images is expensive, "but it is not the problems of the customer, who is only paying a fee for sending the image."
What's driving VNA market
In the meantime, while some forces are holding back more widespread adoption of VNAs, other economic developments are propelling the industry forward, contended Steve Tolle, chief strategy officer for Merge. KLAS, in a separate report on the company, said top executive turnover and some financial turbulence raised doubts among some customers, but the company has weathered the changes well.
Incidentally, Tolle and others said the federal government's meaningful use program is not a big factor, though it will become more important if the program moves on into stage three as planned. Indeed, some VNA companies have found the medical industry's rush toward electronic records systems over the last decade a distraction from their own goal of digitizing images.
Perhaps the biggest driver is large healthcare systems acquiring smaller hospitals and practices that have their own proprietary PACS archives for radiology, cardiology and sometimes even smaller specialties such as dermatology, Tolle said.
"If you're consolidating hospitals, you're going to inherit disparate aging systems, primarily PACS," Tolle said.
Greg Strowig, TeraMedica's COO, expressed the credo of the new breed of VNA companies.
"Our take on it from our inception was to build a product that could handle the needs of any department and file type," he said.
Let us know what you think about the story; email Shaun Sutner, News and Features Writer or contact @SSutner on Twitter.
Dig Deeper on HITECH Act and meaningful use requirements