Twitter savvy health IT exec uses wearable tracking device
The chief innovation officer of a major healthcare system uses a smart wearable band to track steps, get notifications and stay active; he also sees it as a key health IT tool.
You'll find Rasu Shrestha, M.D., at the heart of a lot of what's happening on the leading edge of health IT.
Shrestha is an organizer and featured speaker at some of the best conferences, a leading member of the health IT Twitterati and a healthcare venture capitalist as executive vice president of University of Pittsburgh Medical Center (UPMC) Enterprises.
In his role at UPMC, chief innovation officer, he works with some of the coolest health technology on the market; he also uses himself as a living laboratory of sorts by tracking his own health metrics with his wearable tracking device.
More than a tracker
The device is a Microsoft Band 2, a wearable tracking device that's not quite a smartwatch, but substantially more than a step counter because it receives text, email, and call notifications and includes a GPS and barometer, among other features.
That makes sense for Shrestha, an avid Microsoft guy who in 2014 helped introduce a fleet of Microsoft Surface tablets to his health system as replacements for Apple iPads, and generally disavows Apple stuff -- including the Apple Watch -- as well-designed, but more trendy than functional, at least for now.
"If you're serious about your health and about the statistics around your wellness, I think the device that I have ... is actually superb," Shrestha, a radiologist by training, said.
Shrestha said the only time he takes off the smart wearable device is when he's in the shower.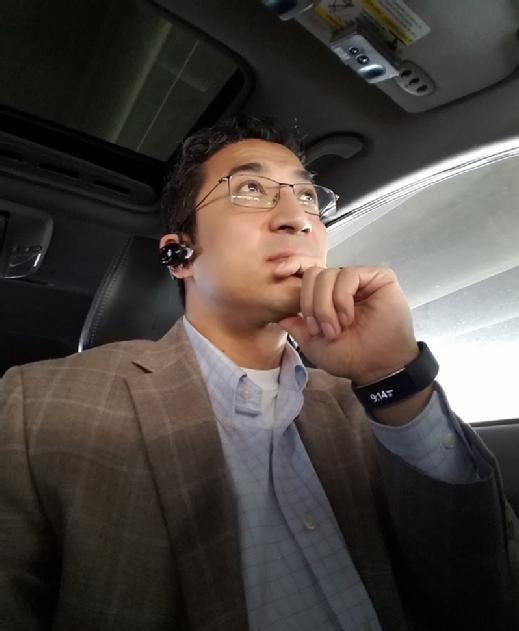 He also wears it to bed, where he tracks his sleep, what little of it the 4-hour-a-night or so sleeper gets.
"Sleep is overrated," he said. "There's good and bad to all of this. The band tells me how badly I sleep and tells me how much I'm not walking."
Wearable tracking device gets around
Actually, Shrestha walks a lot. Whether it's on a sprawling healthcare exposition floor, in a hospital on the UPMC campus, on his treadmill at home or at the gym; he's always looking to get steps.
People equate innovation with anything that's new, that's cool, that's great, but innovation, at the end of the day, really is about behavior change.

Rasu Shrestha, M.D.chief innovation officer, UPMC
As most wearable tracking device fans know, it's not that easy to reach the standard 10,000-step milestone on a daily basis if you're in the white-collar world.
But Shrestha usually gets in his 10,000 steps and obliterates that goal on weekends with runs and bike rides in his leafy suburban Pittsburgh neighborhood.
Beyond his personal affinity for the technology, Shrestha is deeply optimistic about the efficacy of wearables in healthcare.
"People equate innovation with anything that's new, that's cool, that's great, but innovation, at the end of the day, really is about behavior change," he said. "How do you incentivize behavior change, whether it's walking more or exercising more?"
Making tech more invisible
Shrestha said wearables do just that. And, in a way, while they sometimes make a tech fashion statement on the wrist, he said they also use design to make technology more "invisible," not so much dependent on replicating old paper-based workflows as many EHR systems appear to do.
For example, he said his wearable tracking device relieves him somewhat of the chore of constantly looking at his phone because it notifies him on his wrist, and he can dismiss it or send a macro reply saying he'll call back.
"In many ways, it's flowing into the being of who I am and what I do on a day-to-day basis," Shrestha said. "And that, I think, is a strong indicator that these fitness devices, these wearables, are coming of age."
Shrestha said he sees growing acceptance of wearable-produced health data by physicians.
Among the challenges, though, are how to standardize the ways various devices from different vendors track health-related metrics and to ensure uniform accuracy.