alex_aldo - Fotolia
News
Stay informed about the latest enterprise technology news and product updates.
The CIO of MGH discusses health information exchange challenges
It is well known in the health IT world that health information exchange challenges abound. The CIO of MGH discusses the challenges he has witnessed in Massachusetts.
Although Keith Jennings, CIO at Massachusetts General Hospital, is confident in the organization's decision to move to Epic Corp.'s EHR, he recognizes that "they communicate data very well between other Epic customers but not everyone else has Epic." And this can pose a problem when it comes to sharing data and providing patient care.

Download this free guide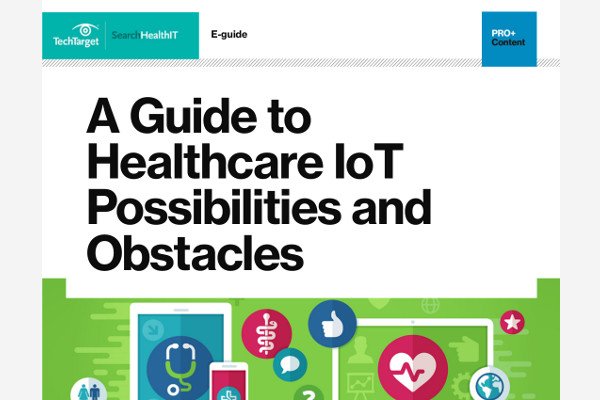 Download Complete Guide to Healthcare IoT Now
Healthcare IoT has the potential to greatly improve patient care – but it's not without its challenges. Download this essential guide in one PDF and learn how to overcome the obstacles: security, data overload, regulations, and more.
By submitting your personal information, you agree that TechTarget and its partners may contact you regarding relevant content, products and special offers.
You also agree that your personal information may be transferred and processed in the United States, and that you have read and agree to the Terms of Use and the Privacy Policy.
Some health IT experts have asserted that a promising answer to the lack of interoperability is health information exchanges. While the idea of a health information exchange may be sound -- healthcare organizations participating in a health information exchange can send and share data seamlessly -- the reality is that health information exchange challenges are many and the exchanges have not lived up to their name. Not only because, as it turns out, health information exchanges themselves are siloing data, but also because certain healthcare organizations that are integral to a patient's care aren't connected and participating in the health information exchange.
At least, that's true with Massachusetts and the statewide health information exchange, the Mass HIway, Jennings said.
"Nursing homes and post-acute facilities [for example], many of them don't even have computer systems, they're not covered under meaningful use, they're not affected that way but that's where patients go, many sick patients," Jennings said. "Your higher cost patients go after they've received acute care and the question is, how do you communicate with the care givers after [the patient has gone to] those institutions? How do they know … what happened to that patient or what [the patients' needs are] coming out of an acute care facility like Mass General? And if they have questions, how do they communicate back with the care teams here?"
Jennings said that while health information exchanges were intended to facilitate the sharing of data between various healthcare organizations, it did not turn out that way. In his opinion, this is mainly because one of the health information exchange challenges is that not everyone that is involved or could be involved in the care of a patient is able to connect to the system and share data.
For example, Jennings explained that although in western Massachusetts there are five local health information exchanges, they don't necessarily reach across the entire state.
Therefore, if a patient is seeing a cardiologist in western Massachusetts, that cardiologist may be able to communicate with Cooley Dickinson, a hospital located in Northampton, Mass., but should that patient go to MGH in Boston, "there's very limited or poor electronic communication between Mass General [and] Cooley [and] that private practice cardiologist who's affiliated with Cooley Dickinson," Jennings said. "That's the piece that we're … missing."
Should that cardiologist's patient go to MGH, that cardiologist will want to know information such as what doctors at MGH did, what medications the patient took, and what procedures were done, Jennings said.
MGH's options for sharing data
Jennings explained that if a healthcare organization isn't hooked up to the state health information exchange then another option for sharing data is to log into MGH's physician gateway website in order to see a patient's documentation, test results, notes, and more.
I don't know that it's clear yet what's the best way because we have a state [health information exchange]. The question is: Why isn't everyone using it?

Keith Jennings, CIO at Massachusetts General Hospital
However, there are a few issues with this method.
"That's somewhat unsatisfying to the clinician," Jennings said. "Granted they can see [the patient's documentation, test results, and notes] but what they really wanted was to get that into their electronic record so that either they can see it when they want or if there's clinical information that could be used for clinical decision support you really want that discrete data in the system as opposed to a document you scanned in. You want the raw data."
Jennings explained that some clinicians also don't want to log in because it means they'd need to keep track of their user name and password.
"If they only send one patient a year to Mass General, then keeping track of a password to the Mass General site … becomes problematic and sometimes they won't, they don't want to do that," Jennings said.
Should the physician not want to log into MGH's physician gateway website, the only other option is to mail or fax them the patient's documents, Jennings said.
Health information exchange challenges: Fixing the system
For Jennings, the answer is unclear when it comes to trying to fix health information exchanges.
"I don't know that it's clear yet what's the best way because we have a state [health information exchange]," Jennings said. "The question is: Why isn't everyone using it?"
However, there is no doubt that health information exchanges are important he said. But it may take the next couple of years or the next decade to figure out how to untangle the health information exchange mess.
One obvious and clear way to fix this problem is to have everyone connect to one health information exchange.
"There are still people sitting on the side lines. They haven't even stepped in," Jennings said. "I think there would be benefit if we could get everybody to dip a toe in the water and over time we'll get the pool at the right temperature."
Have you run into any health information exchange challenges on your state HIE? Let me know; shoot me an email at klee@techtarget.com or find me on Twitter at @Kristen_Lee_34.
Dig Deeper on Health information exchange implementation and management