Smartwatch wearable helps OCR HIPAA audit director stay fit
Deven McGraw, director of OCR's HIPAA audit program, wears her smartwatch during free-time workouts and while getting steps on the job and says the device helps her keep fit.
Deven McGraw, one of the nation's top health information privacy officials, says her smartwatch wearable helps keep her fit, but admits she doesn't rack up extra steps doing HIPAA audits.
That's because as deputy director for health information privacy of the Department of Health and Human Services' Office for Civil Rights (OCR), McGraw is overseeing a round of desk, as opposed to in-person, audits of healthcare organizations' and their business associates' HIPAA compliance.
But McGraw, 52, records tens of thousands of steps a week anyway on her Fitbit Surge smartwatch wearable, both in the halls of government and on early morning runs on the scenic paths along the Anacostia River near her home in Washington, D.C.
"The Fitbit Surge is on my wrist all the time except when I'm asleep," McGraw said.
As an OCR regulator who oversees how healthcare organizations collect, store and protect health data, McGraw said she sees wearable devices as "incredibly important for health and wellness."
"We do often not regulate them for privacy and security," McGraw said. "However, we have made clear that the right of the individual to get information from their medical record includes the ability to have that information sent to a device."
"We think [wearables] are an important part of health and wellness, and we're doing what we can to be supportive of that environment," she added.
Meanwhile, McGraw is part of a running group and regularly trained for half-marathons for a while. She also has a background with wearables, having previously used an old Nike running watch to track her on-foot mileage.
"It was very helpful to let you know when to turn around," she said with a chuckle. "I don't want to run too far."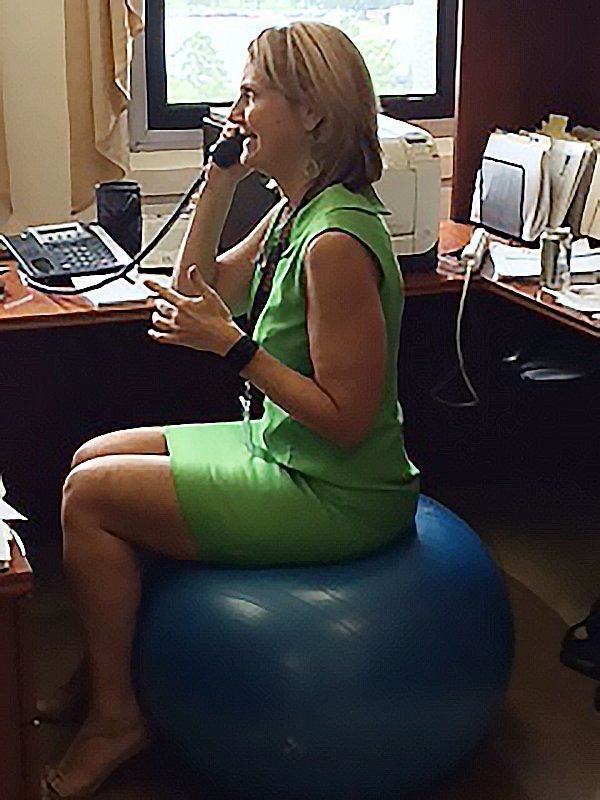 But since she replaced the Nike device with the newest-generation smartwatch wearable in February, she has added steps and heart rate, while still tracking mileage during her three- and four-times-a-week runs.
She also uses the Fitbit's notification features to alert her to when a call or email is coming in to her personal phone, an iPhone. As a government employee, she and colleagues use Blackberry phones in their official capacities.
As a public official, she also travels on a budget. That means, to put it politely, hotel gyms that are often less than adequate.
"Just the ability to pack your shoes and you're ready to go, helps," McGraw said. "And then to have a way to track your mileage, you don't have to be completely familiar with your surroundings."
Like many other wearable devotees, McGraw is happy picking up steps toward her 10,000-a-day goal even when she's not working out per se, by walking to the grocery store and coffee shop and just strolling around the neighborhood. For the record, McGraw said she usually exceeds the goal five days a week.
McGraw also maintains bone strength with some weight training, the kind of exercise some wearables don't count steps for, and she works at a desk that can be converted to standup position. She also has a big exercise ball in her office.
At work, McGraw uses her smartwatch wearable to tabulate credit for communicating with people, but not by text, email or phone. Rather, she walks to their offices to speak with them.
"I think it's helpful to do that, actually," she said.
Another trait McGraw has in common with other wearable fans is some nagging complaints about their capabilities.
For example, as an athlete who used to strap a clinical-grade device across her chest to measure her heart rate, she said she thinks her smartwatch wearable's heart rate counts are "way off."
"I just kind of take it with a grain of salt," she said.