Smartwatch activity tracker aids mHealth researcher with run regimen
A medical school professor and mHealth researcher depends on her smartwatch wearable for tracking training runs, but doesn't use other smartwatch features.
Sherry Pagoto, an mHealth researcher and professor of clinical psychology at University of Massachusetts Medical School, has two treadmill desks, one at work and the other at her home office.
But the fitness and wellness enthusiast rarely uses her Fitbit Surge smartwatch activity tracker when she's tromping on the treadmill during a conference call; those steps have up to now gone largely unrecorded.
Nor does Pagoto wear the smartwatch activity tracker when she's walking around at work or at home, nor has she yet much tapped the Surge's panoply of smartwatch notification features.
Rather, Pagoto, 43, a committed distance runner, employs the smartwatch activity tracker nearly exclusively to prepare for half-marathon races to gauge pace, distance and heart rate during her 30 to 40-miles-a-week worth of training runs on roads near her Natick, Mass. home.
Pagoto recently upgraded to the Surge from an older Garmin running watch, which she felt took too long to load its GPS before runs.
"But with the Fitbit Surge, because the Fitbit is measuring your steps, you can actually start running right away," Pagoto said, noting that the Fitbit probably reflects her "type A personality."
"I'm so impatient that when I'm ready to run I just want to go, and waiting two minutes is painful," she said.
While Pagoto has run two full marathons, she's done 13 half-marathons. One of her goals is to run a half-marathon in every state; so far she's racked up about 10 states.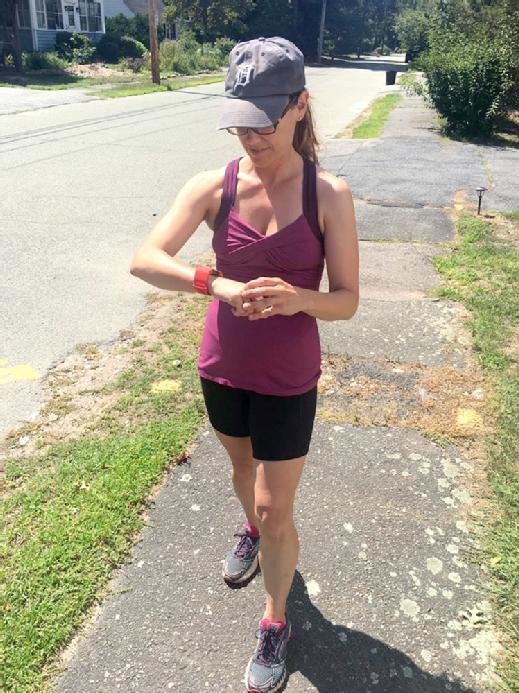 At the Worcester, Mass., medical school, Pagoto, who holds a Ph.D. in clinical psychology, teaches a class on clinical trials. But she mainly does grant-funded research in the areas of weight management and cancer and diabetes prevention.
Indeed, Pagoto said she thinks wearables hold much promise in managing and preventing such chronic conditions, which are the major focus of health IT population health programs.
"What's nice about the wearable space right now is there's sort of a place for … lifestyle activity and structured exercise," she said. "Wearables can help on both ends."
She noted that early generation wearables were usually step counters or running watches.
"Now you have products that are sort of merging and serving multiple purposes," she said. "So I think for populations with chronic disease, you want more options because people are at very different levels. People with chronic disease might start with step counting and that can be a gateway for more structured activity."
As for Pagoto, she doesn't really hew to the standard 10,000-step metric many wearable activity tracker users have adopted. She knows she exceeds that number on running days and gets a mile or two in daily on the treadmills.
Pagoto maintains an active social media presence (she is a co-founder of the UMass Center for mHealth and Social Media) and web page and co-coined the popular Twitter hashtag #plankaday, a reference to the ubiquitous abdomen strengthening exercise.
She acknowledged, however, that wearable activity trackers and smartwatch activity trackers don't measure the plank maneuver -- a stationary act.
"I wish it did," she said of her own device.