News
Stay informed about the latest enterprise technology news and product updates.
Self-monitoring, proactive alerts among applications of telehealth
A remote patient visit is the best-known example of telehealth, but the technology's uses and types of patients it can reach are expanding.
Telehealth has been used successfully across different disciplines within healthcare. This remote-access capability that facilitates interactions between caregivers and patients is growing in popularity. While reimbursements have been slow to catch on, payers are becoming more flexible and beginning to accommodate the various services and applications of telehealth.

Download this free guide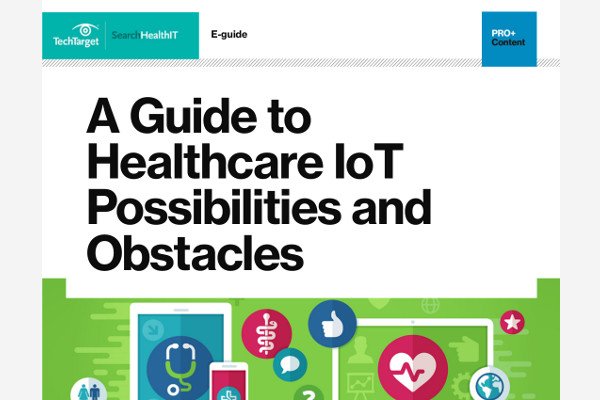 Download Complete Guide to Healthcare IoT Now
Healthcare IoT has the potential to greatly improve patient care – but it's not without its challenges. Download this essential guide in one PDF and learn how to overcome the obstacles: security, data overload, regulations, and more.
Telehealth can provide benefits within four main areas of healthcare.
Proactive alerting and automated responses
There are devices that are able to detect and recognize when a patient has experienced a traumatic event, such as a fall or a seizure. Through an alert that is transmitted to either a call center or healthcare provider, a caregiver is able to quickly respond to and treat such events, often ensuring a better outcome for the patient.
Patient care management
Telehealth keeps patients connected with their care team, due to its extended communication capabilities. It also provides means for the caregivers to be aware of the activities, medications and other health information that are important to their patients' care.
Virtual consultations
There are cases where patients in rural areas may benefit from access to specialists without having to drive long distances to visit them. There are also other types of virtual consultations with psychiatric patients that can occur remotely as well. Carolinas Medical Center-Randolph, based in Charlotte, N.C., has been using these virtual visits for many of their patients, conducting over 2,700 teleconferences last year.
Lifestyle coaching and activity monitoring
The rise in chronic conditions along with the popularity of mobile devices and mHealth apps have created an opportunity for telehealth to provide patients with a digital lifestyle coach. Smartphone device manufacturers and mHealth app developers have introduced thousands of products into the marketplace that have had a significant impact in encouraging patients to manage their conditions and monitor their overall health.
The benefits of telehealth extend beyond patient care for healthcare organizations. The diverse applications of telehealth can increase productivity and reduce both readmission rates and emergency visits. While there are many possible reasons to implement a telehealth project, any of those listed above can justify the adoption of telehealth for a health organization.
Reda Chouffani is vice president of development with Biz Technology Solutions Inc., which provides software design, development and deployment services for the healthcare industry. Let us know what you think about the story; email editor@searchhealthit.com or contact @SearchHealthIT on Twitter.
Dig Deeper on Health care cloud applications and services