popyconcept - Fotolia
Remote patient monitoring technology becoming imperative for providers
Major healthcare systems are adopting remote patient monitoring systems and technology for groups of patients with chronic conditions, and RPM vendors are having success.
The sprawling University of Pittsburgh Medical Center is at the forefront of a wave of large healthcare systems that are transforming themselves into their own insurers.
An increasingly important part of that approach is using remote patient monitoring technology in large-scale population health programs to keep the chronically ill out of the hospital and more engaged with their own health, and so drive down costs.
On June 1, University of Pittsburgh Medical Center (UPMC) rolled out its biggest remote patient monitoring technology initiative to date.
It's a project involving some 800 patients with congestive heart failure, each of whom has been provided with a free kit containing remote patient monitoring technology from Vivify Health Inc.
UPMC, through its UPMC Enterprises venture capital arm, is also an investor in Vivify; it provided the startup with $10 million as part of a recent $17 million financing round.
The kits include a pulse oximeter, blood pressure cuff, weight scale and a 4G tablet -- all wireless-enabled out of the box -- to which metrics from the devices are transmitted, which, in turn, uploads the data to a UPMC care team.
The value of home patient monitoring technology -- for patient and provider
Andrew Watson, M.D., UPMC vice president and medical director of UPMC Telemedicine, said the health system's moves toward becoming a payer is driving projects such as the remote patient monitoring program with Vivify.
"The technology is constantly improving. We bear a lot of risk. All of a sudden you're looking at value," Watson, who also is vice president of the American Telemedicine Association (ATA), told SearchHealthIT. "If you can work with patients at home, you're creating an early warning system."
Vivify was among a raft of young, growing companies showcasing remote patient monitoring technology systems at the May ATA 2016 conference and trade show in Minneapolis.
"You can't find a health system today that's not looking at a strategy to bring more care into the home and community," Marcus Grindstaff, COO of Care Innovations LLC, one of the more well-known vendors of turnkey remote patient monitoring technology systems, said in an interview on the show floor.
Care Innovations, an Intel Corp. subsidiary with an array of remote monitoring software systems, also acts as a consulting firm and a sort of systems integrator. The company helps providers stratify their care populations, staff their clinical teams, integrate remote patient monitoring and population health analytics into their EHRs and choose their hardware.
ATA 2016 also was a forum for representatives of providers such as Barnes Healthcare Services, a respiratory health-oriented homecare agency in Valdosta, Ga., to talk about progress they've made with remote patient monitoring technology.
Remote patient monitoring is the low-hanging fruit that's going to force the healthcare industry into telemedicine.

Elizabeth Grossdirector of marketing and communications, ARC Devices Ltd.
Amy Day, director of respiratory services for Barnes, said the agency has been able to significantly shave doctor visits, readmission rates and emergency room usage by remotely monitoring a cohort of about 400 chronic pulmonary obstructive disease patients using connected pulse oximeters, scales and blood pressure cuffs.
After acknowledging a few years ago that Medicare and Medicaid reimbursement trends were moving toward value-based payments, "the leaders of our company made a decision, let's move ahead and let's invest in a telehealth [remote monitoring] solution," Day said at an educational session at the conference.
Meanwhile, Paschall, Vivify's vice president for business management, demonstrated to a booth visitor at ATA 2016 some of the components of Vivify's "amateur-proof" home patient monitoring technology kit.
Patients punch a four-digit PIN number into the HIPAA-compliant tablet-based system and they're online with UPMC. No browsing, though. The tablets are locked down.
"They turn it on when they get home and it just sits on the counter," Paschall said. "It's paired and ready to go."
Vivify's system constrains the remotely gathered health data by coding high-risk readings with the color red, yellow for rising risk and a standard gray background for "good."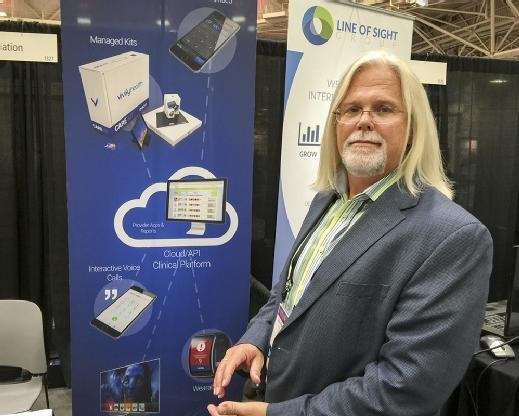 Paschall is proud of the simplicity of his company's system, which he said yields 95% patient compliance.
"It's also simple for the caregiver," he said.
The business case for remote patient monitoring tech
Remote patient monitoring is also opening business opportunities for health IT and health tech vendors that make and sell connected or connectable devices.
ARC Devices Ltd., a purveyor of no-touch thermometers that has up to now targeted traditional hospital settings and consumers, is to enter the remote patient monitoring market, Elizabeth Gross, the company's director of marketing and communications, said.
With the advent of home care and its convergence with healthcare approaches such as precision medicine, Gross said the time is propitious for connected thermometers to automatically transmit readings from home so clinicians can better calibrate medication regimens.
"We're at the precipice of it," Gross said. "Remote patient monitoring is the low-hanging fruit that's going to force the healthcare industry into telemedicine."