Population health management platform uses AI, machine learning
In this Innovation Spotlight SearchHealthIT takes a look at a population health management platform that is utilizing AI and machine learning.
Editor's Note: Each month, the editors at SearchHealthIT recognize an innovative software, service or technology...
Continue Reading This Article
Enjoy this article as well as all of our content, including E-Guides, news, tips and more.
approach. CareSkore and its population health management platform is our April 2017 selection.
Product: CareSkore's Chronic Care Management
Release date: 2016
Some areas of Chicago are struggling. Madison Sample Jr, M.D., would know. He grew up in an area of the city called Roseland where the crime rate is high -- Roseland raked 8th for violent crimes -- and unemployment is at 17.8%, according to the Chicago Tribune.
"More and more people [have] lost their jobs and access to healthcare became much more challenging," Sample, now vice chairman of the department of anesthesiology at Methodist Hospital of Chicago, said.
On top of the challenges certain Chicago populations face, Sample added that healthcare is lagging behind when it comes to utilizing and deriving value from data in a meaningful and timely manner.
Sample said given that Methodist's readmission rate was over 20% -- he said this should be 12% or less -- and its Hospital Consumer Assessment of Healthcare Providers and Systems patient satisfaction scores were low, Methodist needed something to help improve those outcomes.
The last numbers showed that our readmission rates were down to 4%. That's almost unheard of.

Madison Sample Jr, M.D.vice chairman of the department of anesthesiology at Methodist Hospital
That's why Methodist turned to CareSkore, a company based in Mountain View, Calif., that provides a population health management platform called Chronic Care Management. CareSkore's platform leverages artificial intelligence (AI) -- CareSkore's AI-enhanced patient engagement technology is called Iris -- and machine learning -- CareSkore's machine learning analytics engine is called Zeus -- to deliver real-time predictive and prescriptive insights.
"We wanted to go with a company that could help us primarily with [two things]: One is much better data and the other is patient engagement," Sample said.
What CareSkore does
Aditya Mangal, vice president of customer success and operations at CareSkore, explained that CareSkore's population health management platform is able to provide a holistic view of a patient by digesting all the factors at play in a patient's care: clinical factors, financial factors, claims data, doctor's notes, socioeconomic factors, and social differences, for example.
AI becomes invaluable when dealing with all this data because "it's basically using the data that we gather… the data that we capture every day, and builds upon that to be able to make decisions [and] constantly learn from previous data or the previous decisions that have been made," Mangal said.
While the AI component of CareSkore helps healthcare organizations continue to learn about and better understand their patients, Mangal said within CareSkore's population health management platform, AI is also partnered up with predictive analytics.
"We are applying artificial intelligence, machine learning to all of this data that is collected and applying our models, our proprietary models, to do predictive analytics on every individual patient," he said.
This allows CareSkore to inform healthcare organizations of a patient's risk of readmission, risk of hospitalization, risk of sepsis, risk of falls and even risk of mortality.
Mangal added that CareSkore is heavily connected to a healthcare organization's electronic health record (EHR). The first step in the implementation process is "a one-time data dump" from all the patients' medical records including clinical and claims data; in other words, historical data. Mangal said this is everything it needed in order to begin the predictive analytics. Second, CareSkore receives patient data and updates in near real-time using HL7.
Healthcare organizations can access information in CareSkore's platform in two ways, Mangal said. The first is that CareSkore has its own proprietary system that providers can log in to and see all of a patient's information. However, CareSkore eliminates the need to log in to multiple systems by inputting information back into healthcare organizations' systems using APIs.
"Hospitals have their own data warehouses," Mangal said. "They make API calls to CareSkore and CareSkore feeds them with information back into their system."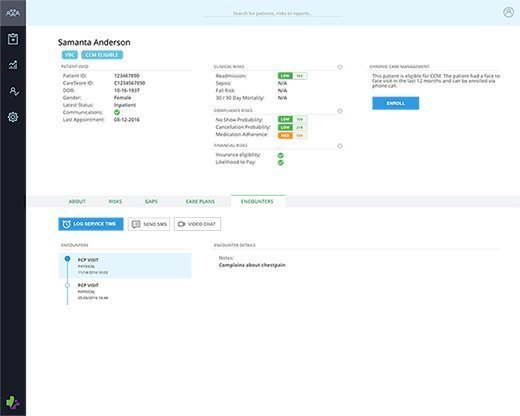 Why CareSkore matters in healthcare
Mangal pointed out that 80% of the data in EHRs is unstructured. "It's very important to apply some machine learning and artificial intelligence in that area," he said.
AI and machine learning can help healthcare organizations better understand the full view of the patient's health --past, present and future -- in the context of a population. Mangal added that AI and machine learning also help identify hidden anomalies that may have been difficult to detect otherwise.
"But I think the second piece that we think is even more important than the first piece is how do you operationalize some of these insights then take action on them?" he said.
Mangal gave the example of a patient who may have just underwent heart surgery, has been discharged, and may also have had signs of depression in the past. "There could be a step added to the care plan … either a questionnaire or awareness or something like that would be sent out [to the] patient," he said.
CareSkore also helps with the shift toward value-based care and MACRA, Mangal said, by automating 30% to 40% of the tasks required of case managers so that they can handle more patients.
What a user says
CareSkore's population health management platform has helped Methodist in several ways, Sample said, including improving readmission rates, as well as improving scheduling.
Improved readmission rates
"A great example is about five, six months ago, the orthopedists wanted to do a better job with their readmission rates, which were actually respectful at that time; it was around 12% to 13%," Sample said. "With CareSkore, we were able to identify primarily, social determinants of reasons why patients would have a higher readmission rate." He explained that once these patients were identified through CareSkore, Methodist would reach out to those patients more often.
"Often, that would require just a call [and] instead of once every three or four weeks, [we would call] two times a week just to see how these patients were doing. And the last numbers showed that our readmission rates were down to 4%," Sample said. "That's almost unheard of."
Sample explained that machine learning played a big role here because the recommendations for patients would be based on a subset of other patients with similar illnesses that experienced good outcomes.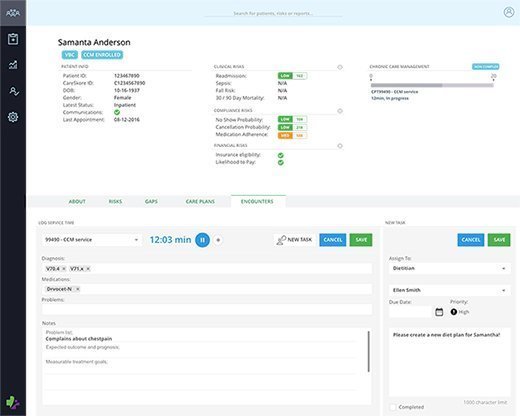 Improved scheduling
Sample added that CareSkore has helped Methodist deal with no-shows and cancellations by scheduling appointments more strategically.
He explained that the surgery department particularly struggled with this challenge because of how busy they are.
"It often takes three or four weeks to get in just to speak to one of those doctors," Sample said, adding that this department had about a 20% to 22% no-show or cancellation rate from patients. "A lot of that has to do with the type of population we serve."
Sample explained that CareSkore helped them understand which patients would be more likely to be a no-show and/or cancel and based on that, they began overscheduling surgeons.
"Let's say we have 30 patients a day and ten of them are high-risk for not showing up. Maybe we'll overschedule the surgeon for an additional five patients," he said. "We're supposed to see 30 patients and only 20 show up."
He added that, "maybe physicians, quite frankly, find that very irritating."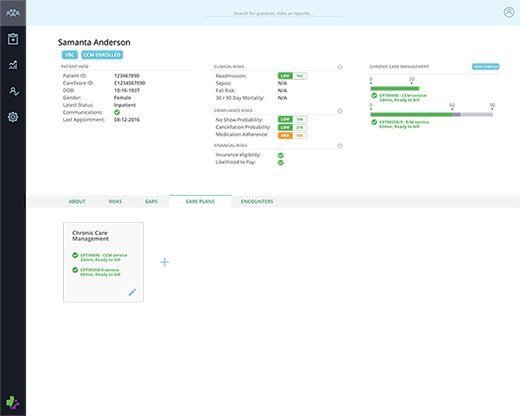 Drilldown
Mangal said the implementation process varies depending on the healthcare organization and its legal and governance processes.
He explained that healthcare organizations have the option of hosting CareSkore either in the cloud or on premises. They also have the option to integrate CareSkore with their EHR or not.
"If installation is on the cloud and they don't want any integration back into their EMRs, implementation is very simple, six to eight weeks we can complete that implementation," Mangal said. "If they want a full integration back into their EMRs, that's when it gets a little complicated because a lot more folks from the hospital side do get involved, and a lot more folks from our engineering team do get involved."
Pricing
CareSkore declined to provide pricing information.