PatientKeeper software aims to simplify physician workflow
PatientKeeper, an EHR overlay software platform owned by hospital chain giant HCA, aims to simplify physician workflow and boost EHR usability for doctors.
There is ample evidence that many physicians are dissatisfied with the usability of their EHRs and that they think most EHRs don't adequately reflect physician workflow in the real world.
Enter PatientKeeper Inc.
What the PatientKeeper software system does
The Waltham, Mass. software vendor's mission is to simplify and automate physician workflow by layering "physician-friendly," "vendor-agnostic" applications over healthcare provider organizations' EHRs using open APIs.
PatientKeeper's clinical offerings focus on computerized physician order entry (CPOE), medication reconciliation and clinical documentation, all of which are offered in the desktop version and all but the medication reconciliation function are in the streamlined iOS-based mobile app. Executives say they plan to add that capability to the mobile app soon.
The company, acquired by hospital chain giant Hospital Corporation of America (HCA) in 2014, also provides financial applications in mobile and desktop incarnations, including charge care, analytics and physician quality reporting system.
CEO Paul Brient is enthusiastic about that HCA connection, saying PatientKeeper's parent company has pumped tens of millions of dollars into PatientKeeper.
We are able to build the system the way doctors think.

Paul BrientCEO, PatientKeeper Inc.
These investments have come in operating capital, and intellectual property such as proprietary algorithms, that are helping PatientKeeper expand its range of offerings and data from HCA's vast holdings of more than 160 hospitals in the U.S. and the United Kingdom.
One new function the company is developing is e-prescribing, including controlled substances, according to PatientKeeper executives. Another is clinical decision support.
Why PatientKeeper Matters
PatientKeeper has existed since 1999, formerly selling an early app for the old PalmPilot mobile device, among other systems. Before meaningful use, the company was mainly a purveyor of software for physicians to view their patients' clinical data and to capture professional charges. Brient said throughout its existence, the firm has maintained its dedication to its users: doctors. They number more than 60,000, he said.
EHR vendors, Brient argued, tend to "see physicians as an afterthought." Meanwhile, he maintained that PatientKeeper's physician-facing user interface is so intuitive that doctors can be trained to use the physician workflow system in 15 minutes.
"That's what PatientKeeper is all about. We only build software for doctors," Brient said. "Our suite is engineered for physicians. We are able to build the system the way doctors think."
On a recent afternoon, Catherine Donohue, PatientKeeper's vice president for product management and quality assurance, demonstrated both the desktop and iOS mobile versions of the software (an Android app is in development).
As indicators of the vital signs of a fictional 74-year-old hospital bed-bound patient, "Helen Bamberger," flashed red for urgent, yellow for warning and green for OK, Donohue showed how PatientKeeper enables doctors to skip around between tasks such as ordering lab tests, writing documentation notes and reconciling medications.
Donohue said most EHR systems force doctors to go through preset series of steps before they can move on to other actions.
"A physician's work life is not linear," Donohue explained. "It's filled with interruptions."
PatientKeeper is also certified for stage 2 of meaningful use and plans to be for stage 3 using 2015 Edition software, Donohue said.
Meanwhile, PatientKeeper is in the somewhat unique position of having its owner be its main customer, though PatientKeeper also sells its clinical and financial products to other customers, including HCA competitors.
"We're growing the business and they like that," Donohue said.
Marty Paslick, HCA senior vice president and CIO, said the parent company has high hopes for PatientKeeper.
"PatientKeeper provides a platform for IT innovation to help foster a more productive and user-friendly experience for our physicians, which is critical, since they are at the center of healthcare delivery," Paslick said in a statement provided to SearchHealthIT. "Beyond that, we envision PatientKeeper becoming a platform for delivering advanced clinical decision support and other IT-enabled capabilities to physicians in a meaningful, usable and convenient way that can significantly improve patient care and outcomes."
What a user says
At any given time, between 50 and 100 doctors at Mercy Medical Center in Roseburg, Ore., are using PatientKeeper on their desktop computers and mobile devices -- mostly Apple iPads.
IT staff at the 154-bed hospital in southern Oregon initially went live with electronic note-writing in June 2014 and added CPOE five months ago. PatientKeeper supplements the hospital's Medical Information Technology Inc. EHR, which Rahul Agarwal, the hospital's vice president of business development said works well as the "guts" of the health records system but is more limited for daily clinical use.
"Our goal with PatientKeeper was to give doctors an environment that was a little more intuitive and that matched their clinical workflow and was somewhat elegant in its interface," Agarwal, who functions as the hospital's chief medical informatics officer, said.
One Mercy doctor, a veteran of 25 years of practicing medicine who was so averse to technology that he refused to use the EHR in his office, told Agarwal after using PatientKeeper for the first time:
"In reality, PatientKeeper works fine," the physician said. "It's great. I think it's really neat."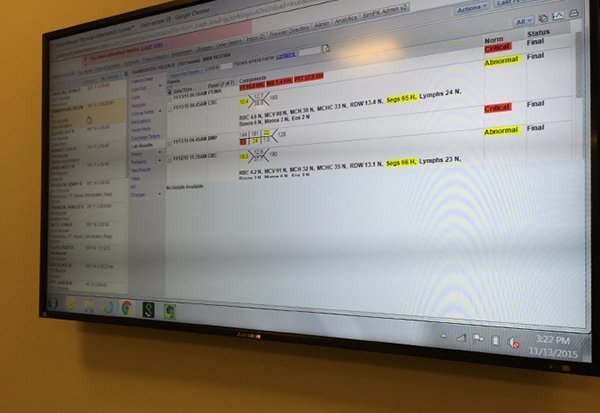 Drilldown
According to the company, PatientKeeper has an open architecture that enables it to be integrated with various EHRs, and features:
ŸFeed-specific mapping of interfaces to PatientKeeper's relational database;
ŸData normalization results in standard visualization from different sources;
ŸPatient reconciliation so data from multiple sources is matched to the correct patient health record whether data is moving inbound to the record or outbound from the record; and
ŸFlexible business logic maps client-specific business rules to interfaces.
Pricing
PatientKeeper offers both perpetual license and software as a service (SaaS) plans. Under the perpetual license model, customers pay a one-time fee for the software license and annual maintenance and support payments. Under the SaaS approach, customers pay a monthly subscription for the service.
Editor's note: This story has been updated to specify what PatientKeeper predominantly sold prior to meaningful use.
Dig Deeper on Workflow and process management software and systems