Share this item with your network:
Strategic insight for health IT leaders

Fotolia
Patient engagement tools bring consumer vibes to healthcare
Patients are acting more like consumers and therefore have higher expectations of their healthcare providers. New technologies are needed to truly engage them.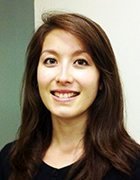 By
Engaging patients in their own health decisions is challenging, but hospitals are having success with technologies and tactics used by business retailers and other consumer-focused industries.
IT professionals in hospitals agree that patient engagement tools must ultimately center on the patient's needs. "[Patient engagement] needs to be about what the patient wants because a patient doesn't necessarily want what I [or a doctor] think they may want," said Michael Marino, chief of IS operations and clinical systems at St. Joseph Health in Irvine, Calif. "Really understanding what a patient's wishes are and being able to help them on that journey is what we need to do from an engagement standpoint."
Several methods are being used to maximize patient engagement tools and techniques. Among them are remote patient monitoring -- a person uses a mobile device at home to take a routine test or track a medical condition -- and more consumer-driven options such as souped-up TV remotes that provide convenience in hospital rooms.
Tracking blood pressure at home
Union Hospital of Cecil County in Elkton, Md., uses remote patient monitoring technologies to boost participation among those under hospital care. A kit is provided to some home-based patients, including a tablet with a blood pressure cuff, pulse oximeter and a weight scale that are all connected via Bluetooth, according to Anne Lara, senior vice president and chief innovation officer at Union Hospital. Every time a patient measures his or her blood pressure or weight, for example, that data automatically transmits to a care team for assessment.
Lara said that clinicians are also able to tailor the care plan to the patient's particular needs and send reminders throughout the day to, for instance, take a blood pressure reading of someone who's at risk of heart disease. Video conferencing is also available, Lara noted. If a patient's measurements are outside prescribed parameters, the remote monitoring device will notify a caregiver who can initiate a video consultation.
Ready access to patient information
St. Elizabeth Healthcare, which operates medical centers in the Cincinnati area, takes an integration-themed approach to engaging its patients, said Linda Robinson, manager of innovation and process transformation at the healthcare facility. St. Elizabeth uses a technology that enables data exchange via a patient portal between third-party systems, allowing patients access to their health information while in the hospital and at home after being discharged.
In the patient's hospital room, a TV remote is equipped with a "health button," Robinson said. When patients press that button, their health information pops up on the TV screen, essentially acting as an electronic white board, she explained. Their nurse's picture and phone number are also displayed, along with the names of their certified nursing assistant, physical therapist or respiratory therapist, or in the near future their physician, for example. Patients and family members can use that information to contact hospital staff.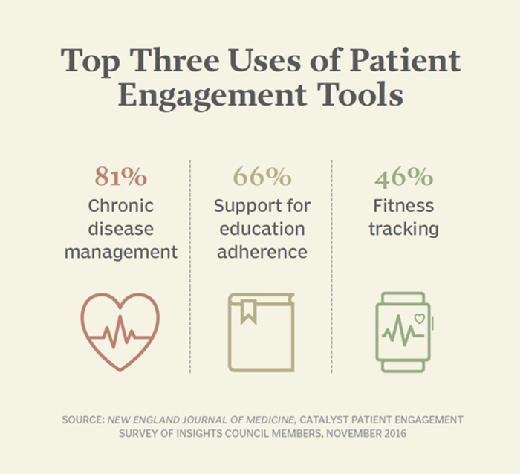 In addition, the electronic white board is integrated with the hospital's Epic EHR system, which allows patients to view health information such as ordered procedures and x-rays, and medications that have been ordered. It can also prompt patients to rate their pain 45 minutes after taking a medication.
"Engaging, educating and empowering our patients is really what we are striving to do," Robinson said. "Having this all integrated with Epic has created a leaner workflow and cut out waste, allowing our nurses to spend more of their quality time at the bedside with the patient administering care."
The consumer's role in healthcare
Healthcare has historically lagged behind other industries when it comes to adopting technologies that improve consumer involvement. But in an increasingly consumer-focused world, patient engagement tools and similar technologies are more and more essential.
"The bank knows you, the airline knows you, Google and Amazon know you -- and people have that expectation," said St. Joseph Health's Marino, who demonstrated his point by offering a personal example about his wife making chili. "She goes on Google and looks up the ingredients in a commercially prepared chili," he noted. Soon after, he added, Amazon began pinging her about buying chili because the company's technology recognized her needs.
Providing healthcare Amazon-style
Amazon's success in reaching out to its customers certainly has the attention of hospitals as they attempt to increase patient engagement efforts. The web giant's approach can work in healthcare, said Jean Drouin, co-founder and CEO at Clarify Health Solutions, an analytics platform seller based in San Francisco.
"Amazon is able today to ping you with a suggestion of what you might want to buy, and they have the analytics to figure out that you're more responsive at certain times of the day," Drouin said, "so they're able to nudge you to buy. What you want to do in healthcare, from a patient experience point of view, is nudge people to do the thing that will best help themselves."
He noted that the "holy grail of engagement" will be when it meets clinical workflow in healthcare. Added Michael Marino, CIO at St. Joseph Health in Irvine, Calif., "[We] constantly have to be trying new and better things because that's the expectation of the consumer."
Marino said the same dynamic needs to happen when using patient engagement tools and techniques. When a patient visits a physician, he explained, it would be helpful if the doctor already knew that the patient had concerns about diabetes and had even searched online about the disease.
He envisioned the doctor saying, for example, "I see you've been worried about [diabetes]; you've been looking up diabetes. We've been checking your [blood tests] for a couple years; your weight is starting to creep up. You have a family history, but you're still okay. Let's really start to tackle your weight." If a patient is struggling to manage diabetes, Marino said, healthcare organizations could engage that patient by sending reminders via email to make an appointment for a blood test.
For a health system, taking steps like these creates a personalized experience for the consumer. "Why wouldn't we do that in healthcare?" Marino asked.
CRM: a new healthcare tool
Increasingly, hospitals are building better patient relationships through customer relationship management (CRM) software and platforms. In the retail industry, CRM focuses on a physical store's and online seller's bond with the customer. In healthcare, it's all about a provider's relationship with the patient.
"Having the system understand you a little bit better and then push information to you that makes sense and is given to you in a timely manner" is the ideal experience patients expect from a healthcare organization, Union Hospital's Lara said. Taking it a step further, Marino sees the future of CRM-themed caregiving as akin to a one-stop "shopping" experience for patients, whereby better coordination of care becomes the hallmark.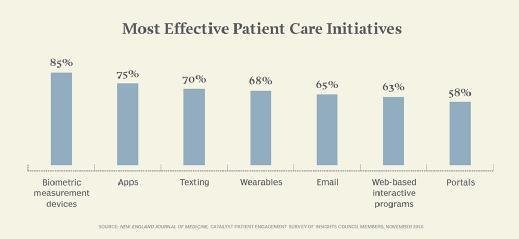 Telemedicine is effective in such a scenario, he said. With this technology, patients, for example, could avoid a trip to a busy emergency room and instead communicate with caregivers from home. This kind of service mimics the idea of consumers purchasing items from a website rather than driving to a store.
Next Steps
MHealth apps are revolutionizing patient engagement
A healthcare virtual assistant could help improve patient engagement
Boost patient engagement with a mobile disease management program
Dig Deeper on Patient safety and quality improvement