Online clinical network works to make interoperability possible
In this Innovation Spotlight, SearchHealthIT dives into how an online clinical network can help create interoperability, share patient information between doctors, improve workflow.
Editor's note: Each month, the editors at SearchHealthIT recognize an innovative software, service or technology approach. Health Gorilla is our August 2016 selection.
Product: Health Gorilla
Release date: 2014
Steve Yaskin's wife, a primary care doctor, takes him to the back room of one of her clinics. She wants to show him something.
"And there it was," Yaskin recalled. "The fax machine spitting out thousands of faxes."
Yaskin discovered that his wife's practice was communicating with dozens of diagnostic labs and imaging centers that do CT scans, X-rays, and MRIs. She was also communicating with a number of specialists in the area such cardiologists, GI doctors, and more.
"All of them, all of these instances, are on different EHRs and communication between them takes place completely on the fax machine," Yaskin said. "People extract consultation reports, people exchange blood test results, people exchange reports about the X-rays dictated by the radiologist, and all of that stuff, all of that data, all the documentation is going by fax at both ends."
And that's what inspired Yaskin to create Health Gorilla, a startup based in Sunnyvale, Calif., that provides a secure online clinical network that connects doctors and clinicians with diagnostic labs, radiology centers, and doctors in other specialties for free.
Yaskin, founder and CEO of Health Gorilla, which has fewer than 50 employees, explained that one of the company's objectives is to create interoperability.
"We understood that the biggest thing to ensure adoption of clinical interoperability is not really technology but understanding the workflows which physicians go through on an everyday basis," he said. "Then power this workflow, automate them, make their lives easier, and then you'll see adoption."
Currently, over 100 national healthcare organizations, including Scripps Health in San Diego, and about 4.5 million vendors are registered and using Health Gorilla.
What Health Gorilla does
"Somebody described us as a Dropbox with workflow automation," Yaskin said. "But at the same time, [we're] HIPAA compliant and secure."
Health Gorilla first tackled the fax machine aspect of a doctor's workflow so that everything that a doctor receives via fax automatically gets scanned and uploaded to Health Gorilla.
"We recognize the patient off the fax machine, we read the fax, and we created a patient-matching algorithm," Yaskin said. He explained that they use "a triangulation heuristic algorithm that actually reads the patient metadata from the fax machine and is capable of recognizing 100% that this fax belongs to this particular patient."
Health Gorilla provides a HIPAA compliant e-fax number to the physician so that the fax gets automatically routed through Health Gorilla and the doctor doesn't have to print anything.
Yaskin explained that they are using old technology -- fax machines -- to start engaging physicians to use new technology.
In addition to digitizing faxes, Health Gorilla also uses HL7 as well as direct messages. This allows doctors to directly upload information from a patient's EHR to the online clinical network.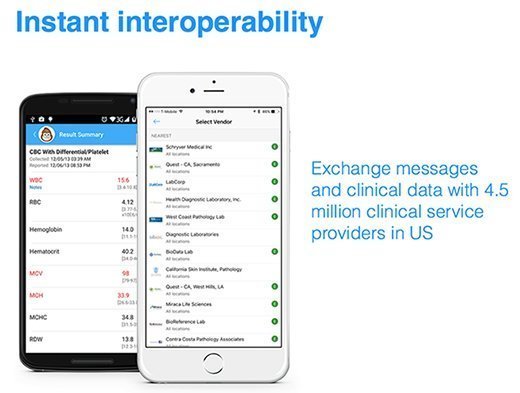 Doctors and physicians can either voluntarily sign up to use Health Gorilla on their own or Yaskin explained that a common occurrence is that one doctor starts seeing a patient and needs information that another doctor may have. The only problem is that chances are the two doctors are on different EHR systems that are not compatible and cannot communicate with each other, Yaskin said. If one of those doctors is using Health Gorilla, they can send an invite to the doctor they need information from. If that doctor joins Health Gorilla, then the two doctors can begin to securely share information about the patient.
However, not just anyone can join, Yaskin said. Because Health Gorilla is HIPAA compliant, when a physician signs up they must go through a series of questions to validate their identity as a physician.
"We are electronically connected to government identity verification systems," Yaskin said.
Why Health Gorilla matters in healthcare
It's no secret that the lack of interoperability in healthcare is a problem that can affect patient care and it's an issue that many experts say is purely political.
Yaskin said Health Gorilla can help create interoperability in healthcare because any practicing physician can use it and upload information from any EHR and share it with the Health Gorilla network.
Yaskin explained that it's as simple as "clicking the print button in the EHR, and that print of data is then captured by Health Gorilla when you need to send it somewhere."
Health Gorilla uses HL7, FHIR, Digital Imaging and Communication in Medicine (DICOM), and direct messaging to make all this happen.
Shyamali Singhal, M.D., medical director of the cancer center at El Camino Hospital in Mountain View, Calif., a general surgeon and a surgical oncologist who has her own private practice, details the difficulties of trying to provide care for patients in a healthcare system where interoperability is absent.
"There's a doctor who's not a block [away] from me. I need some records from him, I have all of the primary care records, I have all the cardiology records but that guy is completely on paper," Singhal said. "I have been calling his office for over a month trying to get a biopsy result. We call there every day."
She explained that if this particular doctor used Health Gorilla, this process would be greatly simplified.
"[Health Gorilla is] easy for someone on paper," she explained. "They can just scan it and upload the stuff to Health Gorilla. They don't have to do anything fancy."
But Singhal points out that even if a doctor has gone digital when it comes to patient records, it's still difficult to get the patient information needed.
For example, "if the patient has a doctor that isn't on Epic or isn't part of the system that you went to see a specialist. If it was an OBGYN outside of your primary care doctor, that OBGYN has no access to anything that's in Epic," Singhal said. "So you have to call over to the primary care doctor's office, have them fax you everything, then you have to take that faxed piece of paper and then upload it into your EMR."
Singhal explained that Health Gorilla helps solve this problem because she can view any information uploaded to the online clinical network about a patient from any participating doctor.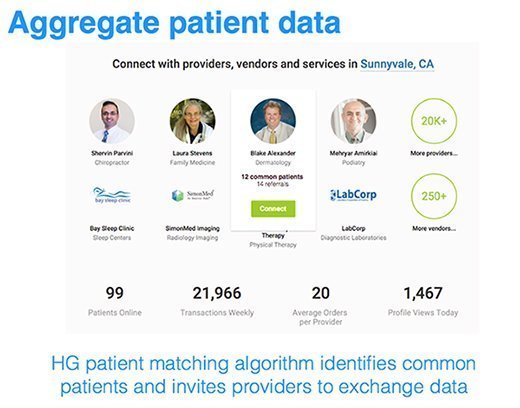 What a user says
In addition to helping create interoperability, Singhal added that Health Gorilla has helped her practice save money and improve workflow.
Singhal explained that because many healthcare organizations in the Mountain View area are using Epic, she has felt pressure to also migrate to Epic. However, Epic is expensive.
"If you had endless money you could probably get an Epic solution," she said. "But most physicians' practices and most small businesses don't have endless money."
Singhal estimated that it would cost her $10,000 for each electronic connection to the six different labs that her patients use which would mean she would have to spend $60,000 to get electronically connected.
"That's not viable," she said. "There's no way to do that."
But for Singhal to use and exchange data via Health Gorilla is free.
Furthermore, Singhal said that Health Gorilla helps improve workflow as well.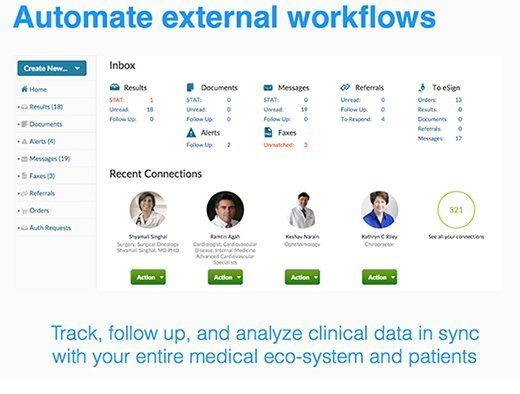 "Unless you actually sit in the doctor's office you would not realize how many times we have to call over to another office to get a note, get labs, to get pathology," she said. "And everyone's spending 10, 15 minutes on hold and it just doesn't scale… that way of looking for information just doesn't scale."
Melissa Gomez, the office manager and surgery scheduler for Singhal, explained that "a good portion of the time with my front desk, I would say at least about an hour daily, [is spent] trying to request records for upcoming appointments."
Both Singhal and Gomez said that Health Gorilla helps reduce this amount of time waiting and trying to get a hold of patient information because they can easily access this information from another doctor who is also participating in the network. This not only helps the physician do their job better and more efficiently, it also helps make sure patients are receiving the best care possible.
"[Patients] don't feel like they're having to jump through hoops [to get] the imaging or the test results or they're having to hunt this down or that down because it's automatically shared with us," Gomez said. "When [the patient comes] in for their appointments we're prepared. We know what we need to say and do with the patients before they're even seen because the doctor gets an opportunity to evaluate all these results prior to the appointment."
Drilldown
Health Gorilla is 100% deployed in the Amazon cloud, Yaskin said. "From the front end to the back end and everything in between, including encryption, HL7 transmissions, VPN tunnels, and many other technologies."
Health Gorilla also provides a mobile app that physicians can use to access information anywhere as well as a patient portal.
Yaskin explained that with the patient portal, patients can access their data by logging in and verifying their identity -- for HIPAA compliance reasons. Once a patient's identity is verified, they have full access to their universal chart with information aggregated from multiple doctors, facilities, and labs.
Pricing
Health Gorilla is free for physicians and their staff to use. The company generates revenue through small fees charged to participating vendors for orders placed through the clinical network.
Dig Deeper on Establishing interoperable electronic health systems