Get started
Bring yourself up to speed with our introductory content.
Mobile technology aiding quality improvement in healthcare
How physicians access data has been the center of mobile studies. Our expert says it's time to gauge the quality improvement aspect of mobile tech.
The mobile technology transformation in healthcare has been broken down by many, myself included. Most discussions center on how mobile technology alters the way physicians use information while performing clinical tasks or how it increases patient engagement by enabling them to better manage their own lifestyle choices. Here, I'll explore the mobile sea change from the perspective of front-line quality and performance enhancement.

Download this free guide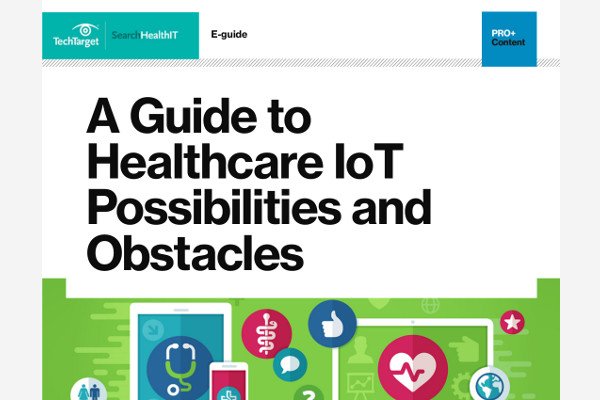 Download Complete Guide to Healthcare IoT Now
Healthcare IoT has the potential to greatly improve patient care – but it's not without its challenges. Download this essential guide in one PDF and learn how to overcome the obstacles: security, data overload, regulations, and more.
The need for quality improvement in healthcare
Nearly every healthcare provider, from hospitals and hospital systems to single-provider clinics, is working on quality improvement (QI), specifically on bettering the efficiency and value of the care they provide to patients. The environment in which providers operate is constantly changing. The issues in that environment that prevent quality improvement in healthcare include:
External challenges (such as regulatory changes and financing issues)
Internal challenges (including human resources management, physical layout constraints, inefficient processes and poor communications)
Changing needs of patients (due to a population that is aging or otherwise adjusting to a new set of circumstances)
Technology (which can be both practice-changing and lifesaving, but is expensive)
Organizations that do not or are unable to step up to these challenges will find themselves at a competitive disadvantage and will face legal, financial and patient safety risks.
Approaches to quality improvement
Many successful providers employ an established QI or quality management methodology. Among the approaches to quality improvement in healthcare today are these:
Total quality management
Constraints management
Numerous variants (such as Lean Six Sigma)
Although these frameworks differ in their philosophies, tools and techniques, they are similar in that they provide a structured approach for improving quality and performance within a complex organization.
Quality improvement and the need for data
One thing that's common to all successful healthcare quality efforts is that they require information that provides insight into business and clinical operations. Modern quality improvement in healthcare requires accurate, timely and readily available information through almost every phase of a quality and performance improvement initiative. Analytics helps distill data into actionable information for a given improvement initiative and makes it usable by quality improvement teams, aiding them in identifying priorities for improvement and gauging the effectiveness of their efforts.
Analytics is critical for achieving healthcare improvement. Mobile computing can further enhance the effectiveness of healthcare QI teams by allowing them to leverage analytics and data more effectively and efficiently. Two of the benefits (described below) that mobile computing offers QI teams are enhancing data input and audit activities and streamlining the delivery of data reporting and analytics.
Enhancing data input and audit capabilities
Manual data collection -- as part of quality auditing, performing time-motion studies, or obtaining data that is not initially available electronically but is necessary for understanding performance -- can impede QI activities. This is because nobody likes to fill out manual QI data forms or transfer the data from forms into a computer for analysis. Therefore, when data collection is manual, there is a risk that audits or other data collection won't be performed regularly, that audit and other data forms will be "lost" (either on purpose or accidently), or that data won't be entered into a computer. All of these mistakes severely restrict the possibility of meaningful analysis.
Mobile technology addresses many of the issues associated with manual data collection by permitting the online entry of audit information using electronic forms that check for completeness and validate information as it is being entered. A related benefit is the immediate storage of data in a data management system, making it available for analysis as soon as it is entered into the smartphone or tablet.
For fairly straightforward, mobile-based data collection requirements, I have used something as simple as a cloud-based spreadsheet (such as the one in Google Docs); for more complex data collection and cloud storage requirements, a specialized data collection app (such as Fulcrum) or even a custom-built app may work.
Streamlining delivery of data reporting and analytics
The rapid pace of change in healthcare requires QI team members and stakeholders to be aware of past, current and predicted performance metrics and indicators in near real-time while they improve frontline workflows. Mobile technology lets QI stakeholders and team members access the necessary data and insight when they review the performance of current processes, or decide on which issues to focus next. Using email, text messages and other types of messaging, analytics and business intelligence systems can quickly notify QI stakeholders when performance issues arise and tolerances are exceeded. This function enables QI teams to rapidly take corrective action.
One way I like to use mobile analytics is to have such information as statistical process control charts and other analytics available on a tablet while I do a gemba walk --which is a walkthrough of an area in which we're working to improve quality and/or performance. That way, all performance data is available for review and discussion as we observe where and how the actual work is being performed.
Because healthcare improvement is such a critical, strategic goal of most healthcare organizations, those professionals given the daunting responsibility for actually achieving the improvement must be provided the most efficient tools and up-to-date information. Mobile technology is truly an enabler of methodologies for quality improvement in healthcare, including Lean and Six Sigma. Mobile technologies not only can enhance the delivery of healthcare by bringing critical information to care providers at the bedside and by promoting patient engagement, but also can help enable and improve the use of QI methodologies.
About the author:
Trevor Strome, M.S., PMP, leads the development of informatics and analytics tools that enable evidence-informed decision-making by clinicians and healthcare leaders. His experience spans public, private and startup-phase organizations. A popular speaker, author and blogger, Strome is the founder of HealthcareAnalytics.info, and his book, Healthcare Analytics for Quality and Performance Improvement, was recently published by John Wiley & Sons Inc.
Dig Deeper on Patient safety and quality improvement