Medical 3D printing lowers risk and cost of complex surgeries
One neurosurgeon in upstate New York is working to reduce the risk of complex surgical procedures by using a 3D printer. In doing so, he is also seeing lower costs for surgery.
A 56 year-old mother of three went to the hospital for diminished vision and unexplained headaches. She ended up being referred to Kaleida Health's Gates Vascular Institute in Buffalo, N.Y., where tests revealed that she had a complex and likely fatal brain aneurysm.
With only the help of medical imaging procedures, such as CT scans, the procedure to treat the brain aneurysm would be risky. However, just next door to the Gates Vascular Institute is the Jacobs Institute where Adnan H. Siddiqui, M.D., chief medical officer at The Jacobs Institute, vice chair and professor of neurosurgery at The Jacobs School of Medicine and Biomedical Sciences at the University at Buffalo, and director of neurosurgical stroke services for Kaleida Health, has been using medical 3D printing. He has been using this technology not only to train residents and fellows, but also to help navigate complex surgeries in order to get good outcomes.
I could have a 3D model and I could actually do a dry-run of all those plans and options.

Adnan H. Siddiqui, M.D.chief medical officer The Jacobs Institute
"We take the patient's anatomy and we use noninvasive imaging," Siddiqui said, for example, through a CT scan or various angiograms, which are then converted by a computer into drawings. Next, that data is fed into a 3D printer, which then prints out a 3D model of the image. "It's got a 24-hour turnaround. The very next day after I see the patient, I could have a 3D model and I could actually do a dry-run of all those plans and options … and figure out what is going to be the best way to treat that aneurysm and then do exactly that in the patient," Siddiqui said.
The model of the aneurysm that the 3D printer ultimately creates looks like little tubes that branch out in wavy lines and is made with a clear plastic.
"We have performed that dry-run and procedure at least four to five times now," Siddiqui said. "We don't routinely do it for every case because some cases are relatively straightforward."
3D printing is not used in emergencies, either, because in those cases, surgeons need to act right away and can't wait for a 3D model to be produced.
"We are using it for elective cases which are very complex," Siddiqui said, and the results have been "spectacular."
The 56 year-old mother of three's surgery was a success and she is now at home and living her life normally. In addition, her surgery took about half the normal amount of time to complete.
Reducing risk while saving money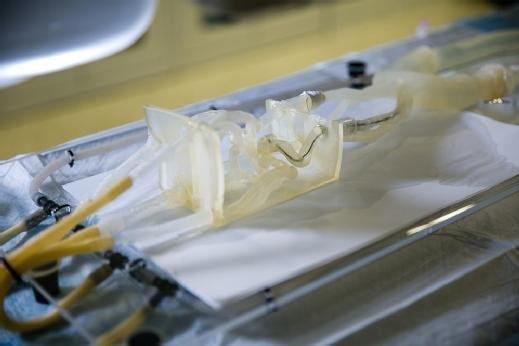 Currently, the Jacobs Institute uses Stratasys' Eden 260 printer, which costs from $80,000 to $100,000. Mike Gaisford, director of medical solutions at Stratasys Ltd. -- which has corporate headquarters in Minnesota and Israel -- said the 3D printer is a standalone device within the hospital, as is a CT scanner or MRI system.
Data gets transferred from the CT or MRI system to the 3D printer through third-party software that takes the data files and converts them into a format that is recognized by the medical 3D printing system.
Being able to create a 3D model of the problem -- in this case an aneurysm -- and conduct a dry-run of the surgery has helped Siddiqui lower the risk of these complex procedures.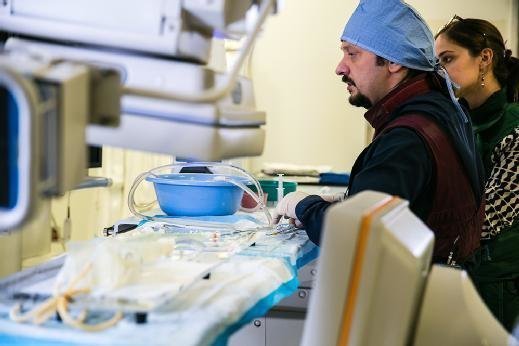 "Risk with these vascular procedures arises from the duration of the procedure. So the longer you are in somebody's blood vessels, the more likely it is to … get hurt or damaged," Siddiqui said. "Secondly, the more manipulations you make in the blood vessel or the more tools you'd put in and take out, the greater the risk of the procedure."
Having a 3D model to experiment with and figure out the best strategy helps reduce these dangers.
Further, being able to plan out procedures beforehand using 3D models can help hospitals save money, Gaisford said.
"Operating room time is a very scarce resource in the medical space," and it's expensive, Gaisford said. "I've seen studies that show that it costs up to $100 a minute, and so if you can shorten the amount of time that a procedure takes, then you can significantly reduce the cost to a hospital."
Being able to conduct a dry-run with a 3D model also helps lessen wasted materials, Siddiqui and Gaisford said.
Siddiqui explains that without conducting a dry-run with the 3D model, surgeons will decide on an initial plan and adjust as they go along.
"You use this tube and this catheter and this wire, and you can't get up there so you switch to tube B and catheter C and wire D, and then device A and then device C," Siddiqui said. "The cumulative effect of that procedure, the cost of that procedure based on just the duration and based on the number of devices you used, would be much higher than if you had actually test driven it."
In addition to mapping out complex procedures, Gaisford said the 3D printer and models are also being used for research and to test out medical devices.
Looking ahead on the 3D horizon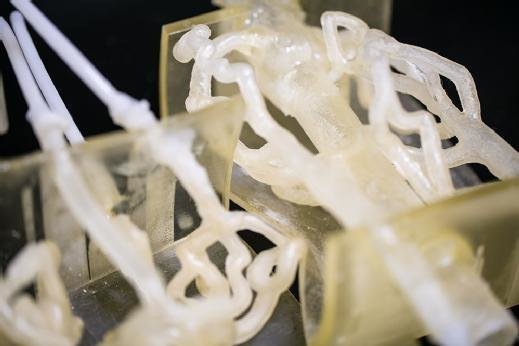 Stratasys has produced, and is continuing to work on, printers that can create models with multiple layers of materials to replicate anatomy more accurately and mimic what surgeons will come across in real-life procedures.
"For example, the model we have of a neurosurgery procedure … essentially replicated the skull and brain," Gainsford said. "With that model, physicians can do all the steps of using a scalpel to make an incision in the skin and peel the skin back, and then use a drill to drill through the bone and the hard material of the bone."
Siddiqui added that he believes medical 3D printing will become part of physicians' toolkits, especially for physicians who perform complex procedures.
"Any time they feel the case is complicated, they will be able to take their imaging data and convert that into a full model and then do a dry-run… and make sure that the procedure will work out the way they want to," he said.
Let us know what you think about the story and medical 3D printing; email Kristen Lee, news writer, or find her on Twitter @Kristen_Lee_34.
Dig Deeper on PACS (Picture archiving and communication system)