kantver - Fotolia
Evaluate
Weigh the pros and cons of technologies, products and projects you are considering.
Location-based tools could boost timely medical responses
Beyond improving disaster response, location-based tools also have the potential to enhance emergency medical services and telemedicine, an expert said.
Whether a family's car catches fire, a diner experiences a heart attack in a café or someone suffers a medical emergency at home, location-based tools can provide a great deal of help.

Download this free guide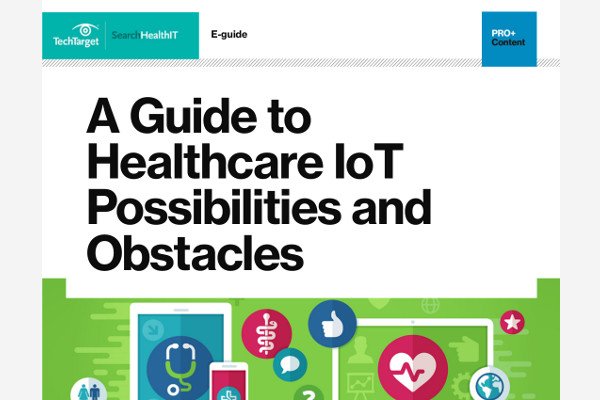 Download Complete Guide to Healthcare IoT Now
Healthcare IoT has the potential to greatly improve patient care – but it's not without its challenges. Download this essential guide in one PDF and learn how to overcome the obstacles: security, data overload, regulations, and more.
That's why Trek Medics International -- a nonprofit organization in New York dedicated to improving emergency medical systems in communities without access to reliable emergency care -- and the American Red Cross of Chicago and Northern Illinois are using Twilio's cloud communication platform, which can integrate with an organization's software application, enabling it to send out SMS text messages to volunteers.
In September 2013, Twilio launched its Twillio.org initiative, with the goal being "to help [nonprofit] organizations use these tools to connect to their audiences," said Kay Kinton, director of communications at Twilio, which is based in San Francisco. Location-based tools have many use cases, said Kevin Munjal, M.D., medical director at Trek Medics International, and assistant professor and associate director of pre-hospital care in the Department of Emergency Medicine at Mount Sinai Hospital in New York.
There is huge potential for location-based tools at college campuses, in rural areas and at large events -- such as marathons and concerts -- and when it comes to responding to emergencies, he said. Munjal also thinks tools like this are helpful in that they have the potential to activate bystanders or locate a healthcare professional near someone who is experiencing a medical emergency.
"Our emergency response system in this country is really great, but at the same time, we don't really do a great job of activating bystanders or trying to get somebody to a patient's side as quick as possible," Munjal said. "So perhaps there's an application for this in terms of helping to find the closest trained healthcare provider to assist in basic first aid before an ambulance or some other type of provider can arrive through the formal network."
Location-based services and responding to disasters
Twilio helps the American Red Cross of Chicago and Northern Illinois locate and dispatch volunteers to disaster sites.
Jim McGowan, director of planning and situational awareness for the American Red Cross of Chicago and Northern Illinois, said the group responds to about 1,200 incidents every year in the Chicago region. That figure means volunteers go out about three to four times a day to make sure victims have all the resources they need, whether it's housing, counseling or food and water. McGowan said when the Red Cross saw Twilio's initiative, it immediately wanted to participate in the program.
Since the Red Cross of Chicago and Northern Illinois has signed up, McGowan said it's been able to reduce the time it takes to dispatch volunteers to respond by 50%. Before Twilio's SMS capabilities, McGowan said dispatchers would use a call-down list, where they would have a roster of volunteers, call the volunteers closest to the incident first and go on down the line until they were able to find the number of volunteers needed to respond.
McGowan explained that for more than two years, the group has been using Disaster Cycle Services Operations -- an open source, Web application -- for volunteers to log in and schedule their availability to respond to disasters, and brought in Twilio's SMS capabilities about a year ago.
"What our dispatchers see is basically a map and a listing of everyone who's available, and then we then have the ability from that to send a text message to the volunteers and say, 'Hey, we're looking for two people. Are you available to respond?'" McGowan said. "The volunteers get the text messages and then simply have to reply with a 'Yes' or a 'No,' and then the dispatcher can immediately see who's available."
The dispatcher can also text details to the available volunteers, which allows the volunteers to continuously communicate with the dispatcher once they are on the scene.
"So it makes it really quick and easy… not only to get the volunteers dispatched, but for them to get information without having to have a phone conversation with the dispatcher," McGowan said.
Cardiac arrest and location-based tools
Munjal thinks that location-based services and tools also have a place in helping with cardiac arrest survival, citing an Institute of Medicine (IOM) report that talks about the need to do a better job connecting EMS systems to technology in order to activate the public.
"Effective treatment of cardiac arrest demands an immediate response from laypersons to recognize cardiac arrest, call 911, initiate cardiopulmonary resuscitation (CPR) and use an automated external defibrillator (AED)," the report said. "The public is one of the most critical components to the system-wide response to cardiac arrest."
"The survival rate is double in Seattle what it is in New York because [Seattle has] such high rates of bystanders [who know] CPR," Munjal said.
The ability to send out a message notifying people trained in first aid who may be in the area that someone in a café is experiencing cardiac arrest and having someone immediately respond could make a significant difference. For example, maybe someone trained in first aid is eating a burger next to that café, Munjal said. With location-based tools, that volunteer could be notified of what is happening next door and then take action, increasing the patient's likelihood of surviving.
"I think there's definitely potential in that way," Munjal said.
Improving urgent care with location-based services
Munjal said he thinks location-based tools also have the potential to provide value when it comes to urgent care.
"The entire healthcare system has this never-ending problem of how to deal with urgent complaints," Munjal said. "How do we do more prevention and less sick care?"
Patients often don't know how to manage their symptoms -- whether they have a cough or are experiencing shortness of breath -- so they end up in the ER, which is a very expensive way to get care, Munjal said.
There is potential for a strong partnership between location-based tools and telemedicine.
Instead, Munjal thinks location-based services could be used to find the nearest healthcare provider -- whether a doctor or nurse -- who could respond and provide care to an ailing person.
"So, potentially, a healthcare system might utilize a service like this to help figure out a way to get the closest nurse or the closest healthcare provider to respond to that patient," Munjal explained.
Telemedicine and location-based tools: A valuable partnership
Furthermore, Munjal said there is potential for a strong partnership between location-based tools and telemedicine.
While Munjal thinks telemedicine is "seriously useful," he said he also sees a problem with it in that "telemedicine can't provide intervention."
"It can't provide wound care, it can't provide airway management, it can't provide CPR," he said. And this is where location-based tools can provide value.
If a provider can be located via location-based tools, arrive on scene and then telecommunicate with a physician elsewhere, Munjal said, "that dramatically improves the quality of care they can provide in the field, and can dramatically improve the triage and decision making."
Let us know what you think about the story and the value of location-based tools; email Kristen Lee, news writer, or find her on Twitter @Kristen_Lee_34.
Next Steps
Learn more about SMS texting in healthcare:
SMS does not necessarily mean secure messaging in healthcare
Use texting to safely communicate with patient, comply with HIPAA
Save time, foster HIPAA compliance with secure texting
Dig Deeper on Mobile health systems and devices