Larger providers ready for ICD-10 implementation date
As the Oct. 1 ICD-10 implementation date nears, larger provider organizations appear to be ready, with testing, training and double coding complete.
Walnut Hill Medical Center opened in 2014 as a "hospital of the future," built from the start with advanced technology at its core and patient-centered care as its mission. Among the latest-generation systems the 100-bed acute care Dallas hospital was geared up for was ICD-10, even though Walnut Hill was still running ICD-9 as its coding platform when it opened.

Download this free guide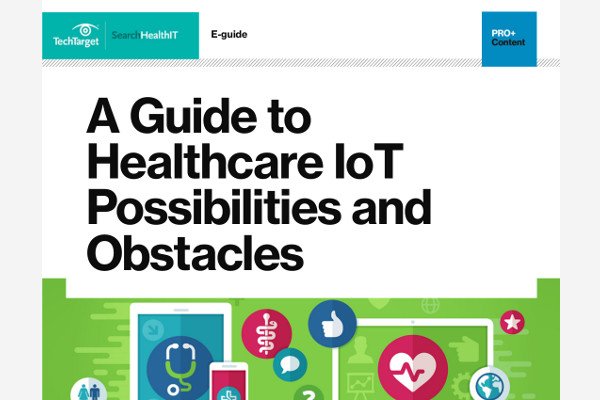 Download Complete Guide to Healthcare IoT Now
Healthcare IoT has the potential to greatly improve patient care – but it's not without its challenges. Download this essential guide in one PDF and learn how to overcome the obstacles: security, data overload, regulations, and more.
Like thousands of other hospitals, Walnut Hill was originally looking to Oct. 1 2014 as the ICD-10 implementation date, but they all received a reprieve in the form of a one-year delay.
ICD-10 testing and upgrading
Walnut Hill's IT department and health information management (HIM) professionals, like many of their counterparts across the country, devoted that extra year to more training, testing and upgrading systems to get ready for the new ICD-10 implementation date: Oct. 1, 2015.
Every hospital had to prepare its staff and systems, but Walnut Hill's blank slate gave it an advantage, according to CIO Aaron Miri.
Miri said getting physicians to buy in wasn't hard, despite widespread reports of physician dissatisfaction with the prospect of the changeover, a phenomenon that ICD-10 advocates such as the American Health Information Management Association (AHIMA) maintain has been overblown.
"They knew we had to have this to be a hospital of the future, so we all said, 'Let's do this, this is the time to shine,'" Miri said.
Senior management support
Meanwhile, at Illinois' Springfield Clinic, a 400-physician accountable care organization, IT and health information managers started preparing in early 2014.
Just as Miri did at Walnut Hill, CIO Shashi Tripathi secured buy-in from senior management, so that IT and the HIM staff had support from the CEO and board on down.
"We were ready to go," Tripathi said. "So we just put things on hold, and now we are all set to go live. We are ready to turn off ICD-9. We are very, very confident."
A key aspect of Springfield Clinic's ICD-10 prep was upgrading and testing 40 or so applications tied into its EHR from Allscripts Healthcare Solutions Inc. and its billing system.
Unlike many other providers, though, Tripathi's staff didn't do double coding -- which many provider organizations saw as a form of training -- but, rather, kept parallel ICD-10 codes in an open window so coders and physicians could see them.
As for training, Tripathi provided an online system for all employees involved with coding, and then held department-specific in-person sessions led by the clinic's 10 nurse clinical informaticists.
Department-specific coding
While the sheer number of ICD-10 codes can seem overwhelming, Tripathi said individual specialties will largely use constrained code sets relevant to their departments, which will simplify things. For example, orthopedists generally won't be using the same families of codes as pediatricians.
Tripathi noted that for doctors, the key issue was really beefing up their clinical documentation to support the new coding because most doctors won't be doing the coding themselves. Instead, they'll be supplying more documentation to coders.
AHIMA sees readiness
Indeed, Sue Bowman, AHIMA's senior director for coding policy and compliance, told SearchHealthIT that nearly all sizeable provider organizations have employees other than doctors doing coding. So, while those in some small practices might be apprehensive about the changeover, most providers are ready.
"Those who have done the most preparation are going to be in the best position," Bowman said. "By and large, the bigger organizations were ready last year, and they've just been treading water and staying ready.
"They got all their vendor systems in place, looked at processes, did internal testing, and made sure staff were appropriately trained and clinical documentation systems were expanded," Bowman continued.
Bowman also said many providers have experienced greater productivity using ICD-10 during testing, because its code set is more logical, specific and organized than ICD-9's. Many vendors have developed computer assisted coding technologies to help users find the right codes, she noted.
At Walnut Hill, while hospital administrators knew they'd have to move quickly to be ready for ICD-10 18 months after opening, they first had to install an EHR. In Walnut Hill's case it was Soarian, now a Cerner Corp. system.
When that was done, administrators immediately turned their attention to ICD-10, which is available in a module inside Soarian.
HIM staff oversees changeover
It was the job of Diana Stubblefield, director of health information, to manage the process.
After the EHR was in place, Stubblefield started training coders and doctors. Then HIM staff and Miri's IT staff worked together to ensure that the hospital's vendors -- from intravenous tube suppliers to claims processing and insurance companies -- were prepared to handle the massive bundle of new codes, which numbers 68,000 compared with ICD-9's 14,000.
Testing was integral to that, Miri noted.
We are ready to turn off ICD-9. We are very, very confident.

Shashi TripathiCIO, Springfield Clinic
"It was important to make sure things were integrated, making sure claims were valid and not kicked out by payers as not medically necessary," Miri said.
Stubblefield's coders honed their skills by double coding in ICD-9 and ICD-10 for six months starting in November 2014. The group coordinated with the IT department and made sure that the new codes worked in the Soarian upgrade for ICD-10.
The people responsible for using ICD-10 at both Walnut Hill and Springfield Clinic said they welcome the new coding system, which they are convinced will produce a richer trove of more accurate health data.
ICD-10 seen as big investment, benefit
AHIMA's Bowman concurred.
"It's going to create a data revolution that will increase the quality of care and health outcomes," she said.
Moving from a system that had been in place for three decades into a new, more complex one was certainly a major investment, the Walnut Hill and Springfield Clinic administrators said, but it's one they think will pay off in the long run. It is also required by law, and the entire U.S. healthcare system is adopting it, so it was a mandated investment as well.
"You have to look at the macro, not the micro," Tripathi said. "We want to get paid and stay in business."
Let us know what you think about the story or how you're preparing for the ICD-10 implementation date; email Shaun Sutner, news and features writer or contact @SSutner on Twitter