Iora Health's collaborative care model puts practices in new light
This Innovation Spotlight looks at how Turntable Health uses Iora Health's collaborative care model to improve primary care. One interesting aspect: Health coaches guide patient visits.
Editor's Note: Each month, the editors at SearchHealthIT recognize an innovative software, service or technology approach. Iora Health is our December 2015 selection.
Product: Iora Health's collaborative care platform
Release date: 2010
What Iora Health does
Although Iora Health -- a Cambridge, Mass.-based startup -- has created its own collaborative care platform, EHR software and mobile application, that's not really what the company's product is. According to Andrew Schutzbank, M.D., a primary care physician and vice president of clinical development at Iora Health, the real product the company offers is the practice itself.
"We actually do the hiring, the training, the management of the staff, development of critical processes and protocols, all the physical space design, all the care pathways, and then an important part of that … is we built our own software to support that behavior," Schutzbank said.
Basically, Iora provides everything: The staff, the clinicians and the technology.
By the end of 2015, Iora will be providing these resources and its collaborative care model -- in which the human aspect of healthcare and the technology side work together and support each other -- to 29 clinics in the United States, including the startup's EHR product, which has interesting aspects, Schutzbank said.
For example, Iora handles notes and teamwork a bit differently than most companies.
Schutzbank explained that at the end of every appointment, the doctor includes a note with the patient's record detailing any problems the patient is experiencing, what the physician plans to do next and any prescription changes. However, things often get missed or forgotten, and communication between a patient and clinician breaks down because of these problems.
"So one of the core elements of what we built into our medical record is the ability to kind of separate out the work from the notes and the data, so that individual pieces of work -- like call somebody back, make sure her labs have been followed up on, confirm her prescription change, all those little things that end up saving lives and making a big difference but seem trivial -- those get a lot of special attention," Schutzbank said.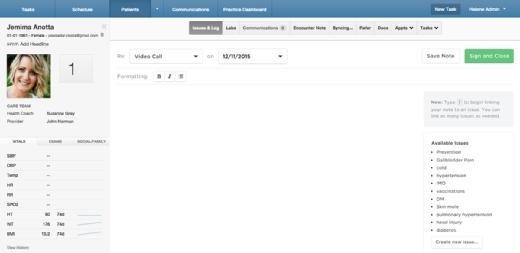 Iora created a tool in which certain tasks that need to be done are assigned. During an appointment, a patient is assigned a provider -- a physician or nurse practitioner -- and a health coach. The health coach, who does not necessarily have a background in medicine, although some do, usually takes notes and logs tasks, Schutzbank said. For example, if there are records needed, then health coaches can assign either themselves or someone else – like an operations assistant -- to get the records. If a prescription is needed, that task can be assigned to the provider.
Iora looks at healthcare information from a different perspective than most companies, approaching patient cases as "stories," Schutzbank said. Health data comes in two forms, he explained: Stories and everything else.
"When you hear clinicians talk to each other, they're talking in story paragraphs, and that's how we're trained to think. It's how we spot trouble, and it's crucial to the relationship building, understanding of patients, and it's a super-efficient, person-to-person mode of communication. But it breaks down when you try and put it into a form," Schutzbank said. For example, when EHR technology tries to force stories into structured data, it ultimately results in the story getting lost, he said. "So what we did was we designed first for stories and free text and then built coding around it."
Schutzbank added that while Iora's EHR has an architecture for stories, it has another one for data such as lab values, appointments and blood pressure.
"We've been working and developing the last four years ways to interplay those pieces of data [to] approach a story and what's going on, draw reasonable conclusions, make good decisions on what to do for our patients, help them get it done, make sure it was actually done, see if it was effective and then continue," Schutzbank said.
Iora Health's mobile app also ties into the company's patient-centric notion. "[With the app], any note that's written about you on your behalf -- any document we have about you, all lab values, the ability to graph lab values over time -- all components of the data [are] available for our patients," Schutzbank said. "We firmly believe … your medical information as a patient is your medical information. We may create it and comment on it and add to it and curate it for you -- but it's yours."
Why Iora Health is cool
With the rise of technology in healthcare, some experts believe the human relationship is being left behind and that healthcare is morphing into a system in which patient care is less about the patient and more about the data points. Iora's approach, in which the startup not only focuses on providing the technology but also guiding people, seems to be a step in warding off data-driven healthcare.
Furthermore, the company is working to empower patients and make them partners in their own care.
I really think Iora is one of the few companies out there that understands this idea of Health 3.0.

Zubin Damania, M.D.Founder, Turntable Health
"At Iora we try to [display data] in ways that fit in the workflow and empower the patient and the provider to make good joint decisions," Schutzbank said.
For example, Iora provides a display of a patient's data in a way that is readable and easy to understand.
"[It] boils down some of the most important data points for a patient with a certain issue or in a certain demographic group in a way that helps both the clinician and the patient know how things are going in simple English and with simple graphs," Schutzbank said. "It also is meant to be a discussion starter for areas where data is missing -- like a discussion about home safety or when a woman should start getting mammograms."
What a user says
When Zubin Damania, M.D. founded Turntable Health in Las Vegas of December 2013, his goal was to improve primary care by using technology to boost the human connection that is often lacking in healthcare.
Turntable Health is a clinic that utilizes all the services Iora provides: Iora's technology -- - EHR and mobile application, for example -- as well as the staff and clinicians the startup provides.
"The inspiration [for Turntable] was really my experience as a hospital doctor taking note that 50% of my patients in the hospital didn't need to be hospitalized if they just had good preventative and engaged outpatient care that held them accountable," Damania said. "We discovered Iora Health was doing these pilot clinics using a really interesting model with health coaches and doctors and social workers all working together."
Damania explained that not only was he attracted to the fact that Iora custom built its EHR to better support its collaborative care model -- "because everything off the shelf is basically a glorified billing platform with a little bit of patient care stuff thrown on it as an afterthought," he said -- but also because the startup's product can support population health and a collaborative care approach.
Without Iora, Damania said Turntable Health would've had to build this type of model from scratch using an off-the-shelf EHR, "which would have hobbled us." He explained that if Turntable used Epic Systems' EHR platform, the clinic would have to conform to Epic's workflow -- which means Turntable would have had to change everything about how it conducts the practice.
"What about if I want a collaborative team where everybody's working together?" Damania said. "They should be able to write the same note at the same time. It should be narrative-based. You should be able to assign tasks to non-clinicians, and the patient should be able to read and write in that chart. And that's that."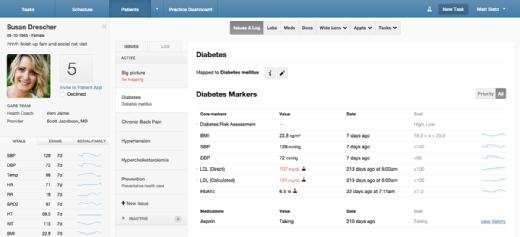 Further, if Turntable had tried to build its own EHR, it would've set clinic staff back a couple of years.
"I really think Iora is one of the few companies out there that understands this idea of Health 3.0, that it's about relationships and teamwork and collaboration and leveraging technology to help the team," Damania said. "That's largely why we chose them, and we really think they get it."
Drilldown
Iora also has the ability to gain access to much broader data than just what is happening within their practices.
For example, the company can use claims and other administrative data from an insurer to keep tabs on what other care a patient has received, which allows Iora to pick up on trends even if the patient isn't in front of a physician staffed by Iora.
In fact, Iora can put a view right in a patient's medical record and chart detailing other doctors that patient is seeing and what medications that patient has been prescribed.
"When we collect this data in aggregate, we can learn about our population as a whole, learning what problems they are collectively facing and which kinds of things we do [that] are working," Schutzbank said.
Pricing
Iora Health's pricing is on a case-by-case basis. The company would not detail any costs.
Let us know what you think about the story or if you've used a collaborative care model; email Kristen Lee, news writer, or find her on Twitter @Kristen_Lee_34.
Next Steps
Data curbs the risk with population health models
ACO models need better quality measure and analytics
Slow technology adoption stunts growth of ACO model
Dig Deeper on Electronic health record (EHR) vendor selection