everythingpossible - Fotolia
Get started
Bring yourself up to speed with our introductory content.
Home healthcare company uses eCaring to stave off ER visits
Population health management tool, eCaring, is helping one home healthcare company reduce ER visits of those with chronic diseases.
The primary task for Bestcare, Inc., a home healthcare company headquartered in Levittown, N.Y., is to ensure that people suffering from chronic diseases receive the best healthcare right within their own home. Part of that objective means keeping patients out of the emergency room by intervening before anything serious happens.
"What we want to do as an agency is to increase our early intervention for disease processes," Bestcare's Ilyne Rabinowitz, vice president of clinical services, said. "In other words, if somebody's going to get sick, we want to catch it as early as possible and maybe be able to treat them at home or through an outpatient clinic or therapy rather than have them go back in the hospital."
Avoiding hospitalizations is in everyone's best interest healthwise, Brian A. Schiel, Bestcare's vice president of field operations, said. "[It] improves the quality of life of our clients" and "there's a huge cost savings in terms of Medicaid dollars."
This is where Bestcare has found eCaring, a population health management system, most helpful. The home healthcare company has contracts with other agencies that provide them with clients. "[Those clients] are the direct clients of eCaring, and the clients that they select may be clients that we're servicing for them on a subcontracted basis with a home health aide," Schiel explained.
ECaring, in partnership with Samsung and Verizon, provides a Samsung Galaxy Tab tablet with a data plan and device management that the home healthcare company's aide or even a family member can use to record the progress of a patient's health, Robert Herzong, founder and CEO of eCaring, said. "The tablet goes into the homes loaded with the software and then the information on the tablet is then uploaded automatically and on an ongoing basis into our care management system."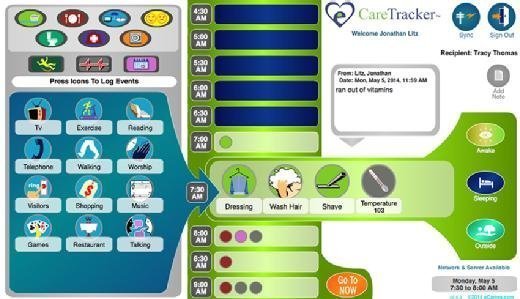 ECaring's tablet software is icon-based, which offers up a number of benefits when it comes to patient care, Rabinowitz said. "If somebody has cardiac disease and they're using salts, you can just press [the icon for] that. Or if somebody looks sad, there's a face with a frown ... It's very easy."
The simplicity of the icons means that people of all levels of computer literacy are able to use it.
In one particular program we were involved in, the length of hospitalizations for a target group decreased from 10 days on average before usage of the device, to three days on average after usage of the device.

Brian A. Schielvice president of field operations, Bestcare, Inc.
She added that there's also up to seven languages. "So if somebody speaks Spanish or Russian or Creole they can type it in in their native tongue and the recipient can get it translated to English," Rabinowitz said.
Once the home health aide inputs the patient's information into the eCaring software, the information is then stored in the cloud and is sent in real time to the patient's case manager at the patient's long-term managed care programs. Most of the care managers are nurses. With this information, the patient's care manager is able to establish a baseline for the patient's health, making it easier to detect a health problem and then intervene early.
So far, Bestcare has found the results to be good.
"In one particular program we were involved in, the length of hospitalizations for a target group decreased from 10 days on average before usage of the device, to three days on average after usage of the device," Schiel said. "That's been attributed to the opportunity for early intervention, which would allow something to be addressed at an earlier state of acuity."
One example is when the home healthcare company's aide sent a message to a nurse about construction outside a patient's home in lower Manhattan, Rabinowitz said. "The fact that there's increased dust coming into the apartment is very relevant ... That's a great example of what we can do to intervene early and avoid [hospitalization]."
Herzog said that eCaring has been able to reduce ER visits by 30% to 40%. "It depends a little bit on the program and the population but that's the average."
He added that because eCaring enables caregivers to intervene early, it reduces the average length of stay for hospital patients by about 50% to 54%, and they've been able to reduce congestive heart failure readmissions by 60%.
"We save about $4,000 per patient per year by enabling these early interventions across the continuum of care of the patient whatever setting they're in," Herzog said.
And this tool is not out of reach for those who have a lower income, he added. In fact, Herzog said his company targets this population.
"Many of the households we deal with are low income, they're dual eligible Medicaid/Medicare or undermanaged Medicare or Medicaid programs," he said, adding that eCaring is working with Verizon to provide low-cost access to the Internet for low-income patients. "They very frequently don't have Internet access in the home, certainly not good access, which means that they're cut off from the benefits of digital media in their home."
Editor's note: This story was updated to reflect that eCaring is working with Verizon to provide low-cost Internet access for low-income patients.