Healthcare optimization system rewards healthy behaviors
Welltok's optimization technology for healthcare helps employees and consumers locate and choose health benefits, and it helps employers and insurers control costs.
Each month, the editors at SearchHealthIT recognize an innovative software, service or technology approach. Welltok Inc.'s CaféWell system is our May 2016 selection.
Products: CaféWell Core, CaféWell Rewards, CaféWell Connect, CaféWell Concierge, CaféWell Insights
What CaféWell does
Welltok Inc.'s suite of CaféWell products can't be defined solely as population or consumer health, cognitive computing or analytics systems, though it is all of those, too.
Rather, Welltok positions its technology as a HIPAA-compliant healthcare optimization platform for employers, insurers and providers that align consumer health behavior with positive rewards and incentives.
The CaféWell Core is the foundation of the system. It produces a Personal Health Itinerary, a personalized healthcare optimization plan that ties rewards -- such as Amazon gift cards, recognition prizes or insurance discounts -- to good health and wellness behaviors, which are managed by CaféWell Rewards.
Desired results could include controlling weight, lowering body mass index or reducing stress and hypertension.
Through CaféWell Connect, Welltok makes its APIs available to third parties that develop systems for tracking and treating higher-acuity patients, such as those with chronic conditions like congestive heart failure, asthma and diabetes. Those connect to Welltok's user interface and incentive design systems.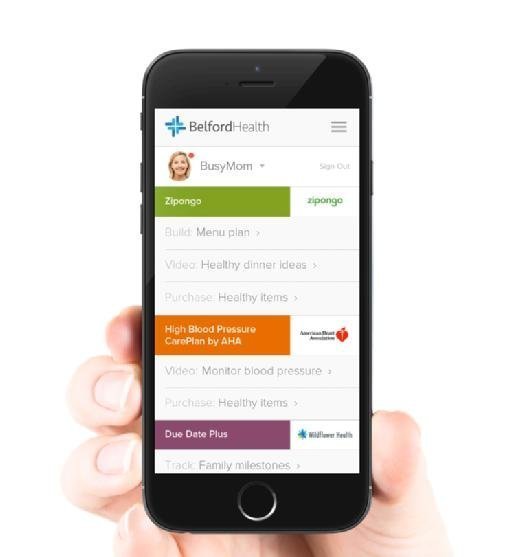 Meanwhile, CaféWell's personalized plans are based on participants' health status, demographics, benefits and interests. Often, employees or participants get biometrics screening that establishes appropriate weight levels, step counts, blood pressure readings and other goals.
Then, users are rewarded for completing recommended activities delivered by CaféWell's analytics and cognitive computing-powered insights, such as participating in a smoking-cessation program, getting a mammogram, buying lower-cost medications or using a wearable tracking device. The theory is to drive user engagement with healthy behaviors.
Brian Garcia, senior vice president and CTO at Welltok, said he sees Welltok's healthcare optimization approach as the third essential platform, after EHRs and payer claims processing systems.
"There has never really been a platform ... that focuses on the individual," Garcia said. "What do I need to do to navigate care?" Garcia said.
Why Welltok matters
A major use case for the CaféWell healthcare optimization suite is helping employees and consumers navigate the welter of benefits available under their health plans.
Powered by the IBM Watson cognitive computing engine, CaféWell Concierge nudges users toward the right resources based on their personalized profiles using an Intelligent Health Itinerary.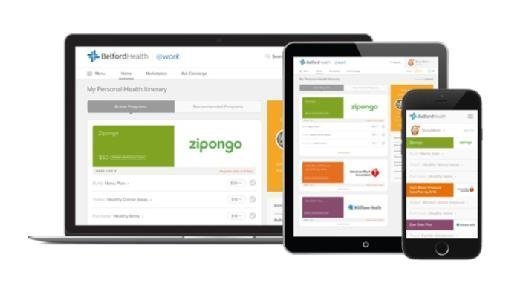 Welltok customers, which the company calls partners, also use CaféWell Concierge to guide users toward finding local health providers and follow-up care.
While individual users take advantage of the benefits most useful to them and receive guidance about the best health behaviors, corporate and government population health managers can track patterns in an effort to lower claims and control costs.
"We're not giving you all 36 resources," for example, Garcia said. "We're just giving you the ones that are relevant to you."
What a user says
The state of Colorado connected with Welltok in 2013, after a mandate from the governor to provide a wellness program for state employees.
State officials went to their two biggest insurance carriers, United Healthcare and Kaiser Permanente, for guidance about which wellness program to choose. The payers, which had been working with Welltok in another state, steered them toward the Denver-based company.
For the first year, the payers funded the Welltok program, but under the agreement that the state would then sign a contract with Welltok. The state prepared a request for proposal and chose Welltok after a competitive bidding process under a three-year contract worth $1 million a year, with two one-year renewal options.
Welltok's ability to integrate with other technologies and up-and-coming technologies was pretty attractive.

Nate Sassanowellness manager for the state of Colorado
"It was the way they use technology and their connection with IBM Watson and their Concierge tool that set them apart from some of the other platforms we looked at," said Nate Sassano, statewide wellness manager for the state of Colorado. "Welltok's ability to integrate with other technologies and up-and-coming technologies was pretty attractive."
Now, the state is ending its first year of the contract, during which the Welltok healthcare optimization system has been available to 35,000 state employees under the executive branch; about half voluntarily signed up.
Of those, about 30% are earning the monthly incentive of $20 off their health premium contribution, a relatively small but still significant discount.
While Sassano said it will likely take three to five years to determine if the program is working, he said early results are promising.
"We're starting to see that with those folks who are engaged in the platform are costing us less from a benefits standpoint," he said. "We're incentivizing small actions that create a big change."
Drilldown
Welltok's approach is a platform as a service that targets:
Health plans by offering member engagement and the ability to target at-risk populations, including Medicare patients;
Large employers by organizing what it calls the spectrum of benefits -- programs and initiatives offered by companies to maximize benefit and incentive usage, report on usage, and increase employee satisfaction and retention; and
Providers to help population health managers engage consumers with their own health outside traditional healthcare settings.
Pricing
Welltok uses a per-member, per-month pricing model.
Dig Deeper on Population health management