everythingpossible - Fotolia
Healthcare kiosk showcased by Dell, Bay State Hospital
A HealthSpot and Dell automated healthcare kiosk that's on display at Baystate Health's IT incubator enables self-service telecheckups.
You swipe your hospital or insurance card through the slot and enter your identifying information on the touch screen.
Then you step into the big blue healthcare kiosk.
After a medical assistant gives you some simple instructions, the door slides shut and you are alone. You sit down and look into the screen. Your doctor, from his remote location via interactive video, greets you. You describe your symptoms -- pain in your right ear, with some fluid and diminished hearing.
One of six compartments built into the sleek interior of the booth pops open, and an otoscope appears. The device is linked to the doctor's video monitor. You put it in your ear. He diagnoses an ear infection and punches a prescription for an antibiotic into his e-prescribing software.
You exit the kiosk and the medical assistant comes in to wipe down all the surfaces with a powerful disinfectant. The door closes again and a UV irradiation system sprays a fine germicidal mist that sanitizes the cubicle.
In five minutes, the kiosk is ready for the next patient.
Kiosks already being used
Science fiction? Hardly.
It's a new model of care and it could be a really good way of extending our services.

Joel VengcoBaystate Health
This healthcare kiosk, manufactured by HealthSpot Inc. and powered by telehealth and Internet of Things (IoT) in healthcare technology from Dell's Healthcare and Life Sciences division, is already in use in several dozen Rite Aid pharmacies across the country.
Soon Baystate Health, the biggest healthcare system in western Massachusetts, plans to install at least one of the kiosks at a to-be-decided-on location in the provider's far-flung urban-rural coverage area, which includes some ten colleges and universities.
"It could be the mall. It could be a university campus. It could be Bradley [International] Airport," said Joel Vengco, Baystate's vice president and CIO. "It's a new model of care and it could be a really good way of extending our services to the region at large."
Kiosk shown at Baystate Health
For now, a working demonstration model of the HealthSpot-Dell kiosk is on display at Baystate's health IT incubator, TechSpring. It's on the fifth floor of an office building in downtown Springfield, Mass., a few blocks from the healthcare system's flagship Baystate Medical Center.
On a recent weekday afternoon, Baystate and Dell executives gave guided tours of the healthcare kiosk and other telehealth-related projects to media members, industry analysts and a few Baystate physicians.
In addition to the kiosk, Baystate is piloting an "e-visit" program at one of its regional clinics in which a primary care doctor conducts follow-up visits over video-linked laptops, and a remote patient monitoring program for 10 diabetes patients in conjunction with Dell and telemedicine vendor HealthNet connect.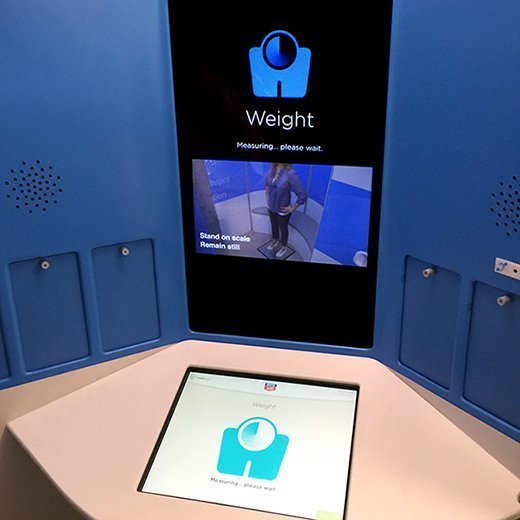 Other markets eyed for kiosk
As for the kiosk, the price is roughly $30,000 each, plus pay for the medical assistant who helps operate it, according to Dell.
Beyond the otoscope, the kiosk is also equipped with a stethoscope, throat scope, scale, height measurement device and dermawand for examining skin problems.
Dell is not only eyeing healthcare providers but also big employers, grocery stores and other retail locations other than pharmacies for the kiosks.
Kiosks could also be a good fit in emergency departments to ease volume pressure that causes long patient wait times, but allowing patients with less acute issues to be seen more quickly, Vengco said.
Dell Healthcare and Life Science's new chief medical officer, Nick van Terheyden, M.D., said Dell's recent efforts in the telehealth and IoT healthcare space are oriented toward patient engagement and satisfaction.
"Healthcare is personal," he said at the TechSpring event. "It's how we can actually make a difference and improve things."
Let us know what you think about the story or the healthcare kiosk; email Shaun Sutner, news and features writer, or contact @SSutner on Twitter.
Next Steps
Baystate Health CIO discussed uniting clinical and claims data
Privacy and security issues cloud healthcare IoT
Patient healthcare kiosks were shown at the 2013 Consumer Electronics Show