Vocera Communication Badge and Collaboration Suite for Apple Watch
The smart, voice-operated Vocera Badge and its Apple Watch app let clinicians communicate wirelessly in hospitals.
Each month, the editors at SearchHealthIT recognize an innovative software, service or technology approach. The Vocera Communication Badge and Apple Watch app are our August 2015 selections.
Products: Vocera Communication Badge, Apple Watch app
Release dates: First systems released in early 2000s; Apple Watch app expected to be released by fall 2015
What the Vocera Communication Badge does
That nurse or doctor uttering a quick set of instructions into what seems to be the air in your hospital room isn't talking to an imaginary colleague.
Rather, she's most likely wearing a sleek, ruggedized Vocera Badge from Vocera Communications, Inc. The Vocera Communication Badge is an algorithm-enhanced, wireless health communication device that's like a smartphone without Web-surfing capacity, but also without security vulnerabilities.
It's part of the Vocera Collaboration Suite, which integrates the badge, secure text messaging and the Apple Watch app.
In a way, the original Vocera Communication Badge is the opposite of the pervasive BYOD approach that has so many healthcare CISOs scurrying to lock down a clinician's mobile devices before they click on a malicious link.
Members of caregiver teams -- outfitted with the lapel-mounted or lanyard-suspended, voice-activated badges -- talk only with each other, in muted volumes and for brief exchanges, as spelled out by hospital policy to protect privacy. The badges enable one-to-one or "one-to-many" conversations.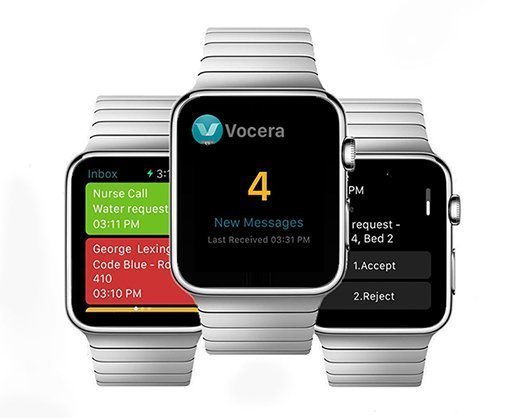 Vocera also offers a voice app that resides on smartphones.
And the publicly traded company, based in San Jose, Calif., also has a deal with Internet of Things vendor Zebra Technologies Corp. to provide its communication system on Zebra's handheld computers equipped with hospital barcode scanners.
The Zebra device is based on a hardware platform from Motorola Solutions, Inc.'s former enterprise mobility unit, which Zebra acquired in October 2014. Motorola was a strategic investor in Vocera more than a decade ago when Vocera was raising money as a private company.
With the Zebra product, which is bigger than the traditional Vocera badge, Vocera is aiming to give nurses the ability to communicate, administer medications and catalogue collected specimens on one relatively small device.
"The alternative would be finding a laptop or a clinical cart on wheels," said Brent Lang, CEO at Vocera.
Among the functions that make the Vocera badge system more than a super-charged, walkie-talkie network is a sophisticated software engine that identifies and seeks out the next responsible worker, and automatically routes calls to that person if the original intended recipient is unavailable.
"One of the things that makes it really unique is it uses speech recognition in the interface and its hands-free operation," Lang said. "Another thing is that it can use APIs to interface with third-party clinical systems."
For example, if an operating room (OR) nurse is looking for the nurse running the recovery room, and that nurse is on break, the Vocera system will immediately direct the OR nurse's call to the next-in-line nurse designated to run the recovery room.
Vocera calls this technology "role calling," meaning the badge scrolls through the roster of available employees by role, name and shift, and prioritizes the call.
Why Vocera Collaboration Suite matters
Vocera's chief nursing officer, Rhonda Collins, said most surgical errors are caused by faulty communication between employees. The most prevalent communication problem is during patient transfers, such as those between the operating and recovery rooms, as well as emergency departments and intensive care units.
"The physician doesn't know who to call, [or] who's in the recovery room," Collins said.
Another selling point for the badge is its nearly complete hands-free operation.
"Let's say I'm a nurse. I'm scrubbed and I don't want to do anything with my hands, like fumbling in my pocket," said Collins. "With one tap, it gives me instant verbal communication."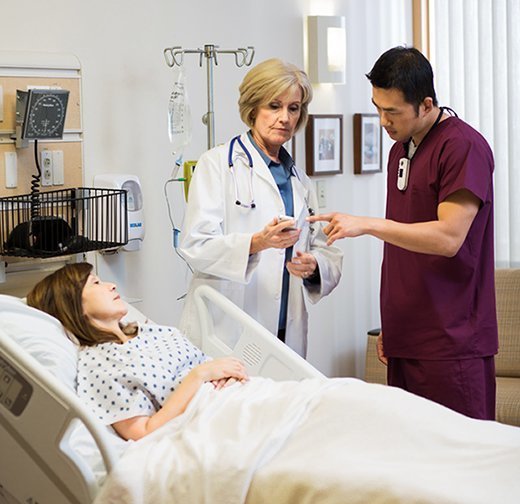 Collins said most nurses use the hands-free badges, while many doctors, who are not as dependent on their hands for many patient encounters,prefer smartphones.
Vocera is also targeting doctors for its Apple Watch app, partly because so many doctors already use the Apple iPhone.
"We view the Apple Watch as something that is very ubiquitous to the personal use of electronics, and especially to physicians who are techie-minded," Collins said.
Vocera Badge user review
"We've really tried to not let technology lead what we do, to instead keep nurses at the bedside, said Jennifer Krippner, director of physician development and spokeswoman for Minnesota's Maple Grove Hospital. Krippner said the Vocera badges make and receive 50,000 calls per month at the 130-bed hospital. "Vocera gives us instant targeted communicationbetween patients, providers and staff."
At Maple Grove, patients' beds are fitted with remotes that connect to the badge network.
We've really tried to not let technology lead what we do, to instead keep nurses at the bedside.

Jennifer Krippnerdirector of physician development and spokeswoman, Maple Grove Hospital
"So when a patient in a bed is in pain and calls for help, it doesn't just ring at a desk." Krippner said. "It goes straight to the right nurse. It keeps nurses at the bed."
Maple Grove also uses the badge for remote patient monitoring by connecting the badge system to cardiac patients' bedside monitors. When blood pressures spike or drop to dangerous levels, alerts are sent directly to the appropriate nurses' badges.
Krippner said hospital IT managers are now evaluating the Vocera Apple Watch app as part of an effort to keep abreast of the newest and most unobtrusive tech tools.
"It's definitely on the radar," she said.
As for the badge system, "it's an integral communication tool for patient care," Krippner said. "We can't imagine what we'd do without it."
Drilldown: How the Vocera Badge and Apple Watch app work
The badges work over dual-band Wi-Fi radio frequencies and are sheathed in antimicrobial coating. The badges include high contrast OLED (organic-light emitting diode) displays, do not disturb buttons, headset jacks and illuminated halos around the call button.
Badges are equipped with four microphones and voice discernment technology to provide superior audio to smartphones.
The Apple Watch app allows doctors to quickly view and respond to prioritized alerts and messages, as well as interact with messages from care team members and EHRs. The app can also trigger panic calls in situations in which the caregiver is in danger.
Vocera cost
The badges are sold on a per-unit basis with service and upgrade plans. Vocera declined to provide pricing information.
Let us know what you think about the story; email Shaun Sutner, news and features writer, or contact @SSutner on Twitter.
Next Steps
Tech insider discusses Apple Watch, healthcare IoT
Communication badges help keep hospital employees safe
How to boost patient engagement and stay HIPAA-compliant
Dig Deeper on Mobile health systems and devices