peshkova - Fotolia
Evaluate
Weigh the pros and cons of technologies, products and projects you are considering.
Health IT expert weighs in on AI in healthcare
While some healthcare organizations are playing with AI in healthcare, others still struggle with legacy systems. But there are use cases for AI, a health IT expert explains.
BOSTON -- Modes of automation or artificial intelligence (AI) have been used by organizations for years. The concept goes back to the 1950s, according to Brian Kalis, managing director of digital health at Accenture, a business management consulting firm based in Boston.

Download this free guide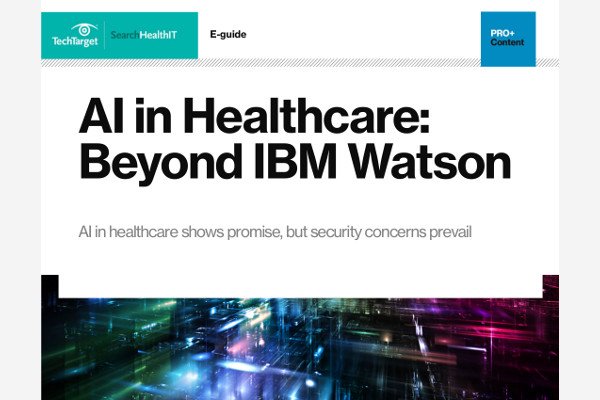 Download Now: Artificial Intelligence in Healthcare
AI in healthcare goes beyond IBM Watson. In this e-guide, discover 4 uses for AI in healthcare – particularly how it can help improve patient engagement – and whether we can overcome security and interoperability concerns surrounding the technology.
"What's different now is we have this convergence of different technologies all coming together to make all those things real," Kalis said. "The combination of cloud computing, the fact that business processes through [robotic process automation] RPA have increasingly been digitized and now we're getting information from them that we would now use to actually generate insights."
At the Pega Collaborative Healthcare Summit, Kalis discussed use cases for AI in healthcare, as well as the challenges AI faces in the industry -- for example, the fact that many healthcare organizations still have legacy systems.
What are the use cases for AI in healthcare?
What we're seeing with health clients, health systems and health services is really the move into that next generation robotic process automation from security scraping to how do you actually look across legacy systems?

Brian Kalismanaging director of digital health, Accenture
Brian Kalis: What we're seeing with health clients, health systems and health services is really the move into that next generation robotic process automation from security scraping to how do you actually look across legacy systems? ... Adding workforce intelligence is a big component to them figuring out 'Well, how do we do that?' Trailing that ... we've started to use intelligent virtual agents that actually become the voice of your brand and start to interact with your customers. Very early stage with health clients and health systems. We're starting to see some of the early stages of verification. Of how do we interact or create an interaction? ... A lot of the activities of I'd say sales and marketing and services and on the back end in operations on the clinical side and on the operational aspects is still in the early stage in terms of its evolution, which makes sense because you don't want to get a clinical decision wrong.
Why is AI being pushed for healthcare now? What are the challenges?
Kalis: One aspect is just the rise in customer expectations. ... People's expectations with how they interact with all services -- both health plans, health systems, including public services and citizen services --is ultimately raised by experiences they had [in an] outside industry. That comes into healthcare. [The question is] how you provide that given the realities of the systems you have. The other component is just increasing cost pressure that you have on these systems. So how do you get the efficiency in the world you're in ... so you can operate profitably and continue to grow? Third thing is all the pressures you see related to regulatory changes and shifts.
What about healthcare organizations with legacy systems?
Kalis: I think a big part of this is ... given there's that early stage of us moving into generation two or three of automation, there is an aspect of how do we look at an enterprise view of all different areas? ... We've done a lot of work on the health plan side in claims processing over the years, moving into customer service as well, but there's a whole collection of low-hanging fruit in areas like finance and accounting, human resources, procurement operations, in addition to using enterprise solutions across where you already applied automation in the past. ... All of that ultimately is how do you find those small use cases. Rather than the end-to-end process how do you find those small things? ... A good example a colleague of mine and I were talking about was a flu shot. So let's say a flu shot is a new claims process that was released. How do you identify ... where a legacy system can't do it and etch it into a single role? Automate the process. ... There's so much of that available.
Dig Deeper on Workflow and process management software and systems