ArchMen - Fotolia
Evaluate
Weigh the pros and cons of technologies, products and projects you are considering.
HIE executive director: Why HIEs probably aren't data blocking
Some experts have discussed how data blocking is occurring with HIEs. But an HIE executive director argues that other barriers are in the way and contractually HIEs can't data block.
Accusations of data blocking have been floating around the health IT world for a while. Well-known public figures, from the secretary of the U.S. Department of Health and Human Services, Sylvia Burwell, to the Vice President of the United States, Joe Biden, have talked publicly about data blocking.

Download this free guide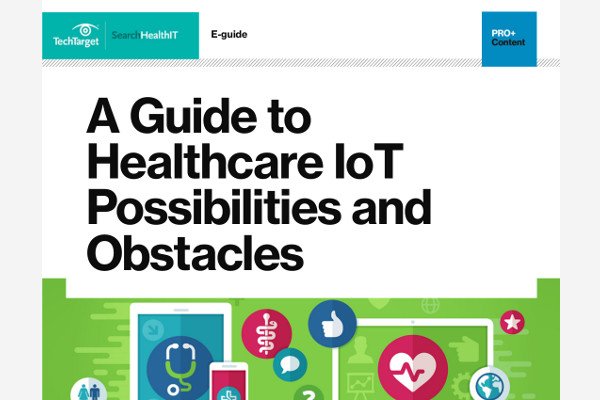 Download Complete Guide to Healthcare IoT Now
Healthcare IoT has the potential to greatly improve patient care – but it's not without its challenges. Download this essential guide in one PDF and learn how to overcome the obstacles: security, data overload, regulations, and more.
By submitting your personal information, you agree that TechTarget and its partners may contact you regarding relevant content, products and special offers.
You also agree that your personal information may be transferred and processed in the United States, and that you have read and agree to the Terms of Use and the Privacy Policy.
But Doug Dietzman, executive director of Great Lakes Health Connect, an HIE in Michigan, said such accusations should not be so hastily made when it comes to health information exchanges (HIEs).
Dietzman contacted SearchHealthIT after reading a story addressing the issue of data blocking among HIEs.
"I was a little surprised [at the data blocking accusations] as it relates to HIEs," Dietzman said. "We've heard [about] data blocking … between provider organizations, in the context of vendors and what they're doing. But I had never heard it before in the context of HIEs."
Here is why Dietzman not only thinks accusing HIEs of data, or information, blocking is not fair but also why he believes it is difficult for HIEs to data block in the first place.
HIEs are HIPAA business associates
I just think that we're accusing organizations too quickly of being data blockers when there are other business and relationship issues that are stronger and more likely the issue.

Doug Dietzmanexecutive director of Great Lakes Health Connect
The reason it is difficult for HIEs to data block is that they are HIPAA business associates, Dietzman said.
"We're business associates and can only do with the data what the covered entities that have hired us for our services tell us that we can do with it," Dietzman said.
This means that HIEs are completely at the beck and call of the covered entities that are members of their network.
"There may be things that are perfectly legal as it relates to HIPAA to do but as a business associate hired to perform a specific function it does not mean that we have the ability to do all of those things that a covered entity might be able to choose for themselves to do or not," he said.
For example, if a particular hospital that is participating in Great Lakes Connect asks the HIE to interface with an affiliated provider organization and deliver results to that organization's EHR, "that's what we're under contract to do," Dietzman said. In other words, that is what they have to do with that data, and nothing else.
"We're not the primary source for any data. We are only a unique copy of the data that exists in all of the participants' EMRs that are contributing and sending data to us so we can't, by our nature, block anything because we are not the originator and the only source for anything," he said.
HIEs face challenges, but they are not data blocking
The issues surrounding interoperability are complicated, Dietzman said. And yes, they do affect HIEs but he believes, for the most part, HIEs are not withholding data with malicious intent. The lack of interoperability, he said, is due to other barriers.
Dietzman said he thinks the problem with the healthcare system is not due to data not being shared because data has always been shared, whether by phone or fax.
"We're collecting this data electronically in the physician offices, we're trying to figure out, what are the right contexts? How do we need to share it in ways that actually make a difference?" He said. "That's a soupy mess right now depending on the specialty."
Not only that, but Dietzman said that different healthcare organizations have varying rules around the sharing of data. For example, an insurance agency can't simply hand over claims data just because someone asks them to, he said. But Dietzman made the point that this isn't necessarily data blocking.
"When we do something with exchanging data and somebody says, 'Oh, well, that's not meeting my needs'. That may well be right now," Dietzman said. But that's because there are other barriers --whether due to rules and regulations or even technological barriers -- in place. This doesn't mean that that insurance agency -- or HIE -- is data blocking, he said.
"I just think that we're accusing organizations too quickly of being data blockers when there are other business and relationship issues that are stronger and more likely the issue," Dietzman said.
Dig Deeper on Health information exchange implementation and management