Find the best medical imaging technology for your enterprise
See how the top, full-service medical imaging technology vendors differ from one another and which one could best fit your healthcare organization's imaging needs.
In this discussion, we will explore how to determine which medical imaging informatics system is right for your...
Continue Reading This Article
Enjoy this article as well as all of our content, including E-Guides, news, tips and more.
enterprise.
While there are a number of prospective vendors, this discussion will focus on those that offer broader medical imaging technology to the market, as opposed to those that are more specialized. Vendors considered in this analysis are grouped by how clinical and IT specialists might perceive them in the marketplace.
Historically, film companies were displaced as digital imaging evolved. Agfa, Carestream and Fujifilm all adapted by developing PACS and digital film replacement -- computed radiography (CR) and digital radiography (DR) -- capabilities to offset film's decline. Imaging equipment companies, including GE, Philips and Siemens, all perceived medical imaging informatics as an extension of the digital imaging equipment business, and a means of protecting their imaging equipment base. Other IT companies, such as Cerner and Change Healthcare (formerly McKesson), viewed medical imaging informatics as an extension of their IT businesses. Similarly, Merge Healthcare and Sectra evolved in the context of relationships with film, imaging and IT companies to provide medical imaging informatics capabilities.

Consider these criteria that are relevant to a medical imaging technology purchasing decision. Using these in light of prospective vendors may be helpful in building a short list for consideration.
Scope
Scope is an important factor in considering medical imaging technology. All of the highlighted vendors can address the narrowest of scope, that being PACS and PACS archival replacement. In this limited scope, a tie-in to imaging equipment may be important based on positive vendor relationships and system synergy. For example, if the majority of imaging equipment is from Agfa and GE, then considering systems from these vendors might be beneficial.
For a broader scope, such as using a vendor neutral archive (VNA) for the enterprise, there may be reasons to consider more widespread IT relationships such as with Cerner or Change Healthcare. With Change Healthcare being a spinoff from McKesson, the IT relationship value may be evolving, especially now that McKesson is in the process of selling the remainder of its IT business to Allscripts. For the same reason as above, if the majority of IT is Cerner- based, Cerner might be a natural for consideration of a full-scale imaging informatics system for interoperability reasons. Merge Healthcare, with its expansion into artificial intelligence and machine learning, might be a good fit where population health management and value-based care are integral to a broad-scope medical imaging informatics implementation.
Content
Somewhat related to scope is the requirement for image content. If the implementation is a simple PACS or VNA, DICOM support is the prime requirement. All of the above vendors can address this requirement. If the scope is a broader, enterprise-level that encompasses multiple service areas, then systems with cross enterprise document sharing (XDS) experience are warranted. While most of the vendors offer some degree of XDS experience, companies with a European presence – for example, Agfa, Siemens, Sectra -- may have more experience with XDS, since it is already in more widespread use in Europe.
Single or multiple vendors
The stand-alone argument can frequently be made in the context of any kind of technology-purchasing decision, and it applies to medical imaging informatics as well. The selection of a VNA does not mean necessarily being locked into the same vendor for a universal viewer. That being said, all of the listed vendors offer universal viewing options. A good example of an internally-developed viewer is Agfa's Xero, a zero-footprint viewer -- one that requires only an internet browser to work, no software needed. Several vendors have partnered with dedicated universal viewer vendors to augment their own viewer capabilities, including Fujifilm, Philips, Sectra and Siemens. Carestream and GE are examples of vendors that offer complete VNA and universal viewer systems.
In all these situations, vendors that source technology typically do so under an original equipment manufacturer contract, so they act as a systems integrator of those pieces of equipment.
Single or multiple facilities
A key determining factor in larger applications may be a requirement to address multiple facilities, either within the same integrated delivery network (IDN), or across multiple IDNs. Such applications probably favor vendors with more IT experience, such as Cerner, Change Healthcare, GE and Siemens. These vendors have probably seen more interoperability implementations, and may be equipped to address medical imaging informatics integration. For example, Siemens' recent acquisition of Medicalis affords them a platform that can interoperate within multiple IT environments.
System configuration
Hardware independence and particular software platforms can be key factors in deciding which medical imaging technology to procure. A system that does not support virtualization, or employs an operating system or database application that is outside a facility's wheelhouse can have potentially negative factors, such as the need and expense of having employees learn a new operating system or database application.
Most if not all of the listed vendors support virtualization to some degree. Notable among them is Fujifilm, because it's supported a virtual environment for a number of years. Most medical imaging informatics systems are either UNIX-, LINUX- or Microsoft Windows Server-based, and that may be a factor if an organization has little experience with one of those platforms. Similarly, while most employ a commercially available database such as Oracle, they are relatively closed systems that don't require a lot of database manipulation. Conversely, if the IT group has little or no Oracle experience, that should be a factor in selecting a vendor.
Across the spectrum, platform commonality is important from an IT support perspective. In this case, several vendors, including Agfa and GE, may be relevant in that they have moved to a common enterprise core platform for the underlying database and user interface, with various plug-in applications depending on the service line.
Interoperability and vendor synergy
Interoperability is important from simple PACS to complex enterprise medical imaging technology. In the case of simple PACS and VNAs, how they interoperate with imaging equipment may be important. In this case, film-based and imaging equipment-based vendors such as Agfa, Carestream, Fujifilm, GE, Philips and Siemens may be good choices. Selecting a company that matches key equipment in the department can be beneficial as there may be a higher degree of interoperability. For example, Siemens has unique interfaces between their MRI scanners and PACS that provide more information on dose than other vendors' dose measurement applications.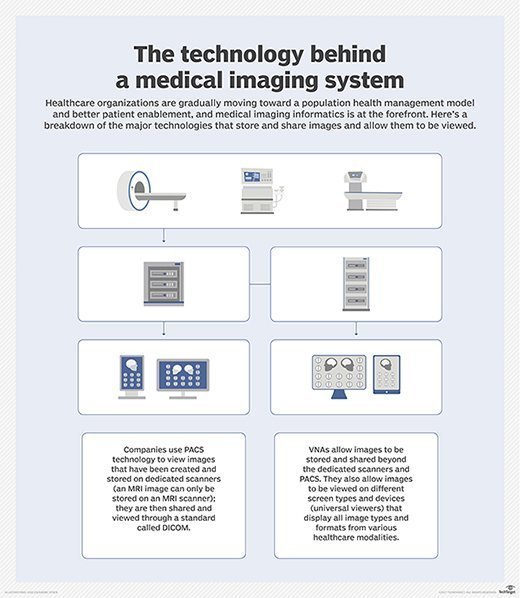 At the other end of the spectrum, interoperability with an electronic medical record (EMR) may be a significant factor. In this case, vendors with more IT experience may be advantageous, such as Cerner, Change Healthcare, GE, Siemens, and Merge Healthcare, because of their own EMR product offerings. In the case of Cerner, its viewing capability is well integrated with its Millennium EMR products. As Epic is another significant force in the EMR marketplace, vendor interoperability with Epic may be significant. Several of the IT-based vendors are working with Epic in the area of cardiology hemodynamics to improve data accessibility.
Key decision-makers
Depending on the scope of a medical imaging technology, the people involved in the decision-making process may vary. The broader the scope, the more likely that nondepartmental staff, such as CMIOs and CTOs, will play a role in the decision process. What may seem obvious to a service line may be less obvious on an IT or clinical level, and may affect vendor preferences. In an enterprise setting, there may be more familiarity and tie-in to vendors with a broader IT product presence, such as Cerner or Merge Healthcare. It may be important in situations such as population health management initiatives where interoperability is important to the collection of key clinical data.
The bottom line is that all mentioned companies are good medical imaging informatics-based alternatives. Consideration of these options largely depends on the best fit with requirements, as well as with the organization. Taking these factors into consideration will greatly improve the likelihood of success.
Editor's note:
Using extensive research into medical imaging informatics systems, TechTarget editors focused on vendors that we've defined as full-service vendors that supply PACS, VNAs and universal viewers.
Dig Deeper on PACS (Picture archiving and communication system)