EHR market as viewed through meaningful use attestation stats
Updated meaningful use attestation stats from large CMS database show top vendors have solidified market dominance in inpatient and outpatient spheres.
In a massive government database, meaningful use attestation amounts to nearly 1 million lines of data and 748 vendors. Those numbers continue to offer a window into the market presence of the top EHR vendors.

Download this free guide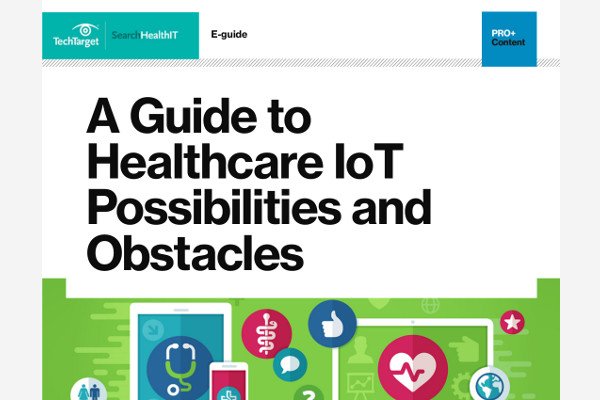 Download Complete Guide to Healthcare IoT Now
Healthcare IoT has the potential to greatly improve patient care – but it's not without its challenges. Download this essential guide in one PDF and learn how to overcome the obstacles: security, data overload, regulations, and more.
Recently updated meaningful use attestation data from CMS reveals an EHR vendor landscape that, while still fractured among hundreds of sellers, has further consolidated, with the top vendors solidifying their dominance in both the ambulatory and inpatient markets.
SearchHealthIT analyzed the tens of thousands of meaningful use attestation submissions by users of government-certified EHR systems from the 748 vendors and broke down the information by: inpatient and ambulatory category; stage 1 and stage 2 of meaningful use; combined stage 1 and stage 2; state; and medical specialty.
The information covers the period from April 1, 2011, when the first stage 1 attestations were filed, to March 30, 2015.
The data does not represent market share itself, but rather the numbers of meaningful use attestations by vendor -- a rough guide to market strength.
Also, to bring order to such a large data set, SearchHealthIT selected the top 10 vendors in most categories, and the top five in individual medical specialties. Therefore, the percentages of total attestations involving vendors in each group do not total 100% because many vendors with small attestation numbers were not included.
Here are 14 salient points embedded in the data, with analysis.
Hospital inpatient settings
1. While Cerner Corp. grabbed the top spot for combined stage 1 and stage 2 inpatient attestations, as it did last year at about this time, Cerner's 2014 acquisition of Siemens AG's EHR unit likely helped it pile up even more numbers since then. Last year, Siemens clocked in at number nine overall in the same combined category, while this year Siemens -- which is now part of Cerner -- didn't make into any top 10 list.
2. Another change since SearchHealthIT last looked at the attestation data in June 2014 is that GE Healthcare, which ranked fourth both this year and last in the combined inpatient category, has since exited the hospital EHR business. However, GE remains a player in some medical niches, particularly radiology, and in billing.
3. With GE out of the EHR field, that leaves the same top five inpatient vendors, by number of attestations, that KLAS Enterprises LLC in a recent survey found virtually own the market for large healthcare system EHRs.
4. KLAS ranked the big five, in the buying intention survey, in this order: Epic Systems Corp., Cerner, Meditech (Medical Information Technology, Inc.), McKesson Corp., and Allscripts Healthcare Solutions, Inc. The attestation ranking is remarkably similar to KLAS' if you take out GE; however, Epic is second to Cerner in total attestations, though Epic was tops in the more rigorous stage 2 attestation process. As in the KLAS ranking, Meditech, McKesson and Allscripts were three, four and five, respectively, in the government stats.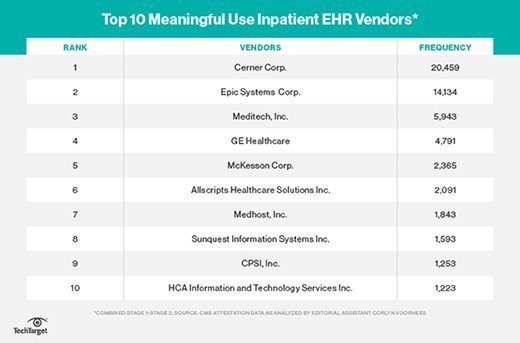 Ambulatory care settings
5. Notably, Epic, which is mainly associated with large healthcare systems with integrated data networks and academic medical centers, also far outpaced competitors in the attestation rankings for ambulatory providers. That goes to show just how dominant Epic is in all phases of the EHR business. Epic was number one in ambulatory for stage 1, stage 2 and both stages combined.
6. Beyond Epic, the ambulatory rankings start to get interesting. While heavyweights Cerner and Allscripts were in the top five along with Epic, much smaller vendors that focus primarily or solely on the ambulatory space are well-represented in the top 10 lists and also in the state-by-state rankings.
7. eClinicalWorks LLC is a top attestation performer in both meaningful use stages and in the combined ranking. It was fourth in the combined, sixth in stage 1, and second in stage 2.
8. Meanwhile, eClinicalWorks' strongest rivals battled it out among the top 10 ambulatory rankings, with athenahealth, Inc., NextGen Healthcare, Greenway Health LLC and Practice Fusion, Inc. the other top attestation performers.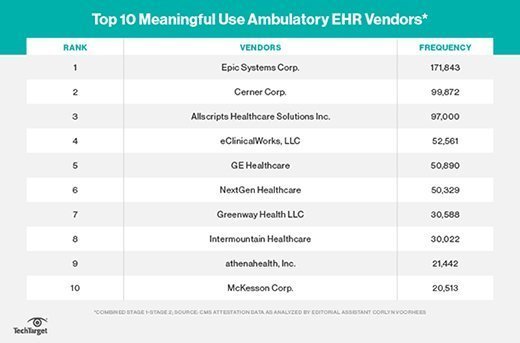 State-by-state numbers
9. In the state attestation rankings, something of a surprise emerged: eClinicalWorks appeared more often in the top 10 ambulatory, combined-stage category than any other vendor -- giving the relatively small, privately held Westborough, Mass., company the broadest geographic reach of any EHR vendor, with ambulatory customers in 48 states plus Washington, D.C.
10. That said, Epic dominated the state-by-state ambulatory battlefield in terms of sheer attestation numbers, with 22 number one state rankings. Cerner came in second in that category, with 15 first-place state rankings, while Allscripts was third, with six. eClinicalWorks was first in only two states: Maine and Rhode Island.
11. On the inpatient side of state comparisons, Cerner emerged as the top vendor in 33 states in the combined stage 1-stage 2 category, with Epic second with 12 first places. Cerner also appeared among the top 10 inpatient vendors in all 50 states plus Washington, D.C., while Meditech appeared in the top 10 in 49 states and Washington D.C. Epic was in the top 10 in 12 states.
Medical specialty settings
12. Epic towered above all other vendors in most medical specialty categories. The EHR giant based in Verona, Wis. was first in 44 of 61 specialties. Only GE, Cerner, Allscripts and a few specialized EHR vendors challenged Epic's supremacy in these niche areas.
13. GE was first in diagnostic radiology, maxillofacial surgery, dental oral surgery, pathology and preventative medicine. Allscripts was first in general practice, hand surgery, interventional pain management and neuropsychiatry. Other top-place specialty vendors included:
Cerner in pain management and sleep medicine
Integrated Practice Solutions Inc. in chiropractic
NextGen Healthcare in ophthalmology and osteopathic manipulative medicine
Eyefinity-OfficeMate in optometry
Biomedix Vascular Solutions in podiatry
Elekta-IMPAC Medical Systems Inc. in radiation oncology
Intuitive Medical Software in urology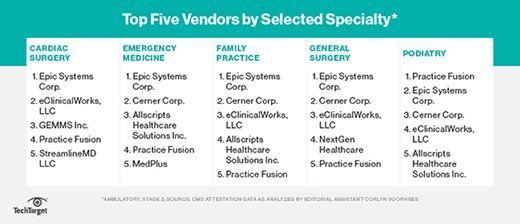 A final thought
14. The sprawling data set contains a few anomalies. For example, Boston's Partners Healthcare, the largest healthcare system in New England, generated the most attestations in Massachusetts since 2011. However, Partners recently replaced its homegrown EHR system, with which it attested, with an Epic EHR. Similarly, Intermountain Healthcare, Utah's biggest provider, had the most attestations in that state, but has since replaced its own in-house EHR with one from Cerner.
Let us know what you think about the story; email Shaun Sutner, news and features writer, or contact @SSutner on Twitter.