Digital health researcher has wearable step counter on ankle
While many use wearable health devices on their wrists, digital health researcher Sandra Rosenbluth puts a step tracker on her ankle and sees the wearable as part of her work.
Don't look for Sandra Rosenbluth's wearable step counter on her wrist.
Rosenbluth, a digital health researcher at Tufts University School of Medicine, wears her Withings Pulse on her left ankle, clipped to a short swath of headband cloth.
The Pulse is a detachable wearable step counter that also tracks sleep, elevation, heart rate, and blood oxygen levels and transmits the information to a smartphone app.
Users can also toggle through the data on the small, black, rectangular device and find the time, though the Pulse is not a smartwatch.
Wearing a step tracker for more than fitness
For 30-year-old Rosenbluth, a research assistant to Lisa Gualtieri, assistant professor of public health and community medicine at the medical school, her wearable step counter is not only an aid to her own health and wellness.
It's also part of the research she and Gualtieri are conducting into the efficacy and use of wearables among minority, elderly and low-income populations. Rosenbluth holds a master's degree in Nutrition Communication from Tufts University Friedman School of Nutrition Science and Policy in Boston and also a certificate from the one-year digital health communication program that Gualtieri directs at the medical school's Boston campus.
Members of one research cohort are using Pulses from Withings SA, a French vendor of personal health and wellness devices. Gualtieri and Rosenbluth are planning research projects in which they'll look at how effectively several groups in New England and across the country will use the trendy Activité Pop smartwatch from Withings.
"We thought, before giving them out, we should be using them," Rosenbluth said.
Rosenbluth is also the program coordinator for RecycleHealth, a nonprofit that Gualtieri founded last year that, yes, recycles used and cast-off wearables and gives them to people who wouldn't ordinarily be able to afford them. Withings donated 20 $99.95 Pulses, and 200 of the $149.95 Pops are on their way soon.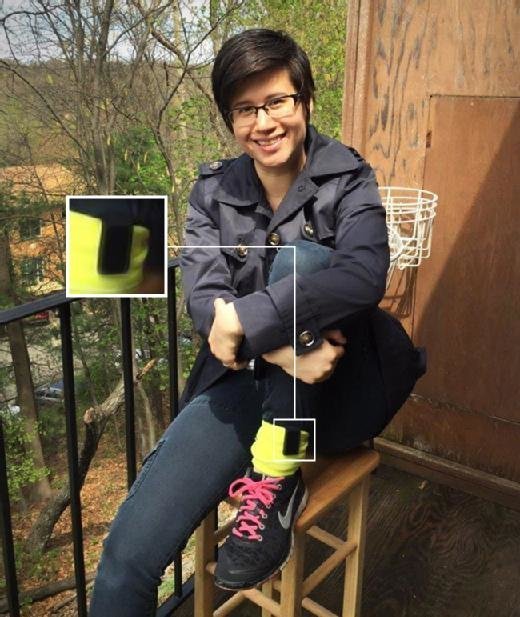 A former high school tennis player, Rosenbluth describes herself as moderately active. She says the wearable step counter, which she's been wearing since mid-winter, helps keep her focused on staying active and squeezing in a few more steps here and there, like when she goes shopping or takes her young niece for a walk.
Like many wearable users, she avoids elevators and escalators.
"When I park, I drive as far away as I can," she said. "It's kind of weird."
What's on your ... ankle?
Rosenbluth started wearing the Pulse on her ankle because she would warm her hands in her pockets during winter walks; no arm swinging means most steps don't register. Also, she thinks the device is more accurate on her ankle, where it's less thrown off by gesturing.
"It seems a logical place," she said. "If I'm looking to count steps, it should be close to the feet doing the walking!"
Many wearable users set 10,000 steps, or about five miles, as a daily goal. Rosenbluth's target is a slightly more attainable 8,000.
While she said she likes her Pulse, she has at least one complaint. As a non-watch-wearer, she feels it takes too many clicks to get to the time function on the Withings device.
"It has all these features. I'd like to pick the ones I want and put them in the order I want," she said.
As for the research, it's a study of how patients in a wellness program are using Pulses. The study is being run by Jeffrey Phillips, M.D., a Tufts clinical faculty member, at Phillips' private practice in Swampscott, Mass. Rosenbluth and Gualtieri are interviewing the users to see how often and with what results participants used the wearable step trackers. The researchers are looking for self-reported attitudes and motivation about keeping active while using wearables.
The Pop study participants are slated to be a group of Asian-American senior citizens, a group of African-American women and some people with mental illnesses -- not the demographics that tend to be associated with wearables, such as middle-class fitness enthusiasts.
Meanwhile, Rosenbluth is looking forward to upgrading to the stylish Pop.
But, she said, she may wear the watch around her ankle, too.
Editor's note: This story was updated to correct Sandra Rosenbluth's educational background.
Next Steps
SearchHealthIT reporters discuss wearable technology examples
Find out where HIPAA and wearables intersect
Telehealth pros believe in the value of mobile health and wearables