Sergey Nivens - Fotolia
News
Stay informed about the latest enterprise technology news and product updates.
Data analytics aids value-based reimbursement, but bigger goals loom
Although data analytics will play a role in precision medicine, experts say we're far from achieving the full potential. Instead, the focus of analytics now is on value-based care.
Healthcare organizations have spent years installing electronic health records and other information systems that collect data and improve patient care.

Download this free guide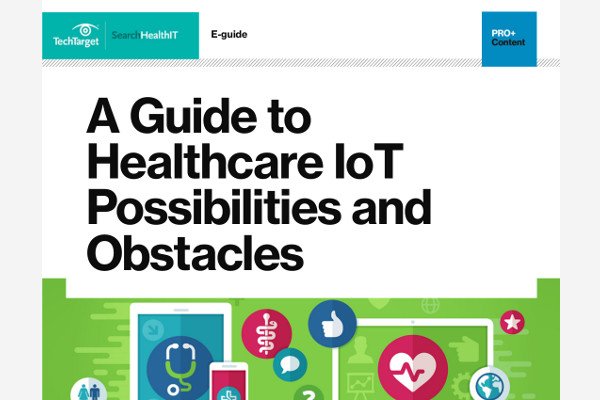 Download Complete Guide to Healthcare IoT Now
Healthcare IoT has the potential to greatly improve patient care – but it's not without its challenges. Download this essential guide in one PDF and learn how to overcome the obstacles: security, data overload, regulations, and more.
With all that data in hand, now the challenge is to take advantage of it for value-based reimbursement and show that it is being meaningfully used. Many experts believe the opportunity for transforming that ocean of data into something understandable and valuable in clinical care lies in data analytics, whether it be predictive analytics, big data or genomics.
But there's a short view and long view with data analytics in healthcare. The short view, and the goal most within reach of many in healthcare, is for data analytics to track quality and performance measures for value-based reimbursement.
"You'd be hard pressed to find an organization that's not looking at data and trying to do outcomes measurements," said Vindell Washington, M.D., principal deputy national coordinator at the U.S. Office of the National Coordinator for Health IT. "A large part [is] based on kind of a pivot that's happened in the payment arena and the quality folks have pushed really hard for."
This is especially true with the introduction of alternative payment models for value-based reimbursement such as MACRA. More formally known as the Medicare Access and CHIP (Children's Health Insurance Program) Reauthorization Act, MACRA is a new healthcare law that reforms Medicare reimbursement for physicians.
Meanwhile, the long view for data analytics in healthcare centers on precision medicine, which is still out of reach for most healthcare organizations.
Washington sees data analytics as being broken up into three ascending levels: Payments, population health, and genomics and precision medicine.
A quick explanation of MACRA
The Medicare Access and CHIP (Children's Health Insurance Program) Reauthorization Act (MACRA) reforms Medicare payments and is part of a national shift toward value-based reimbursement. MACRA only applies to individual physicians.
MACRA makes three key changes to Medicare payments:
Ends the Sustainable Growth Rate formula to determine Medicare payments.
Makes a new framework for rewarding healthcare providers for providing better -- not just more -- care.
Combines existing quality reporting programs into one new system.
MACRA creates a Quality Payment Program, which is made up of the Merit-Based Incentive Payment System (MIPS) and Alternative Payment Models (APMs).
MIPS is a new program that combines aspects of healthcare quality reporting, value-based care and electronic health records (EHR) incentives into one single program. Eligible physicians will be measured on quality, resource use, clinical practice improvement and meaningful use of certified EHR technologies.
APMs create a new way to pay healthcare providers for the care they give Medicare patients and will increase transparency of physician-focused payment models.
MACRA sets a timeline for healthcare organizations to transition to value-based reimbursement from 2015 to 2025.
Alternative payment models
There's no way around it: Healthcare is moving from a fee-for-service setup to value-based care. This switch is evident in the alternative payment models available today. And, once its final rule is published in the fall of 2016, MACRA -- which is part of a national shift towards value-based reimbursement -- will be in play as well.
"MACRA is just a part of a series of rules that we pushed to move toward [alternative] payment models," Washington said. He said that 30% of payments were in the alternative payment model category in January 2016, and the goal is to get up to 50% of payments there by 2018.
MACRA gives healthcare organizations two choices when it comes to payments, said Leonard D'Avolio, assistant professor at Harvard Medical School in Boston and CEO and co-founder of Cyft, a company that optimizes machine learning and natural language processing in healthcare. Those two options are as follows:
More process measures, which he said will lead to more box checking.
More capitated care models, in which healthcare organizations will get a fixed amount of resources to deliver care to patients who have certain conditions or risk levels.
Washington said that with these alternative payment models, the overall "goal is to intervene and take my high-risk patients to medium risk, my medium-risk patients to low risk and keep my healthy patients healthy," he said. In order to achieve this goal, "I have to do a lot of work in analytics … to figure out where my interventions should be."
Alternative payment models like MACRA will motivate healthcare organizations not only to use data analytics, but also to utilize other technologies, such as telemedicine, to ensure their patient population remains healthy and to receive value-based reimbursement, Washington said.
He added that "when you pivot from volume to value, you almost by definition need to think about populations and care differently."
Population health and data analytics
Once analytics for quality and performance measures for reimbursement is mastered, Washington said the next level of data analytics is population health management.
"I know a lot of leading health systems are looking at risk stratification among populations," Washington said. "I would say most today are using the standard clinical elements to risk stratify."
For example, a high-risk patient may have diabetes, high blood pressure and kidney failure. That same patient could also be taking more than 10 medications. Clinical conditions and medication information are examples of population health-based measures that, when combined with analytics, can help providers know when and how to intervene, Washington said.
"In order to measure something you need to have analytics," said Chad Konchak, senior director of analytics at NorthShore University HealthSystem in the Chicago area. "Once you've been able to measure it, you can then analyze where your opportunities are to improve."
For example, Konchak explained that a healthcare organization's diabetes quality measure could be lagging behind the rest of its risk-adjusted control group. In this case, analytics would be able to highlight this anomaly so that the organization could figure out where they can improve and make their patients healthier.
"If you're not able to even measure or understand where you're performing, then you don't even have a starting point. Then past that, you need to be able to say, 'OK, what are my opportunities to get better and then, with my limited resources, what are the populations of patients that I could really focus on to move the needle? And then how do I integrate that information into clinical workflows that then allows us to improve?'" Konchak said. "That's analytics."
According to Washington, most healthcare organizations participating in accountable care organizations or other value-based care strategies are currently mainly using analytics to measure quality and identify areas where they could improve.
Do doctors rely too much on analytics?
It's clear that data analytics will play a major role with clinical decision support and helping physicians know when and how to intervene to keep patients healthier. But is there a danger of physicians relying on data analytics to the point where the technology makes all the clinical decisions for them?
Two experts agreed that the answer, in short, is no.
In the end, there's no denying that the partnership between humans and computers is strong and that one without the other is less beneficial, said Don Brandenburg, director of health information technology at the Chinese Community Health Care Association in San Francisco.
"What I think we're going to see at least in the near term … [is] a trusted partnership. Not necessarily a replacement, but a partnership," he said. "You have better outcomes when a human is working with a computer as opposed to each of them working independently."
And Chad Konchak, senior director of analytics at NorthShore University HealthSystem in the Chicago area, said that data analytics strengthens a physician's abilities and is just the latest technology that enables clinicians to take better care of their patients. "Giving them better tools to help them make more informed decisions is what we've always done," he said.
Precision medicine and genomics
The next level up from population health management is precision medicine and genomics, Washington said. "[But] very few organizations are really doing [this]."
"We haven't really advanced to the point of being able to bring … many of the scientific discoveries around some of the chronic diseases we're talking about to the forefront," he said.
Konchak added that many healthcare organizations don't have access to genomic data, and even if they do, it's more likely being used to predict whether a patient will have an adverse reaction to a medication, for example. There is not as much success in trying to predict whether a patient will develop a chronic disease and, if so, what interventions need to be taken and when.
Washington said such capabilities will be achievable in the future.
"We would actually be able to look at genetic makeups, and we would also have signs that would tell us better what interventions would be successful," he said.
Washington pointed out that this step is already beginning with breast cancer. There are genomic markers for breast cancer and related treatment algorithms that help doctors better understand what the interventions for a patient should be, he said.
A contrarian view of data analytics in healthcare
Despite the promise of data analytics in healthcare, the road will be long to mainstream precision medicine and genomics.
Even trying to measure value on top of the information systems that exist today may be out of reach, D'Avolio said. He explained that these systems were created over the last 30 years to measure utilization for fee-for-service models; thus, they are essentially useless when it comes to value-based reimbursement.
"Every bit of data we've captured to date was not captured for the purpose of measuring value," D'Avolio said.
Washington agrees that systems in healthcare have generally not been built to do analytics. Instead, today's health IT systems serve more transactional purposes.
D'Avolio pointed to another issue: Many of the data analytics technologies being used in healthcare were developed in other industries, for which challenges like unstructured free text don't exist and users aren't dealing with information as important as what disease a patient has.
"We're layering [data analytics technologies] right on top of a foundation of data that was just captured with really different characteristics than those tools were built for," he said.
Ultimately, healthcare is spending billions of dollars on systems that can't answer the fundamental, future-facing questions of value-based care, such as: What should I do? When should I do it? To whom should I do it? And what will the outcome be?
Dig Deeper on Clinical data analytics software and systems