Dallas hospital CIO uses health wearable to track runs
The CIO of Walnut Hill Medical Center in Dallas uses his Apple Watch to track biometrics during runs and workouts, but finds health IT adoption slow for the health wearable.
This is the first feature in a series of portraits of provider CIOs, vendor executives, patients and others in the health IT community who are using health wearables for fitness, wellness and healthcare. "What's on your wrist?" is not intended to review wearable offerings from different vendors, but rather to look at how people closely engaged with health IT are using wearables in their personal and professional lives.
Aaron Miri is CIO of a "hospital of the future."
As an aficionado of all things tech, it's intuitive that Miri would be an early adopter of one of the planet's most popular health wearables: the Apple Watch.
Miri runs health IT operations for Walnut Hill Medical Center. Built in 2014 in the core of downtown Dallas, Walnut Hill is a 100-bed acute care facility that prides itself on delivering personalized care with a patient-centered philosophy that includes intensive use of technology and giving patients open access to their own health data.
Beyond overseeing Walnut Hill's digital health initiatives, Miri is a steward of his own health and fitness.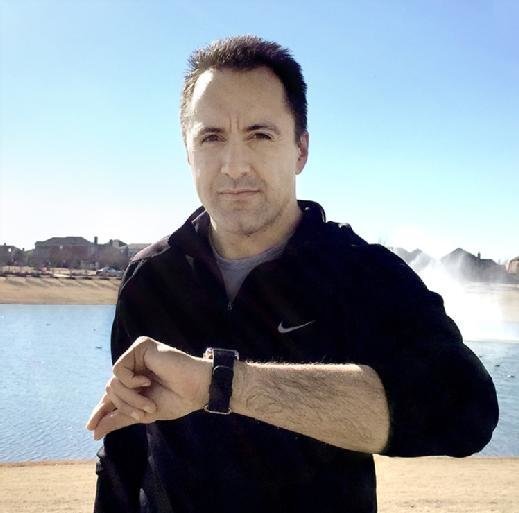 The 34-year-old CIO sees his stylish Apple Watch sport edition with its gleaming stainless steel case as an aid in a running schedule that has him putting in three miles on the road three times a week in his family's sunny Dallas suburb of Frisco.
"It's great. Especially as a hospital CIO, I thought I'd get out ahead of the technology," Miri, a former high school and college soccer player, said of his sleek Apple Watch with a 42mm case.
"But it is what it is, "Miri added, explaining that he thinks the watch has limitations.
He bought the health wearable soon after Apple released it to worldwide fanfare in April 2015. Although he thought the smartwatch would catch on quickly in the C-suite and on the hospital floor, it hasn't worked out quite like that for a number of reasons, Miri thinks. But more about that later.
Miri relies on the Argus fitness app installed on the watch and the iPhone 6 to which it's tethered to track not only steps, distance and times on his runs -- and workouts in a home gym in between runs -- but also to register his daily caloric and water intake and body mass index.
Countless fellow fitness and style enthusiasts (Miri has a few other, more fashionable bands he swaps out with the utilitarian black rubber sports band he uses for running) have also flocked to the Apple Watch. But still, sales, buzz and adoption for healthcare applications have not achieved the levels Apple and some health IT observers initially expected.
Although Apple has dominated the smartwatch market, moving an estimated 12 million units in 2015, one of its big rivals in the health wearables space, Fitbit, has sold more trackers overall and has achieved brand recognition nearly synonymous with fitness tracking itself.
For Miri, the relative dearth of other Apple Watches in his hospital comes down to price point -- the one on Miri's wrist costs about $599 undiscounted, and that's a relatively low-end model -- and perhaps reflects the watch's lack of ruggedness.
Even though most physicians carry iPhones in today's BYOD healthcare world, it's unclear if the non-waterproof, possibly breakable watch would hold up under demanding hospital rounds and ER schedules, he said.
Also, although some health IT vendors, including Vocera Communications, Inc. and Cerner Corporation, which supplies Walnut Hill's EHR, have released Apple Watch apps, Miri thinks it will take some time before the watch is widely seen as health IT ready.
"It's still a consumer-grade device," Miri said.
One potentially broad healthcare industry application Miri sees for the Apple Watch is for mobile token-based authentication to access health data networks.
Dig Deeper on Mobile health systems and devices