Get started
Bring yourself up to speed with our introductory content.
Can you see me now? More providers make telemedicine investments
Intermountain, Mercy make telemedicine investments as IT infrastructure. Plans encompass videoconferencing across many service lines, not one-offs.
This is the first part of a two-part story on telemedicine. Here, providers' motivations for investing in telemedicine are explored. The second half goes into detail about how employees will be trained to adjust to the new systems and practices that accompany remote care.
BALTIMORE -- Telemedicine is the new brick and mortar of U.S. healthcare.
At the surface, that may seem like an oxymoron. After all, enabling physician-to-physician consultations and patient visits via videoconferencing is the antithesis of constructing new hospitals or clinics. But instead of building capacity with physical materials, telemedicine builds capacity with invisible bits and bytes.
As the Affordable Care Act gives rise to CMS accountable care organizations (ACOs), and commercial payers follow suit with their own fee-for-wellness variations, large health systems are justifying IT investments in telemedicine -- not because of the financial windfalls it will bring but for the savings it will create.
To reap efficiency and savings benefits, they're taking advantage of the brick and mortar they already have, building telemedicine hubs that can serve wide geographic territories and rolling out videoconferencing across as many service lines as they can.
Cost justifications outside fee-for-service model
Advocacy groups such as the American Telemedicine Association have spent nearly a half-century making hard-fought, incremental progress evangelizing to payers and providers about the technology's usefulness. But until recently, their main wins have been in far-flung rural areas, where patients are sometimes several hours from the nearest medical facility. Because payers wouldn't honor telemedicine visits as equal to in-person care, the technology never caught on in a big way. So, why all of a sudden is interest in telemedicine growing among mainstream providers? Several business drivers are making it an attractive investment, including health systems looking for new ways to reduce the financial risks posed by their costliest patients.
telemedicine technology enables remote care such as home monitoring via sensors and video check-ins between office visits, which conventional wisdom says can help reduce emergency-room visits and hospital readmissions among patients with chronic conditions. The idea is that remote clinicians can catch complications before they become acute. In theory, home monitoring can also cut costs by addressing small changes in a patient's condition that might not warrant an office visit, especially when that might involve a long round-trip drive.
In in the long run, telemedicine should pay dividends in the ACO fee-for-wellness payment model, in which payer and provider share savings over previous fee-for-service models. It also increases care quality and patient satisfaction, common areas on which new reimbursement programs base payments.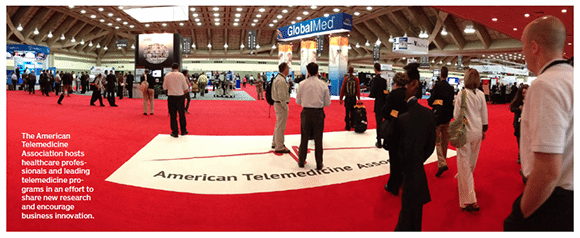 "We're interested in providing services and access to our members, patients and own employees, wherever they may be," said Kim Henrichsen, R.N., vice president of clinical operations and chief nursing officer for Intermountain Healthcare, a Salt Lake City-based health system that also runs its own health plan. Telemedicine, specifically audio and video consults -- both clinician-to-patient and clinician-to-clinician -- from a central monitoring center extends that access to Intermountain's facilities, which span 22 hospitals and 185 physician clinics. "We're delivering clinical care through that mechanism."
Building virtual brick and mortar
Mercy, a Catholic healthcare system based in Greater St. Louis broke ground earlier this year on a $50 million, real-life telemedicine hub. But its virtual brick and mortar will extend scarce specialists to remote clinics without Mercy having to staff those outposts in person.
The four-story, 120,000-square-foot facility is scheduled to open next year and will host the nation's largest tele-ICU -- which some providers refer to as an electronic ICU -- as well as 75 other telemedicine services, including telestroke treatment, remote sepsis monitoring of patients spread across its 32 acute-care hospitals in four states, home patient monitoring and teleradiology.
We're trying to figure out how to deliver care to patients in those small towns.

Wendy Deibertvice president of Telehealth Services, Mercy Health System
Mercy has administered telemedicine services for a decade, but its new facility will enable the health system's 300 physicians working there around the clock to penetrate further into its network. Moreover, when the appropriate clinicians can make themselves available to patients at home in ways they can't now, especially in the more rural parts of Mercy's 860-square-mile geographical footprint.
"We're trying to figure out how to deliver care to patients in those small towns," said Wendy Deibert, vice president of Telehealth Services at Mercy, who added that a shortage of clinicians complicates the situation. "And it's only going to get harder."
It was the CFO's idea, really!
The telemedicine facility affords, for example, getting a critical care intensivist represented at every Mercy facility with a critical care unit, even though there aren't enough of these specialty physicians to cover each bed in person. Virtually, however, facilities can share this resource as needed throughout the system. The pediatric telecardiology team aims to cut echocardiogram-reading turnaround times by a week.
Traditionally, hospitals set up a closed, dedicated system for telemedicine implementations. Mercy is using telemedicine flexibly, applying the technology "anytime I find a specialty gap," Deibert said.
The way a telemedicine implementation typically works, a medical leader in a facility champions its application. As enthusiasm and evidence builds, the CFO is finally persuaded to allocate funding. At Mercy, the new telemedicine facility was CFO Shannon Sock's idea, even though it also required more than just finance: Before construction could begin, Mercy executives had to convince payers to reimburse the health system at the same rates as in-person visits, as well as solve the complex paperwork problems of multiple-state physician licensure and privileging remote physicians to practice in each hospital.
In theory, all the investment will show up on the plus side of the ledger at some point. "We believe the way healthcare is going, if we don't develop these services, we're not going to be able to provide care of our own patients, let alone anybody else," Deibert said, adding that monitoring care quality is crucial. "I can't put a clinician eight hours in a car, or fly him there, to do a whole day's worth of clinic visits ... and lose eight hours of clinic time."
Mercy chose high-definition videoconferencing systems from Vidyo for ease of use and security reasons, Deibert said. While the various facilities use a combination of EHR systems from three major vendors, the integration of Vidyo's system and Philips eCare Manager manages much of the interoperability via HL7 standards. "It streamlines the workflow for the physician; we want it as close to an in-person consultation as possible," she said.
Let us know what you think about the story; email Don Fluckinger, news director, or contact @DonFluckinger on Twitter.
Dig Deeper on Wired and wireless networking for health care