CIOs discuss EHR problems and single-solution EHR integration
Many healthcare organizations have migrated to a single-solution EHR to improve workflow and patient care. However, it hasn't solved all EHR problems, CIOs say.
EHRs have helped healthcare organizations improve care in many ways, including helping healthcare organizations juggle the hundreds of different applications they may be using by providing single-solution EHRs, Harun Rashid, vice president of Global Health Services at the University of Pittsburgh Medical Center and CIO of Children's Hospital of Pittsburgh of UPMC, said.

Download this free guide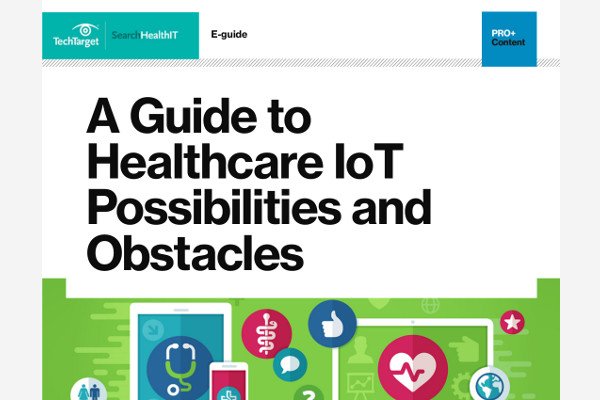 Download Complete Guide to Healthcare IoT Now
Healthcare IoT has the potential to greatly improve patient care – but it's not without its challenges. Download this essential guide in one PDF and learn how to overcome the obstacles: security, data overload, regulations, and more.
"We are seeing more and more hospitals going to a single-platform solution simply because of that one reason, which is integration is expensive, integration is difficult. And with all the government regulations and challenges and all, it is becoming very difficult to ensure that all these systems are meaningfully used," he said.
However, it is well known within the health IT community that even with a single solution, EHR problems still remain.
"A single solution also has its challenges because now you're giving up some functionalities that you may be getting from a best-of-breed solution, because that vendor may not have all the things that your physicians like in a best of breed solution versus, say, single solution," Rashid said
Moving to a single solution
Unlike in the banking and financial industry where an institution may be using three or four systems or applications, in healthcare, an organization may be using anywhere from three to 700 different applications, Rashid said. "At UPMC we have over 1,000 plus applications, and to make them all talk, it's like herding cats sometimes."
David Higginson, executive vice president, chief administrative officer and CIO at Phoenix Children's Hospital, can relate. Phoenix Children's is in the process of migrating over to Allscripts' EHR offering.
We are seeing more and more hospitals going to a single platform solution simply because of that one reason, which is integration is expensive, integration is difficult.

Harun RashidCIO of Children's Hospital of Pittsburgh of UPMC
Before Allscripts, "we had effectively three registration systems for patients," Higginson said. "We tried to, with interfacing, connect all those dots and move that data around and try to synchronize the patient records," but this ultimately proved inefficient.
The three registration systems were for outpatient, inpatient and radiology. Higginson explained that if patients needed to visit all three of those areas in a single visit, then they would have to be registered three times. "Which is not good for anybody," he said. "Our goal was really to try to standardize down to one system and one database, so we weren't constantly retyping or re-interfacing systems together."
Higginson explained that Phoenix Children's has been slowly transitioning by decommissioning standalone and legacy systems and bringing them into the Allscripts database.
EHR problems, challenges still remain
Although Phoenix Children's is well on its way to migrating to a single-solution EHR, Higginson said challenges remain that will have to be addressed.
One challenge is helping physicians and nurses understand why this migration needs to happen and is beneficial. It's not until the physicians and nurses see that they don't need to go into multiple systems that they realize the benefits, Higginson said.
Another challenge is the fact that there will always be "niche products [that] we'll need to interface with," Higginson said, for example, a bed tracking system or cardiology imaging system that the EHR will need to interface with.
"What we've done is moved away to things like Mirth [Connect], which is an open source platform, and then made one, kind of, ADT connection and then [been] able to replicate that out to every system rather than lots and lots of point connections," Higginson explained.
But the real EHR problems and challenges lie outside of Phoenix Children's, Higginson said. "Inside the hospital, the problem's about as solved as it can be," he said. "As we start to look more holistically outside the organization, then the need to interface and [for] interoperable EMRs is really much more important."