Warakorn - Fotolia
Evaluate
Weigh the pros and cons of technologies, products and projects you are considering.
CIO focuses on user experience in healthcare, analytics in 2017
Emerging technologies in health IT -- such as blockchain and AI -- aside, top of mind for one CIO in 2017 are the user experience in healthcare and data analytics.
Now that EHRs have been implemented for the most part, healthcare CIOs are focusing on other projects. For Deanna Wise, executive vice president and CIO at Dignity Health, the focus in the coming year will be on improving the patient and provider user experience in healthcare followed closely by the use of data and predictive analytics.

Download this free guide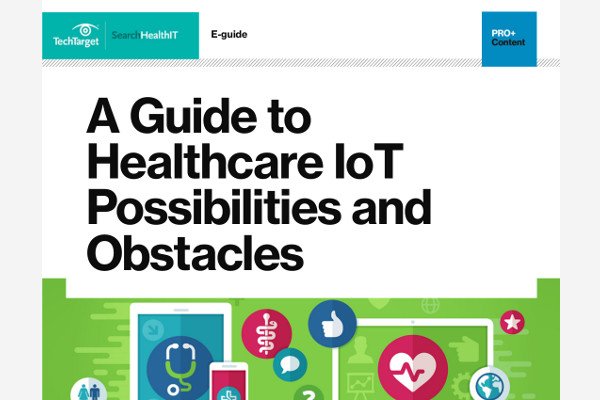 Download Complete Guide to Healthcare IoT Now
Healthcare IoT has the potential to greatly improve patient care – but it's not without its challenges. Download this essential guide in one PDF and learn how to overcome the obstacles: security, data overload, regulations, and more.
"As we've done these electronic health record deployments … that's a great start at getting all of this information digital, but it really isn't the end-all be-all," Wise said. "So [for Dignity Health] this next stage is really focused on improving the user experience for our physicians and clinicians and really improving the experience on the consumer side of things."
Improving the user experience in healthcare
Consumers have certain expectations today, Wise said. "Consumers expect: I can go to Amazon and I can order from multiple different companies and I can have it over to me overnight. Our consumer expectation has dramatically changed. So for us as CIOs, how do we reduce cost [and] continue to support the business on improving quality?"
Wise said using technology -- like the cloud, for example -- helps healthcare organizations streamline while reducing cost, improving the quality of care, and improving the user experience in healthcare for patients and physicians.
Dignity Health is already working to make this happen with its digital home platform, Wise said, which is basically what it sounds like: "A digital home for our patients to go to so that they have everything with their health information at their fingertips," she said.
With digital home, patients can find a doctor, manage schedules, message a physician and pay bills, all from their mobile device. Wise said Dignity Health is also leveraging cloud, web content management, multichannel marketing automation software, IOS and Android client-side native applications to create a seamless digital experience for patients.
Wise added that patients also have the ability to download their medical record onto their phone.
Big data and predictive analytics
Also top of mind for Wise as the new year commences is big data and predictive analytics. To her, these technologies are going to change healthcare for the better.
"It's going to change the experience for the patient," she said.
If my mother is in the hospital, her life could be saved by a data algorithm.

Deanna WiseCIO at Dignity Health
Wise said Dignity Health is already using big data and predictive analytics to predict if a patient is about to go into sepsis, a bacterial infection in the blood that is often fatal. This allows them to alert a physician before sepsis occurs so that the care team can intervene.
"[We] put in place an action plan," Wise said. "We can, in many cases, prevent that patient from going into sepsis based on data analytics and based on algorithms that we have built."
The ability to predict when a patient is going to go into sepsis and intervene before it happens, "that saves lives," she said.
To Wise, this is the kind of dynamic that everyone has been waiting for in healthcare. "If my mother is in the hospital, her life could be saved by a data algorithm," she said.
Dig Deeper on Clinical data analytics software and systems