everythingpossible - Fotolia
CIO: Healthcare data blocking is purely political
The technology is in place for interoperability in healthcare. So why is data blocking still happening? It's purely political, one CIO says.
Data blocking in healthcare is happening. It's been confirmed by some of the highest officials in the United States government like Sylvia Burwell, secretary of the Department of Health and Human Services, and Vice President Joe Biden. Data blocking does not discriminate, and it's a real problem.
As Biden so eloquently put it at the Health Datapalooza conference in Washington, D.C., healthcare data blocking can be "a matter of life and death."
Biden shared his own personal data blocking story at the conference. His son, Beau Biden, who died at the age of 46 in May 2015, was seeking care for a brain tumor, but couldn't get MRI images needed for a procedure sent from Walter Reed National Military Medical Center in Bethesda, Md., to MD Anderson Cancer Center in Houston.
At the same conference, Burwell also stated that "often, [data] cannot move from one system to another," and "hospitals don't want patients to access data for business reasons."
Republican Sen. Bill Cassidy, M.D., of Louisiana also shared a personal data blocking story. His mother had an X-ray done at one hospital and then had to physically get a disk copy of the images to bring to another provider.
When it comes to EHRs, "the promise that we have spent billions on, ... none of that is happening," Cassidy said. "Isn't that remarkable?"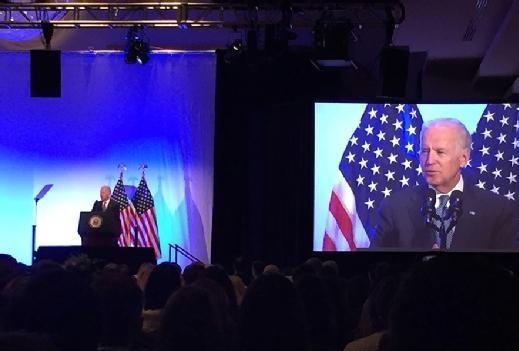 And Bryan Bliven, CIO at the University of Missouri Health Care, in Columbia, Mo., believes data blocking is a problem happening on several levels.
Issues with data sharing among HIEs
Although HIEs are meant to encourage and streamline the sharing of data, and often they do for hospitals participating within one HIE, Bliven said that HIEs themselves can create siloes of data because sometimes HIE-to-HIE data sharing is not happening.
"In the state of Missouri there are three HIEs. If we have the understanding that you should only have to join one information sharing organization to really share your data, then you need those HIEs to work together," Bliven said. "Well, two out of the three in the state do share data, but there is one that will not share with the other two. So that kind of creates a limitation."
Members of two of the three HIEs in Missouri -- Lewis and Clark Information Exchange and the Tiger Institute for Health Innovation's HIE -- are mainly Cerner Corp. shops while the members of the third -- Missouri Health Connection -- are mainly Epic shops. There is an ongoing fight over which health exchange will prevail.
Lack of interoperability between EHRs
It's well known that sharing data between two different EHR systems hosted by two different EHR vendors can be difficult despite interoperability standards like FHIR.
"If you happen to have the same EMR vendor, then [data sharing] is something that can easily be done," said Bliven, who is also the vice president of the Tiger Institute for Health Innovation, a private and public partnership between the University of Missouri Health Care and Cerner. "If you have different [EHRs] it starts to get a little bit more difficult."
One CIO shared his story about how his hospital was using both Cerner's EHR and Epic Systems' EHR and, in order to make them talk to one another, the hospital had to create their own in-house interoperability solution.
Ultimately, Bliven said, the question is "can you, as two hospital organizations or two health system organizations, have a business agreement in place that you would share data about a patient and make it available at the point of care?"
Data blocking is political
More than anything, data blocking is political, Bliven said, because "you have all the technology in place to be able to share" but it's still not happening.
"If you don't have the incentives to share the data because of competition based in your market [then] you still may not [share]," he added.
Hospitals don't want patients to access data for business reasons.

Sylvia Burwellsecretary of the Department of Health and Human Services
Ultimately, sharing data comes down to this: "What's the business incentive for EMR vendors to ensure that all of their solutions are interoperable?" Bliven said.
The same question applies to healthcare organizations like HIEs: "What's the business model that supports the sharing of information as a third party? Is it membership fees?" Bliven said. "If so, there is probably not enough value and the exchange to drive an entire business off those. So, what's the reason for the sharing?"
Bliven believes the answer may be some kind of regulation to create incentives.
Steps to solve the information blocking problem
University of Missouri Health Care is working to solve the lack of interoperability and stop data blocking, Bliven said. The health system is a member of CommonWell Health Alliance, an interoperability effort led by vendors, through their Cerner EHR, and University of Missouri Health Care has its own HIE to share data with other organizations, the Tiger Institute for Health Innovation's HIE.
Bliven added that University of Missouri Health Care is also joining Healtheway, which changed its name to The Sequoia Project a year ago, to be able to share data with the Department of Veterans Affairs and other organizations, as well.
"The exciting thing is if other HIOs [Healthcare Information Organizations] join that, then you're able to share with them as well. So you don't have to go through individually and work out all of the criteria that you would share data from," Bliven said. "[Data blocking is] a real thing, it's just not a technology problem. It's more on the policy side in my opinion -- policy and competition."
Dig Deeper on Establishing interoperable electronic health systems