Fotolia
Evaluate
Weigh the pros and cons of technologies, products and projects you are considering.
Augmedix remote medical scribe helps improve patient experience
Remote medical scribe technology can help alleviate physicians of EHR burnout and improve the patient experience.
Since the implementation of EHRs, physicians have had two main complaints: The need to manually enter data and check off tons of boxes is causing a rift in the patient-provider relationship, and EHRs cause physician burnout.

Download this free guide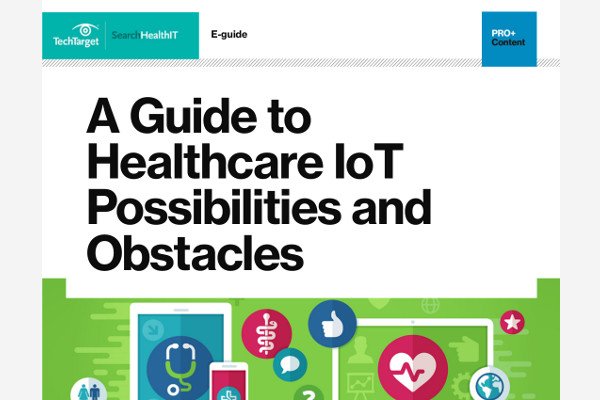 Download Complete Guide to Healthcare IoT Now
Healthcare IoT has the potential to greatly improve patient care – but it's not without its challenges. Download this essential guide in one PDF and learn how to overcome the obstacles: security, data overload, regulations, and more.
About three years ago, Dignity Health looked to address these challenges and the health system, headquartered in San Francisco, had two goals: to effectively manage thousands of physicians and provide an amazing patient experience.
Dignity Health turned to Google Glass and Augmedix's remote medical scribe platform to help them overcome these challenges and achieve their goals. At the time, "Glass was presented a certain way in the consumer world," said Rich Roth, chief strategic innovation officer at Dignity Health, and it was not very popular in the healthcare space yet.
In January 2014, Dignity Health had one of its physicians, Davin Lundquist, M.D., and current chief medical information officer at Dignity Health, pilot Augmedix and Glass, Roth said.
The pilot, Roth said, "was a great success as it related to [Lundquist] being able to be freed from some of the more administrative tasks of his day and to be able to see more patients."
Roth explained that since then over the last couple of years Dignity Health has spread the use of Glass and Augmedix to other providers and organizations within the health system and they have seen positive results.
How the remote medical scribe works
Physicians these days have a difficult job that requires them to multitask.
"Often, when you're in the doctor's room, the physician, she might be typing her notes, all the different things that you might be saying about issues that you have, all the test results, all those other things that are kind of captured and so she has a challenging job in which she's both listening to her patient, as well as typing these things into the EHR," Roth said.
Because [physicians are] not having to input into the record system, but they still have the security of all records being captured in the Augmedix system, they're able to spend more time with patients.

Rich Rothchief strategic innovation officer, Dignity Health
Augmedix, which is used through Google Glass, provides a hands-free way for physicians to enter patient information into the EHR. With Augmedix, the physician would be wearing Glass and Augmedix's remote medical scribe platform would be recording all the information about the patient directly into the EHR during the visit while the physician is engaging and speaking with the patient.
"[The physician] is talking and examining the patient and having a great dialogue about these conditions and issues," Roth explained. "Behind the scenes there's a mixture of software that is essentially completing all of the [EHR]-related notes and also suggesting things based upon key measures of health that the physician may want to be reminded of given the prior health of the patient."
Augmedix captures and records all the information, however, the physician reviews and approves all information before it is officially submitted into the EHR, Roth said.
Although there are other devices and systems out there, Roth said that, "Glass seemed to be the one that really allows the physician to be hands-free."
SearchHealthIT reached out to Augmedix for comment but did not receive a response.
The results at Dignity Health
Over the last few years, Roth said the results of implementing Glass and Augmedix have been an improvement in patient care, as well as an improvement in physicians' quality of life.
Physicians were able to reduce the time they spend doing administrative work from 33% to less than 10%.
"The items that a physician might have to input into the [EHR], the Augmedix service is helping them do that," Roth said.
As the physician and the patient are discussing whatever is ailing the patient, all that information is being picked up through Glass by Augmedix and automatically inputted into the EHR, Roth said. This eliminates the need for the physician to be looking at a computer screen, typing up notes, checking off boxes and trying to listen and interact with the patient.
Because Glass and Augmedix reduce the time physicians spend on administrative work, it also allows physicians to increase the amount of time they interact with patients from 35% to 70% of their time.
"Because [physicians are] not having to input into the record system, but they still have the security of all records being captured in the Augmedix system, they're able to spend more time with patients," Roth said. "They're able to see more patients."
In fact, physicians were able to speak with an additional 2.6 patients per day and physicians were able to spend more time with their families instead of entering data into the EHR.
Dig Deeper on Workflow and process management software and systems