GeneInsight brings genomics in healthcare to point of care
A suite of applications is working to bring genomics in healthcare to the point of care and reduce the administration of inappropriate therapies.
Editor's note: Each month the editors at SearchHealthIT recognize an innovative software, service or technology approach. GeneInsight is our June 2016 selection.
Product: GeneInsight

Release date: 2010
Genomics in healthcare is complicated. There's no doubt that having a patient's genetic data at the fingertips of physicians would help provide more personalized care as well as limit unnecessary treatments. But that entails a lot of processes from collecting specimens, analyzing them in the lab, sequencing genes and somehow delivering all that data to the physician at the point of care in a way that is understandable and helpful.
That is what Sunquest and GeneInsight are aiming to do through the EHR.
What GeneInsight does
In 2003, GeneInsight -- a software that provides big data gene variant analysis, a diagnostic laboratory knowledge-management system, clinical provider access and networking infrastructure -- was developed at Partners HealthCare Laboratory for Molecular Medicine in Cambridge, Mass.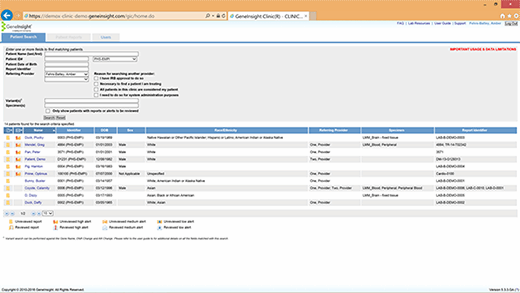 Since then, GeneInsight has developed into a suite of applications including a laboratory tool, a hosted clinician interface application and a networking infrastructure. In 2010, GeneInsight was made commercially available, and in 2014, Sunquest Information Systems Inc., which provides laboratory information systems and is headquartered in Tucson, Ariz., became an investor and partial owner of GeneInsight.
Paired with the 1,700 laboratories that use Sunquest, GeneInsight makes it possible for clinicians to place laboratory orders directly through an EHR or Sunquest's anatomical pathology system, Jamel Giuma, director of integration and outreach solutions at the company, said.
"Those orders are then able to be transmitted through the interfaces and integration that we've completed directly to GeneInsight, and [there are] no manual keystrokes required," Giuma said.
He explained that standard healthcare interoperability standards, such as HL7's Fast Healthcare Interoperability Resources (FHIR), are used to receive orders into the lab system. An order is then processed through the GeneInsight application, the curation of that patient's specimen is completed, a report is generated and gene variants are identified. Then the information is transmitted back to the EHR or anatomic pathology system.
I do think that the most important thing, from the clinician's perspective, is that the infrastructure proactively reaches out to them when there's something new that's been learned about a variant.

Sandy Aronsonexecutive director of IT at Partners Personalized Medicine
The results are filed discretely into the database and are also accompanied by a PDF report of the results, which is sent directly to the EHR for the physician to review so that they don't have to log into another system, Giuma said.
Giuma added that this process limits disruptions to physicians' workflow because, with this software, physicians no longer need to manually fill out requests for testing to be completed. Not only that, but with GeneInsight, the orders are sent in real time to the lab system and are processed -- within minutes or hours, depending on whether the patient is inpatient or outpatient -- as soon as the specimen arrives at the laboratory.
The technology helps avoid the need to fax or hand deliver paper results back to the hospital or healthcare organization to be scanned into the patient's chart. Paper-based methods can delay the processing and reviewing of those lab results, Giuma said.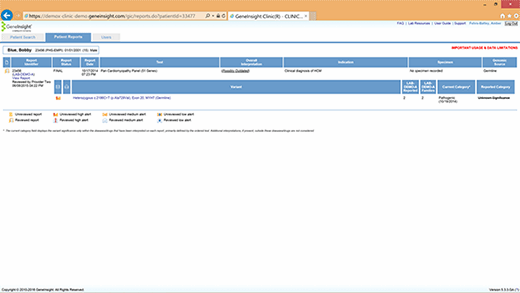 "Not only can we get a pretty PDF report ... delivered into the EMR for the physician, but we also send a lot of the results in discrete fields," Giuma said. Depending on the EHR, healthcare organizations can then use and pool those fields into progress notes and also include them in discharge summaries and other relevant documents that are helpful for patient care.
Why GeneInsight matters in healthcare
Having genetic information at the point of care helps clinicians better understand a patient's sensitivities and predispositions, so that physicians can make better decisions when it comes to care, and helps reduce the administration of inappropriate therapies, Amber Fehrs-Battey, senior product specialist and subject matter expert in genetic and genomics at Sunquest, said.
She added that "[clinicians are] so busy with the treating patient component it's very hard ... to keep up to date with all of the new knowledge about genetics."
Genomics in healthcare and the task of sequencing genes, finding variants and then analyzing those variants is an enormous task.
"You can end up with 3 million variants in your sequence alone that then have to be analyzed," Fehrs-Battey said. Technologies such as GeneInsight bring genetic data to physicians' fingertips, which, in turn, helps deliver more personalized care.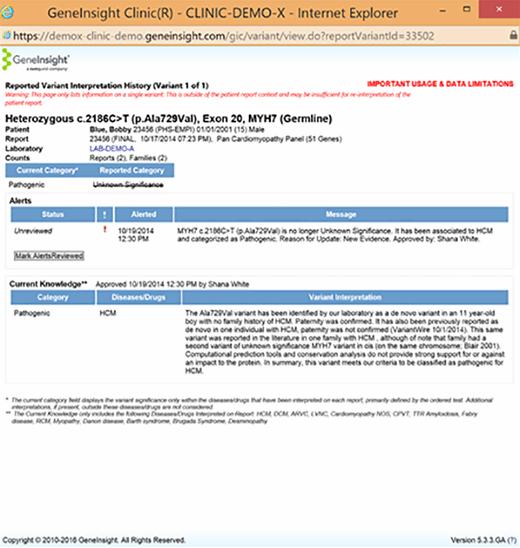 GeneInsight is able to filter variants down by clinical significance, quality, frequency, disease type and how often that variant is seen in the population, thus reducing those 3 million variants down to 100 or so, Fehrs-Battey said.
What a user says
After developing GeneInsight, Partners HealthCare continues to use it.
Sandy Aronson, executive director of IT at Partners Personalized Medicine, believes that GeneInsight helps solve three main problems when it comes to genomics in healthcare and IT infrastructure:
The complexity of genetics and genomics in healthcare.
Ensuring reports accurately reflect genetic variations.
Interfacing genetic data with that of other institutions.
"When you order a test, it's very important that the clinician be able to understand and apply the results and that they be able to do so in a [certain] amount of time," Aronson said. "There's the reality of how much time they have to spend with each patient, and you want to get them a result that enables them to both understand all of the salient implications that you as a laboratory are responsible for assessing, but enables them to do that quickly in the course of care."
Hospitals also seek to increase the flow of data so that cross-checking can occur.
"I do think that the most important thing, from the clinician's perspective, is that the infrastructure proactively reaches out to them when there's something new that's been learned about a variant that may be significant," Aronson said. "[GeneInsight is] one of the mechanisms for trying to stay up to date on those implications."
Drilldown
The suite of applications includes:
GeneInsight Lab, the laboratory tool.
GeneInsight Clinic, the hosted clinician interface application.
GeneInsight VariantWire, the networking infrastructure.
Partners HealthCare uses all three of these applications.
Pricing
The price of the platform varies based on an organization's requirements. Sunquest would not reveal actual costs.