AdvancedEPCS: E-prescribing technology in healthcare
In this Innovation Spotlight, SearchHealthIT takes a look at AdvancedMD's e-prescribing cloud application.
Editor's note: Each month, the editors at SearchHealthIT recognize an innovative software, service or technology approach. AdvancedMD and its e-prescribing technology is our January 2016 selection.
Product: AdvancedEPCS
Release date: Jan. 19, 2016
AdvancedMD Inc., based in South Jordan, Utah, has been around and hanging out in the cloud since 1999. The medical software company offers several services via its cloud applications, including AdvancedEHR, its electronic health record, and AdvancedPM, its practice management tool.
So far, 20,000 providers from all across the United States are using AdvancedMD's cloud applications -- 550 of those providers are using AdvancedMD as their core software to run their business, and AdvancedMD serves 85 different specialties, including primary care, dermatology, ophthalmology and more, said Jim Elliot, chief marketing officer at AdvancedMD. "We're totally dedicated to helping independent physicians survive and thrive in a really challenging environment."
Recently, AdvancedMD added a new cloud application to its tool set: AdvancedEPCS for electronically prescribing drugs and controlled substances.
What AdvancedEPCS does
When doctors prescribe drugs to a patient using paper prescription pads, the process goes something like this: "You've got to write out the script ... then you've got to take that script up to the front of the office from the back and put the script on a scanner, scan it into the [patient's] chart ... and then give the script back to the patient," said Guy Lerner, M.D., a physician at Specialists in Pain Care in Louisville, Ky.
With AdvancedMD's AdvancedEPCS and e-prescribing technology, however, physicians can order a prescription directly from participating pharmacies and cut out the patient-as-middleman part of the old process of prescribing drugs. Not only that, but AdvancedEPCS will also send an alert if a physician is prescribing a drug that may negatively interact with another drug, for example.
This gives our EHR and practice management application the ability to prescribe controlled substances in the same workflow, in the same environment.

Tracy Thornleyproduct manager, AdvancedMD
"We also wanted to simplify the workflow for our prescribers, so instead of having to maintain separate systems," said Tracy Thornley, product manager at AdvancedMD. "We wanted to create a controlled substance addition to our application."
This means that AdvancedEPCS is connected and integrated with AdvancedMD's AdvancedEHR and AdvancedPM cloud applications.
"This gives our EHR and practice management application the ability to prescribe controlled substances in the same workflow, in the same environment," Thornley said.
Why AdvancedEPCS matters in healthcare
Across the United States, the abuse of drugs, such as prescription drugs, prescription pain killers and heroin, is a problem.
According to the National Institute on Drug Abuse, from 2001 to 2014, overdose deaths from prescription drugs have increased nearly threefold; overdose deaths from prescription opioid pain relievers have increased by nearly three-and-a-half times; and overdose deaths from heroin have increased sixfold.
While AdvancedEPCS -- and e-prescribing technology, in general -- may not completely solve this nationwide problem, it does help in several ways.
Firstly, because the patient is no longer the middleman between the doctor and the pharmacy, "it prevents tampering of prescriptions for sure," Lerner said.
Secondly, AdvancedEPCS adds layers of security that are not present when it comes to prescribing drugs using paper.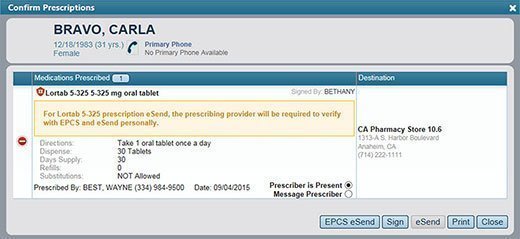 Because AdvancedEPCS is hosted in the cloud, whether a provider accesses a patient's information on their mobile device or on their home computer, the data is not stored directly on those devices.
"Everything is hosted off-site and duplicated in remote locations with a hosting group that actually hosts for the U.S. military," Thornley said. "It's all hosted external, so you don't have to download any information onto a device."
Furthermore, Thornley said there are layers of login access to which only the doctors and prescribers have access.
Not only that, but the U.S. Drug Enforcement Administration (DEA) requires all physicians and practices who wish to use e-prescribing technology, such as AdvancedEPCS, to take certain steps first, Thornley said.
The first stage of this process requires that any prescriber who wishes to prescribe through the AdvancedEPCS application be identified through an outside source.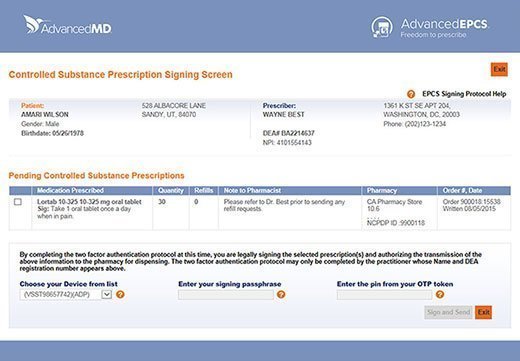 Furthermore, the physician must also go through a logical access control. "That is basically a step that requires somebody in the practice, not the prescriber, to confirm that that prescriber is who they say they are and that they are authorized to prescribe controlled substances in that organization or within that practice," Thornley said.
The other step required by the DEA is the use of two-factor authentication.
"So, when our prescribers use our system to prescribe a controlled substance, they're required to enter in a pass phrase that only they know. And then, they have to also generate a token from either what's called a hard token or soft token generator that they have set up and registered in our system that only they have access to," Thornely said. This ensures that only the prescriber who's authorized to prescribe under their DEA number is actually doing it and not someone else in the practice.
Thornley added that he has discovered that many practices prescribe controlled substances based on misinformation or bad habits, and that going through the requirements set out by the DEA to use AdvancedEPCS helps educate them on best practices.
While e-prescribing technology and AdvancedEPCS provides added security, it also makes the process of prescribing and getting prescription drugs easier for both doctors and patients.
"Around 80%-plus of all pharmacies are now being capable of handling controlled substances," Thornley said. "That makes it easy for our prescribers to find [a pharmacy] in our system and have access ... They can find [a pharmacy] very quickly, very easily and usually always find a pharmacy that their patients have quick, easy access to. And they just send them [prescriptions] directly over without having to [use] paper."
What a user says
Specialists in Pain Care, a three-person practice, had AdvancedEPCS up and running within 36 hours, and they've been using it for a month now.
"AdvancedMD thought of me because of the issues we were experiencing with getting paper scripts," Lerner said.
Lerner's practice had been writing out prescriptions by hand because they didn't have the software to print prescriptions in the very specific and meticulous way that the state of Kentucky mandates.
"When you have a hard copy of a prescription in the state of Kentucky, they have very onerous rules about how that prescription must look," Lerner said.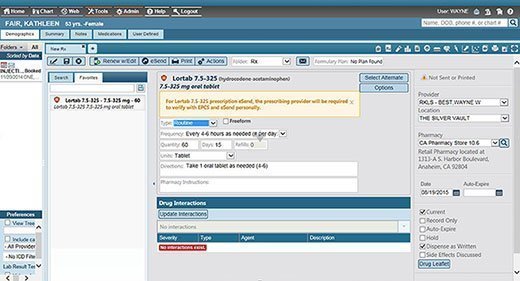 AdvancedEPCS and e-prescribing technology has saved Lerner and his practice time because prescriptions are directly transmitted to the pharmacy, an added layer of security was added in eliminating the patient physically taking the written prescription to the pharmacy, and providers are alerted of any potential drug interactions. He added that now he can also query the data to see who is prescribing what medications to which patient, making it easier to track prescriptions.
Drilldown
Thornley explained that in addition to fulfilling the requirements set out by the DEA, once a practice communicates they want to participate in AdvancedEPCS, AdvancedMD will send an email where that practice can securely go in and register. From there, depending on how long it takes a practice to complete the required DEA steps, it can take anywhere from a week to three weeks to get AdvancedEPCS up and running.
So far, about 50 to 60 prescribers have purchased AdvancedEPCS.
Pricing
A subscription to AdvancedEPCS costs around $25 per month.
Next Steps
Use of e-prescribing software hits 70% nationwide
Physicians most likely to make notes, prescriptions in electronic systems
E-prescribing may reduce errors, but concerns remain
Meaningful use wrapping up-- technology in healthcare to shift it's focus