everythingpossible - Fotolia
A review of electronic prior authorization technology
Migrating to electronic prior authorization software offers a chance to improve revenue cycle operations and reduce complexity, which can be a win for all involved.
With U.S. national healthcare expenditures having reached $9,990 per person ($3.2 trillion total) in 2015 (and...
Continue Reading This Article
Enjoy this article as well as all of our content, including E-Guides, news, tips and more.
projected to grow another 6.5% in 2017), the industry continues to pursue innovative ways to reduce costs, such as moving to value-based care, narrowing provider networks and exploring healthcare technology innovations.
While not a new concept, in an effort to pressure costs, there has been additional emphasis in recent years on requiring prior authorization requests for certain (typically high-cost) procedures or medications; this has resulted in a 33% increase in total industry authorizations in the last two years.
A prior authorization -- also called a prior approval or precertification -- is when an insurer requires a decision regarding a medical service, prescription drug or piece of durable medical equipment to determine if it's medically necessary. Except in an emergency, that authorization is typically required before the health plan will allow the patient to obtain treatment.
Let's take a look at the evolving technology that providers use for electronic prior authorizations: how it works, its benefits and its essential features. The focus is on the technology behind authorizations for medical services (not to be confused with the technology used for prescription drug authorizations, which today are mostly distinct).
According to the Council for Affordable Quality Healthcare (CAQH), which, in part, monitors the adoption of electronic healthcare transactions, providers completed only 18% of medical prior authorization requests electronically in 2015 (remember, this excludes pharmaceutical authorizations).
Authorization requests are often based on nonstandard workflows, which differ from payer to payer.
In 2015, the average cost to a provider for a fully electronic prior authorization was $1.89 compared to $7.50 for an entirely manual authorization. The cost to health plans ranged from $0.04 for an electronic transaction to $3.68 for a manual transaction. Although CAQH's cost estimates are on the lower end of other industry approximations, especially for manual authorizations, the organization still estimates savings of more than $400 million if providers and commercial health plans were to migrate to 100% electronic prior authorizations -- to say nothing of the efficacy gained and the frustrations saved.
Manual versus electronic prior authorization
To understand how electronic prior authorization works, let's first step back and look at the manual prior authorization request and approval process. In general terms:
The provider initially calls the health plan to see if a prior authorization is required -- for example, patient John Doe needing an endoscopy.
If required, a manual prior authorization is created, including patient demographic data, payer data, procedure data and clinically relevant information required by the health plan to support the authorization. The authorization is then faxed to the payer.
The provider often calls the health plan to check the status of the authorization, and in some cases, the provider learns additional clinical documentation is required.
The provider faxes the additional documentation to the health plan.
Assuming everything goes smoothly from this point, the provider receives the authorization for the patient.
From start to finish, this entire process can take days, as well as significant time and energy from clinicians and administrative staff. A 2017 survey from the American Medical Association discovered that physicians and their staff spend, on average, 16.4 hours each week completing prior authorizations.
The electronic prior authorization process differs from the manual process in several key ways:
The initial payer outreach to determine if a prior authorization is required is an automated process.
Prior authorization requests and submissions use a guided workflow in which software autofills key patient demographic and payer data from other provider system integrations, enabling a more streamlined authorization process.
In addition to the initial payer outreach, the status inquiry step is also automated, with necessary alerts sent directly to the provider's administrative staff.
Finally, the phone and fax are virtually eliminated from the process (with the exception of step four above) in favor of computers, significantly improving overall efficiency and efficacy.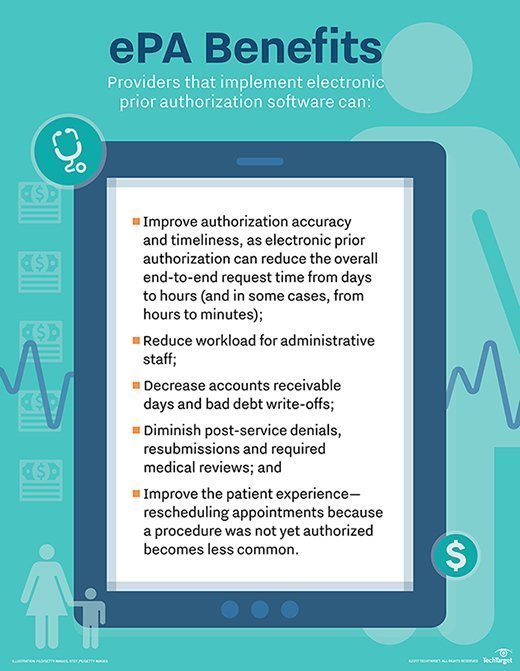 Key features include integration with provider systems
Most electronic prior authorization applications are web-based. They should encrypt user and payer data and ensure all transactions are HIPAA-compliant. In addition, the software should:
An important feature to understand is whether the system is 100% electronic or a mix of technology and vendor authorization assistance services. Not all electronic prior authorization applications today are 100% electronic -- some are a mix of software and vendor services. This is not necessarily a negative, but it affects costs. In addition, even if a system is predominately electronic -- in, say, radiology -- that does not necessarily translate to other departments (e.g., surgery, lab). Some clinical areas require a larger services component compared to others.
Providers should discuss with each vendor how they complete authorizations for a given department, as well as ask about cost per authorization, turnaround time per authorization and how the vendor measures and reports quality.
The bottom line
A 2016 analysis by McKesson revealed that 1,300 procedure-specific authorization policies from 23 major health plans shared only 8% commonality, pointing to how varied authorization is. In addition, many subplans within health plans have their own independent prior authorization policies, and policy guidelines can change every 45 to 60 days.
The sheer size and complexity of today's prior authorization ecosystem screams for technological assistance. Migrating to an electronic prior authorization solution is a top-tier opportunity to improve revenue cycle operations while reducing complexity and administrative overhead on all sides. It's an opportunity well worth investigating.