Get started
Bring yourself up to speed with our introductory content.
Guide to examples of cloud computing in healthcare
Introduction
Cloud computing in healthcare has long been viewed with skepticism, with providers especially cautious of entrusting protected health information (PHI) to outside entities. But with several other industries moving to the cloud, many in healthcare started to come around to the idea that, just maybe, this technology could benefit them as well. The fact that cloud service providers can often afford to make larger investments in critical areas like security served to sweeten the pot.
Despite the initial wariness toward cloud computing in healthcare, many CIOs and other decision-makers are dipping a toe into the water by moving non-critical systems to the cloud. There is still much potential to be discovered, with one of the most promising use cases as a possible solution to the lack of nationwide interoperability. However, healthcare organizations should be sure to evaluate their needs before moving partially or fully into the cloud.
1

Healthcare cloud architecture

-
EHRs and other cloud installations
Cloud-based EHRs are gaining popularity as a potential answer to the problem of interoperability. CIOs are also recognizing the cloud as a way to achieve value-based care.
Feature
Health IT experts believe cloud-based EHRs can help overcome interoperability woes by lowering costs and encouraging a connected ecosystem between cloud environments. Continue Reading
Feature
Recognizing the benefits of cloud computing in healthcare while still exercising caution, some CIOs are using a hybrid model to enable value-based care and population health. Continue Reading
Video
SearchHealthIT news writer Kristen Lee visited Practice Fusion's San Francisco office to learn more about the cloud EHR vendor and its unique company culture. Continue Reading
2

Cloud in healthcare security

-
Challenges and benefits of healthcare cloud security
Healthcare organizations have been notoriously wary of the cloud, especially when it comes to trusting an outside vendor with patient data. Fortunately, cloud providers have been able to change this mindset with security improvements and tools that rival that of on-premises systems.

Download this free guide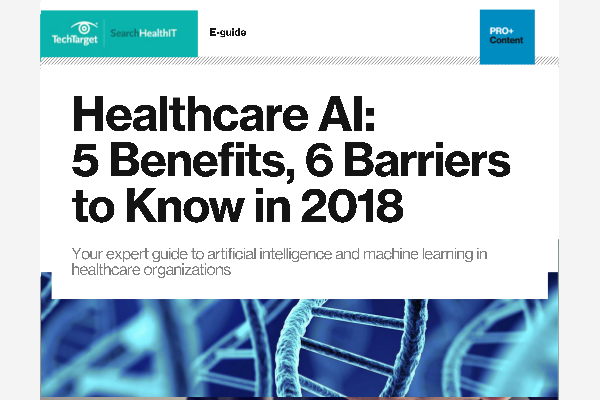 Healthcare AI: 5 Benefits, 6 Barriers to Know
AI is a popular topic in healthcare. However, hospital executives are asking fundamental questions around how and where to apply AI in its current state within their facilities. In this expert guide, learn 5 benefits and 6 barriers hospital leaders like you must know before adopting AI technology.
3

Future of cloud in healthcare

-
Where will cloud computing in healthcare go next?
Those in healthcare and health IT may be wondering what potential uses for the cloud are on the horizon. Medical imaging can benefit from the cloud as a storage medium, while AI and machine learning are luring healthcare providers away from traditional EHR vendors.