Evaluate
Weigh the pros and cons of technologies, products and projects you are considering.
Conference coverage from RSNA 2014
Introduction
The 100th Radiological Society of North America Scientific Assembly and Annual Meeting will be held at McCormick Place in Chicago from Nov. 30 to Dec. 5. This year's event will be host to approximately 55,000 guests and 700 exhibitors. Conferencegoers can choose from more than 300 educational courses and sessions that will go in-depth about radiology and other healthcare imaging subspecialties. SearchHealthIT will be on the conference room floor, gathering news and analysis from radiology professionals and conference attendees.
1

During and after RSNA 2014

-
Live from the show and post-conference coverage
Can't make it to RSNA 2014? Check here for updates on the latest news and reactions from those in attendance at the annual meeting. Our coverage doesn't end when the show does. Follow up after the conference for late-breaking announcements and post-show analysis from radiology and healthcare imaging professionals.
Podcast
Matt Terry, research director for medical imaging technology at KLAS Enterprises, previews an upcoming report on enterprise imaging strategies. Continue Reading
Podcast
Don Woodlock, an executive in GE Healthcare's cardiology IT and healthcare IT units, talks with SearchHealthIT about what meaningful use asks of radiologists. Continue Reading
2

Seen at RSNA

-
RSNA 2014 videos
Rasu Shrestha, M.D., sat down with SearchHealthIT at RSNA 2014 and shared his thoughts about the conference and the future of radiology.
Video
At RSNA 2014, SearchHealthIT catches up with the chief innovation officer at University of Pittsburgh Medical Center.
Video
In the second half of this video interview, Rasu Shrestha, M.D., explains what disappointed him about this year's RSNA event.

Download this free guide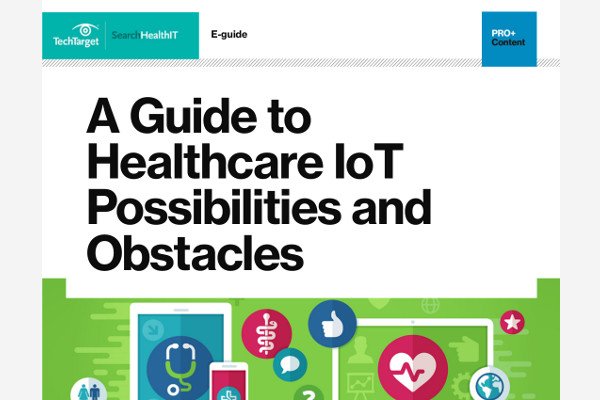 Download Complete Guide to Healthcare IoT Now
Healthcare IoT has the potential to greatly improve patient care – but it's not without its challenges. Download this essential guide in one PDF and learn how to overcome the obstacles: security, data overload, regulations, and more.
3

Before the show

-
RSNA 2014 preview
Before RSNA 2014 begins, we'll be previewing the event by delivering the most recent developments in radiology. Like most healthcare practitioners, radioligsts often have a smartphone within reach. Read this section to find out what's holding them back from incorporating their personal mobile devices into their workflow.
4

Past RSNA coverage

-
RSNA 2013
SearchHealthIT was in Chicago in December 2013 and caught all the news that went down at RSNA 2013. During the show, our reporter caught up with radiology directors and found out why they've mostly moved on from EHRs and have turned their attention to business intelligence. Our coverage wrapped up with late-developing stories from the annual event and with post-show analysis on the state of radiology and health IT.