Get started
Bring yourself up to speed with our introductory content.
CHIME CIO perspectives, advice on health IT issues
Introduction
The College of Health Information Management Executives (CHIME) is an organization composed of healthcare CIOs and executives. It was established in 1992 and has grown to include more than 1,400 members. They regularly share their expertise with SearchHealthIT reporters.
From meaningful use program deadlines to health information exchange and interoperability struggles, CHIME members have had their recommendations heard at the highest level of the American healthcare industry and on Capitol Hill. This guide shares some of their past commentary on electronic health records and other health IT technologies, and will grow to include articles contributed by CHIME members.
1

CHIME member podcasts

-
HIMSS and CHIME forum interviews
At the CHIME CIO forum and HIMSS 2014, CHIME members had the big health IT topics fresh on their minds. This section covers their thoughts on the meaningful use program, both stages 2 and 3, and reveals why CHIME thought the program was on the verge of threatening patient safety. Two of the following podcasts were recorded in the wake of the SearchHealthIT.com and College of Healthcare Information Management Executives (CHIME) 2014 Health IT Purchasing Intentions Survey. Those conversations delve into EHR implementation and how a lack of interoperability is holding back care collaboration.
2

CHIME forum and health IT week

-
National Health IT Week and past CHIME content
Late last year, at the CHIME13 Fall CIO Forum and during National Health IT Week, a collection of healthcare CIOs and legislators were trying to throw the brakes on the meaningful use program. Their reasons in asking for an extension to stage 2 included a lack of system interoperability, insufficient vendor preparation and support, and a widening technological gap between large and small practices. They argued that all of these issues could hurt the very people the healthcare system was designed to protect: the patients.

Download this free guide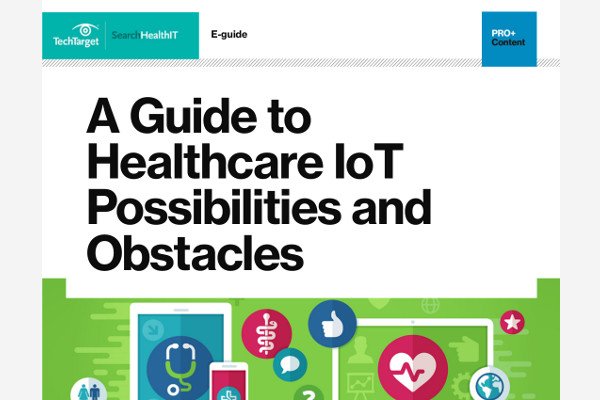 Download Complete Guide to Healthcare IoT Now
Healthcare IoT has the potential to greatly improve patient care – but it's not without its challenges. Download this essential guide in one PDF and learn how to overcome the obstacles: security, data overload, regulations, and more.
3

Health IT implementation tips

-
CHIME members on 2014 updates, tech preparations
Late last year, providers were busy at work in anticipation of complying with meaningful use stage 2 and upgrading their coding systems to the ICD-10 standard. Since then, amid concerns voiced by providers and organizations of healthcare professionals, the deadline for attesting to stage 2 was extended through 2016 and the ICD-10 conversion date was delayed one year and set for Oct.1, 2015. This section includes tips and advice from healthcare CIOs on how they are readying their systems and employees to meet these standards.