Telemedicine is the remote delivery of healthcare services, such as health assessments or consultations, over the telecommunications infrastructure. It allows healthcare providers to evaluate, diagnose and treat patients without the need for an in-person visit.

Download this free guide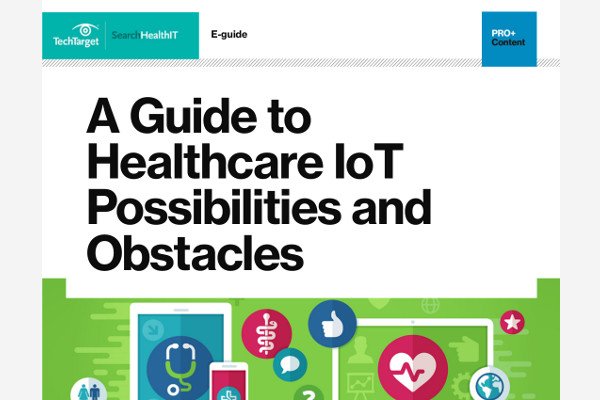 Download Complete Guide to Healthcare IoT Now
Healthcare IoT has the potential to greatly improve patient care – but it's not without its challenges. Download this essential guide in one PDF and learn how to overcome the obstacles: security, data overload, regulations, and more.
History of telemedicine
The development of modern telemedicine began with the invention of the telecommunications infrastructure, including the telephone and telegraph. Early on, telemedicine technology was adopted for use in military situations during the Civil War, such as ordering medical supplies or medical consultations. Casualty and injury lists were also delivered via telegraph.
The first example of an electronic medical record transfer occurred in 1948 in Pennsylvania, when radiology images were sent 24 miles between two townships via telephone line. A few years later, Canadian radiologists built on that early application of telemedicine technology and created a teleradiology system for use in and around Montreal. In 1959, clinicians at the University of Nebraska transmitted neurological examinations across campus to medical students using two-way interactive television.
In the early days of telemedicine, health professionals used the burgeoning technology as a way to reach patients living in rural areas. However, the technology quickly expanded into urban areas, especially those that suffered from healthcare shortages. In 1967, physicians at the University of Miami School of Medicine and Miami's Fire Department transmitted electrocardiographic rhythms over existing voice radio channels from fire-rescue units to the city's Jackson Memorial Hospital.
Types of telemedicine
Telemedicine can be classified into three main categories: remote patient monitoring, store-and-forward and interactive telemedicine.
Remote patient monitoring -- Also known as telemonitoring, remote patient monitoring allows patients with chronic diseases to be monitored in their homes through the use of mobile medical devices that collect data about blood sugar levels, blood pressure or other vital signs. Remote caregivers can review the data instantly.
Store-and-forward -- Also known as asynchronous telemedicine, store-and-forward telemedicine allows providers to share patient information, such as lab results, with a physician at another location.
Interactive telemedicine -- Interactive telemedicine allows physicians and patients to communicate in real time. Such sessions can be conducted in the patient's home or in a nearby medical facility and include telephone conversations or the use of video conferencing software that complies with Health Insurance Portability and Accounting Act regulations.
Telemedicine vs. telehealth
Telemedicine is a subset of telehealth, which includes both remote clinical service delivery and nonclinical elements of the healthcare system. In practice, however, the two terms are often used interchangeably. While eCare is often used as a synonym for telemedicine, the Federal Communications Commission adopted the term eCare as an umbrella concept for the electronic exchange of information to aid in the practice of advanced analytics and medicine.
Telehealth refers to a broader spectrum of remote healthcare services than telemedicine and does not necessarily involve clinical services. It includes nonclinical services such as continuing medical education, provider training and administrative meetings.
In contrast, telemedicine refers specifically to the use of medical information exchanged for the purpose of improving a patient's health. It pertains to the use of electronic communications to provide clinical services without requiring a patient to come in to a doctor's office.
Technology such as video conferencing and transmission of still images are considered part of both telemedicine and telehealth.
Advantages of telemedicine
Some of the advantages of telemedicine for patients include:
Convenience -- Patients do not have to take time away from work for an appointment. There is also no travel time or associated expenses, such as paying for gas or child care.
Increased access -- Patients in rural areas can obtain specialty services more easily. Similarly, patients who live in federally designated underserved areas have increased access to primary, dental and mental healthcare.
The advantages of telemedicine for providers include:
Reduced cancellations or no-shows -- Because of its convenience for patients, telemedicine can reduce the number of cancellations or no-shows. Providers can reach out prior to or at the appointment time if the patient forgot about the appointment.
Encourage healthy lifestyle choices -- Telemedicine allows providers to encourage their patients' healthy lifestyle choices, such as smoking cessation.
Disadvantages of telemedicine
Some of the disadvantages of telemedicine include:
Inability to prescribe medications -- Many states generally do not allow online prescribing (not to be confused with e-prescribing) without an established relationship between the physician and patient. A physical examination or evaluation may be required before a physician can write a prescription for a patient, but there are inconsistencies in state laws as to what constitutes a physical examination.
Technical training and equipment -- Providers need to be trained on how to use telemedicine equipment. There are also the associated costs of the equipment, such as integrated telemedicine carts and encounter management software, to consider. The startup cost of implementing telemedicine may be especially prohibitive to rural facilities.
Licensing issues -- Certain states may require providers who practice telemedicine across state lines have a valid license in the state where the patient is located.
Continue Reading About telemedicine
Dig Deeper on ATA telemedicine conference and exposition