Definition
revenue cycle management (RCM)
Revenue cycle management (RCM) is the financial process, utilizing medical billing software, that healthcare facilities use to track patient care episodes from registration and appointment scheduling to the final payment of a balance.
RCM unifies the business and clinical sides of healthcare by coupling administrative data, such as a patient's name, insurance provider and other personal information, with the treatment a patient receives and their healthcare data.
Communicating with health insurance companies is a key component of RCM. When a patient schedules an appointment, the physician's office or the hospital staff typically check the patient's reported insurance coverage before the visit. After an insured patient receives treatment for a given condition and supplies any applicable copayment, a healthcare provider or coder categorizes the nature of the treatment according to ICD-10 codes. The hospital or care facility then sends the care summary with ICD and Current Procedural Technology codes to the patient's insurance company to see what portion of the care will be covered by insurance, with the patient billed for the remainder.
Revenue cycle
The revenue cycle includes all the administrative and clinical functions that contribute to the capture, management and collection of patient service revenue, according to the Healthcare Financial Management Association (HFMA).
Here is what's involved in the revenue cycle:
Charge capture: Rendering medical services into billable charges.
Claim submission: Submitting claims of billable fees to insurance companies.
Coding: Properly coding diagnoses and procedures.
Patient collections: Determining patient balances and collecting payments.
Preregistration: Collecting preregistration information, such as insurance coverage, before a patient arrives for inpatient or outpatient procedures.
Registration: Collecting subsequent patient information during registration to establish a medical record number and meet various regulatory, financial and clinical requirements.
Remittance processing: Applying or rejecting payments through remittance processing.
Third-party follow up: Collecting payments from third-party insurers.
Utilization review: Examining the necessity of medical services.
Factors that affect the revenue cycle
As with any financial matters, there are internal and external factors that affect how revenue is collected.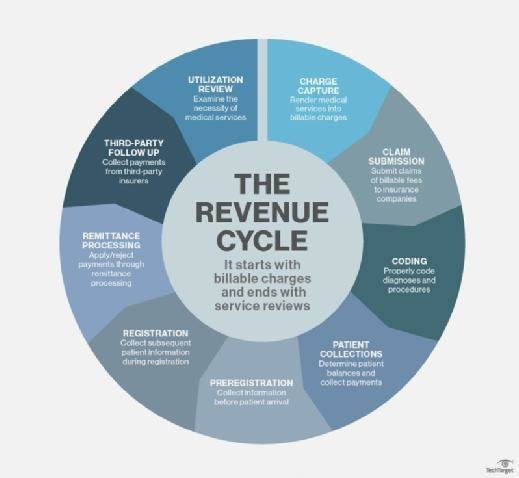 A healthcare organization can exert some control over internal dynamics, such as provider productivity, patient volume and fees for services. However, it is more difficult to influence external factors, such as patient payments or claims reviews from insurance companies.
Revenue cycle management systems
Healthcare providers often purchase and deploy designated revenue cycle management systems to store and manage patients' billing records. An effective RCM system can reduce the amount of time between providing a service and receiving payment by interacting with other health IT systems -- such as electronic health record (EHR) and medical billing systems -- as patients move through the care process.
An RCM system can also save healthcare organizations time by automating duties that were previously handled by employees. These duties include administrative tasks, such as informing patients of upcoming appointments, reminding payers and patients of an existing balance and reaching out to insurers with specific questions when a claim is denied.
RCM systems can also save providers money by giving them insight into why claims have been denied. Specifically, an RCM system can cut down on denied claims by prompting healthcare employees to enter all the information required for claims processing. This saves them from having to revise or resubmit the claim and gives providers better insight into why certain claims have been denied, thereby enabling them to rectify the issue. This also ensures that providers are reimbursed properly for taking care of Medicare patients.
An organization can purchase data analytics software and use dashboards to set and monitor revenue goals. The organization can visualize where its revenue cycle has room for improvement by sorting billing data and by producing corresponding reports.
Revenue cycle management systems now also include technologies such as cognitive computing to help ensure the correct medical codes are assigned to the correct patient, and robotic process automation to help speed up the process.
RCM and value-based care
Some experts believe that RCM systems will also ultimately help transition the industry over from fee-for-service to value-based reimbursement. The analytics involved in many of these RCM systems allow payers and providers to get a more detailed look at their patient population, such as what portion of their patient population is suffering from which chronic diseases, as well as allowing them to monitor the claims data and pinpoint any abnormalities.
This is particularly important given the Medicare Access and CHIP Reauthorization Act of 2015 (MACRA), a piece of recent legislation pushing healthcare towards value-based care and value-based reimbursement.
RCM vendors and key organizations
Prominent vendors that sell either stand-alone products or RCM systems integrated with EHR systems include:
McKesson -

one of the largest providers of medicines, pharmaceutical supplies and

health IT

products and services in the United States.

Cerner -

a company that provides various

health information technologies

ranging from medical devices to

EHR

to hardware.

GE Healthcare -

a subsidiary of General Electric Co. that focuses on new developments in health IT

such as more advanced medical imaging technology and patient monitoring systems.

ADP -

a global business

outsourcing services provider and

one of the largest payroll outsourcing providers in the world.

Epic Systems -

one of the largest providers of health IT, used primarily by large U.S. hospitals and health systems to access, organize, store and share patient medical records.

Allscripts -

develops and sells software and services to various types of health care providers.

athenahealth -

a developer of

cloud

-based practice management and EHR

systems for

small to medium-sized

physician practices and hospitals.

Dell EMC -

an American multinational technology company that offers products and services across all areas of computing, networking and storage.

Greenway Health
Meditech -

sells

health IT

used in 2,400 healthcare sites in the U.S., Canada and United Kingdom.
In addition to these vendors, another key player in the healthcare revenue cycle services space is the HFMA, a nonprofit organization that advocates for healthcare finance professionals and promotes related standards and practices.
This was last updated in
February 2017
Continue Reading About revenue cycle management (RCM)
Dig Deeper on Electronic medical billing systems