Definition
PACS (picture archiving and communication system)
PACS (picture archiving and communication system) is a medical imaging technology used primarily in healthcare organizations to securely store and digitally transmit electronic images and clinically-relevant reports. The use of PACS eliminates the need to manually file and store, retrieve and send sensitive information, films and reports. Instead, medical documentation and images can be securely housed in off-site servers and safely accessed essentially from anywhere in the world using PACS software, workstations and mobile devices.
Medical imaging storage technologies such as PACS are increasingly important as the volume of digital medical images grows throughout the healthcare industry and data analytics of those images becomes more prevalent.
Content Continues Below

Download this free guide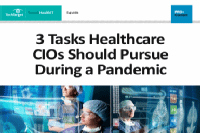 New Download: 3 Tasks Healthcare CIOs Should Pursue During Pandemic
During the COVID-19 crisis, healthcare CIOs are enabling a remote workforce and scaling out telehealth options. But they can also streamline a few processes that will help patients and providers. In this guide, you'll explore these 3 processes.
Who uses PACS
While radiologists have predominately used PACS -- radiology traditionally being the most prolific producer of X-ray images -- PACS technologies have been incorporated into other departments, such as nuclear medicine imaging, cardiology, pathology, oncology and dermatology.
Medical images are taken and reviewed for clinical analysis, diagnosis and treatment as part of a patient's care plan. The information collected can be used to identify any anatomical and physiological abnormalities, chart the progress of treatment and provide clinicians with a database of normal patient scans for later reference.
Having digital access to the most updated version of a patient's medical images, clinical reports and history can expedite and improve care, lessening the likelihood of treatment and prescription errors and preventing redundant testing. Digital access can also improve patient safety and save both the healthcare facility and the patient time and money.
Development
Nearly all the major medical imaging equipment manufacturers and medical IT companies offer PACS. This system is used to store, retrieve, present and share images produced by various medical hardware modalities, such as from an X-ray, computed tomography (CT) scan, magnetic resonance imaging (MRI) and ultrasound machines.
The modern use of PACS can be attributed to DICOM (Digital Imaging and Communications in Medicine), which is a standard protocol for the management and transmission of medical images and related data. DICOM was originally developed by the National Electrical Manufacturers Association (NEMA) and the American College of Radiology (ACR). In 1983, ACR and NEMA formed a joint committee in hopes of developing medical imaging technology standards and to facilitate the development and expansion of PACS.
PACS architecture
PACS has four major components: hardware imaging machines; a secure network for the distribution and exchange of patient images; a workstation or mobile device for viewing, processing and interpreting images; and electronic archives for storing and retrieving images and related documentation and reports.
In turn, PACS has four main uses. The technology:
replaces the need for hard-copy films and management of physical archives.
allows for remote access, enabling clinicians in different physical locations to review the same data simultaneously.
offers an electronic platform for images interfacing with other medical automation systems such as a hospital information system (HIS), electronic health record (EHR), and radiology information system (RIS).
allows radiologists and other radiology and medical personnel to manage the workflow of patient exams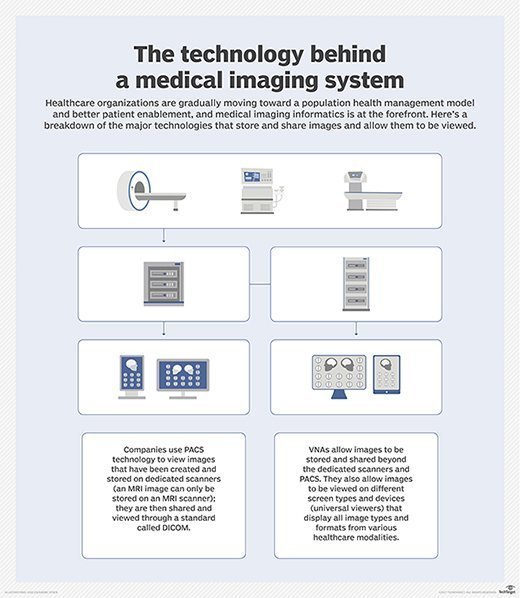 Cloud-based PACS
Imaging information systems like PACS have replaced the need to store and manage hard-copy films and reports in space-consuming shelving and rooms. Instead, medical images and non-image data can be securely stored digitally on premises or in the cloud.
Cloud-based PACS store and back up an organization's medical imaging data to a secure off-site server. This is required in the U.S. by the HIPAA Security Rule, which governs the privacy of patient information. A cloud PACS also enables medical staff to view medical imaging data from any approved devices, such as a smartphone.
Providers often use a hybrid cloud system, in which primary images are stored on-premises and backups are kept in the cloud. Additional types of storage architectures may be configured and attached to the PACS server, such as direct-attached storage (DAS), network-attached storage (NAS) or via a storage area network (SAN), each allowing for upgradeability, connectivity, improved protection against failure and added security.
Use with other medical imaging technologies
Although PACS processes are widely adopted in healthcare, vendor neutral archive (VNA) technology has replaced PACS in some healthcare settings and integrates with PACS in others.
PACS vendors employ various syntaxes within DICOM, which makes it hard for data from one system to work in another system. VNAs enable data integration by deconstructing data from an originating PACS and then migrating the data to the new system with the proper syntax.
DICOM enables imaging technologies to connect with and transfer health data to systems at other healthcare organizations. A RIS, a networked software system for managing medical imagery and associated data, is often used with PACS and VNAs to manage image archives, image orders, record-keeping and billing.
This was last updated in
August 2018
Continue Reading About PACS (picture archiving and communication system)
Dig Deeper on PACS (Picture archiving and communication system)