Definition
computerized physician order entry (CPOE)
Computerized physician order entry (CPOE) is the process of a medical professional entering medication orders or other physician instructions electronically instead of on paper charts. A primary benefit of CPOE is that it can help reduce errors related to poor handwriting or transcription of medication orders.

Download this free guide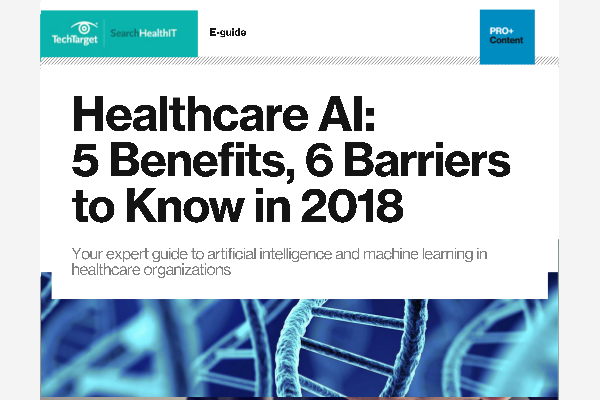 Healthcare AI: 5 Benefits, 6 Barriers to Know
AI is a popular topic in healthcare. However, hospital executives are asking fundamental questions around how and where to apply AI in its current state within their facilities. In this expert guide, learn 5 benefits and 6 barriers hospital leaders like you must know before adopting AI technology.
CPOE systems are designed to mimic the workflow of the paper chart. The time and money it takes to install a CPOE system are two commonly cited drawbacks of the technology. CPOE adoption has been slow due to provider resistance, largely because of the disruption to existing care settings and the cost of implementation, which includes CPOE training. The cost of a CPOE implementation can be in the millions, and yearly maintenance can add hundreds of thousands to that total. A CPOE implementation can be rolled out to different departments gradually, sometimes taking years to complete. The Healthcare Information and Management Systems Society's online CPOE resource lists six steps needed for an ideal CPOE implementation: initiating, planning, executing, monitoring and controlling, transitioning to operations, and optimization and maintenance after the installation is completed.
CPOE systems are often used in tandem with e-prescribing systems, which alert physicians and clinicians to a particular patient's drug allergies and current medications. CPOE systems were formerly frequently sold as standalone systems. Many electronic health record products now come equipped with CPOE modules that allow treating physicians to enter patient data electronically into text boxes and drop-down menus, rather than handwriting notes.
CPOE implementation is a major requirement for stage 1 meaningful use eligibility. According to the provisions of the Healthcare Information Technology for Economic and Clinical Health (HITECH) Act, healthcare organizations that achieved meaningful use compliance by 2011 were eligible to receive incentive payments; those who have failed to achieve that standard by 2015 may incur financial penalties. Meaningful use stage 1 criteria specifies that 30% of patients must have their medication orders entered via CPOE. Meaningful use stage 2 expanded those criteria to mandate that the same percentage of radiology procedures be entered by CPOE.
A study published in 2013 in the Journal of the American Medical Informatics Association shed light on some CPOE benefits. The study found that processing a prescription medication order through CPOE lowered the chance of an error occurring on that order by 48%. The authors of the study projected, based on the degree of CPOE implementation when the study was conducted, that 17.4 million medical errors could be avoided in the U.S. in one year.
Continue Reading About computerized physician order entry (CPOE)
Dig Deeper on Electronic health record (EHR) vendor selection