Definition
athenahealth Inc.
EHR vendor athenahealth Inc. is a developer of cloud-based practice management and electronic health record (EHR) systems for small to medium-sized physician practices and hospitals.

Download this free guide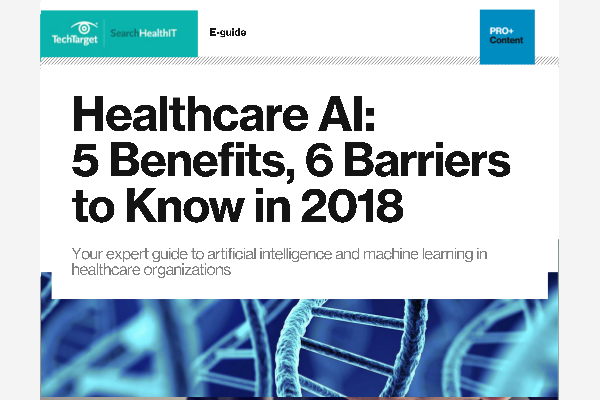 Your Instant Download: AI in Healthcare
AI is a popular topic in healthcare. However, hospital executives are asking fundamental questions around how and where to apply AI in its current state within their facilities. In this expert guide, learn 5 benefits and 6 barriers hospital leaders like you must know before adopting AI technology.
History of athenahealth
The Watertown, Mass., company's co-founders, Jonathan Bush and Todd Park, developed the onetime startup's first software in 1997, soon after buying a birthing practice in California and growing frustrated with the volume of paper records the practice generated. Today, athenahealth has more than 4,000 employees in six locations in the U.S., and one in India, and its applications are used by nearly 85,000 healthcare providers, according to the company. The company is now in the top tier of EHR vendors for the ambulatory care market -- competing with eClinicalWorks, Greenway Health, Practice Fusion and others.
Recently, athenahealth has made inroads into the small and medium-sized hospital space. In 2015, it acquired small hospital EHR vendor RazorInsights, and it forged a deal with Boston's Beth Israel Deaconess Medical Center (BIDMC) and its prominent CIO, John Halamka, M.D., in which athenahealth will adapt BIDMC's homegrown EHR for hospitals in the 50- to 100-bed category.
Bush, athenahealth's CEO and president and first cousin of former U.S. President George W. Bush, is somewhat of a health IT industry celebrity. He has been outspoken about the advantages of the cloud, what he has alleged is big EHR vendors' refusal to make their systems interoperable, and his conviction that government regulation of health IT has stifled progress and quality.
athenahealth products and services
The company has five primary software offerings:
athenaClinicals, a cloud-based EHR system for care coordination and population health; it includes Epocrates, a medical reference and clinical decision support app;
athenaCollector, a medical billing system for practice management, claims processing and revenue cycle management;
athenaCommunicator, a scheduling system for patient engagement that includes a patient portal, live operator service and automated messaging;
athenaCoordinator, designed to simplify medical order transmission and streamline care collaboration; and
athenahealth Population Health, a module for the EHR that includes data aggregation, analytics and reporting, and quality and care management.
Shaun Sutner reports: Jonathan Bush, athenahealth CEO, discusses the advantages of the cloud.
In recent years, athenahealth has developed other services, including:
athenahealth Marketplace, an app store for systems and services that work with athenahealth systems in areas including chronic care management, telehealth, patient surveys, patient screeners and quality management services;
The More Disruption Please accelerator, which provides to health IT entrepreneurs and startups programming, access to experts and exposure to athenahealth customers, as well as rented workspace and investment capital in some cases. The accelerator has locations at the company's Massachusetts headquarters and at athenahealth offices in Austin, Texas, and San Francisco.
Continue Reading About athenahealth Inc.
Dig Deeper on Population health management