Definition
wireless medical telemetry services (WMTS)
WMTS (wireless medical telemetry services) is the remote monitoring of a patient's physiological parameters, such as such as pulse and respiration rates, with radio technology.

Download this free guide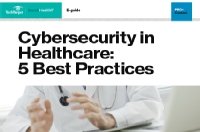 Cybersecurity in Healthcare: 5 Best Practices
The increasing number of sophisticated attacks against health groups is putting CIOs and IT pros on high alert. In this free download, delve into a Q&A with security expert David Finn on how to build a successful cybersecurity program (even with a diminishing budget) to help safeguard your data.
In a hospital setting, wireless medical telemetry not only provides the patient with mobility, it also provides the nursing staff with a more efficient way to keep an eye on their patients. As wireless sensors attached to the patient transmit data to the nurses' station or other centralized location, data can be sent on a continuing -- instead of intermittent -- basis no matter where the patient is in the hospital. Wireless medical telemetry also allows nurses to monitor multiple patients simultaneously .
In response to growing concerns about electromagnetic interference (EMI) from a variety of other licensed radio users such as emergency medical technicians or police, the Federal Communications Commission (FCC) has dedicated a portion of the radio spectrum, 608-614 MHz, 1395-1400 MHz and 1427-1432 MHz, for wireless medical telemetry devices. WMTS is approved for any biomedical emission appropriate for communications, except voice and video.
The FCC designated the American Society for Healthcare Engineering (ASHE) as its medical telemetry frequency coordinator and requires that all transmitters operating in the WMTS bands be registered with ASHE to ensure interference-free operation. ASHE maintains a database of WMTS transmitters and is responsible for notifying users of potential frequency conflicts. Although some vendor support 802.11 or Bluetooth for wireless medical telemetry devices, both the FCC and the Food and Drug Administration (FDA) encourage the use of WMTS.
Learn more:
Steps to improving wireless network implementation.
The wireless organization: Where telemetry and telehealth fit.
Continue Reading About wireless medical telemetry services (WMTS)