The International Classification of Diseases, 10th Revision, Procedure Coding System (ICD-10-PCS) is a U.S. cataloging system for procedural codes that track various health interventions taken by medical professionals.
ICD-10 replaced the ninth revision of the system in 1993, and ICD-10-PCS is a U.S.-specific clinical modification of the original ICD-10. The ICD-10-PCS code set is used in inpatient and hospital settings.
Content Continues Below

Download this free guide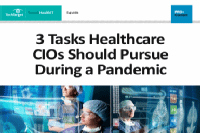 New Download: 3 Tasks Healthcare CIOs Should Pursue During Pandemic
During the COVID-19 crisis, healthcare CIOs are enabling a remote workforce and scaling out telehealth options. But they can also streamline a few processes that will help patients and providers. In this guide, you'll explore these 3 processes.
The updated ICD-10-PCS code set has more codes than the ICD-9 version, and this helps support current health information needs. ICD-10-PCS codes must be used on all Health Insurance Portability and Accountability Act (HIPAA) transactions.
Code structure
ICD-10-PCS is developed by the Centers for Medicare and Medicaid Services (CMS) in conjunction with 3M Health Information Management to track international morbidity and mortality statistics in a comparable way.
An overview of ICD-10 codes and what they represent.
The system uses three- to seven-digit alphanumeric codes to specify medical procedures. The first digit indicates the section of medical practice (surgery, administration, measuring and monitoring, etc.) and the following digits specify the body system, root operation, body part, approach and the device used. The seventh character is a qualifying digit.
The crucial first three digits of a code are stored in the ICD manual for reference. For example, a code beginning in 0C0 would be a medical/surgical procedure on the mouth or throat -- specifically, an alteration.
Example of an ICD-10-PCS code
Here is an example of what an ICD-10-PCS code looks like: 047K0ZZ.
This is the ICD-10-PCS code for the dilation of a right femoral artery using an open approach.
ICD-10-PCS vs. ICD-10-CM
The U.S. also uses ICD-10-CM (Clinical Modification) for diagnostic coding. The main differences between ICD-10 PCS and ICD-10-CM include the following:
ICD-10-PCS is used only for inpatient, hospital settings in the U.S., while ICD-10-CM is used in clinical and outpatient settings in the U.S.
ICD-10-PCS has about 87,000 available codes while ICD-10-CM has about 68,000.
An ICD-10-PCS code can be made up of any combination of numbers and letters while with ICD-10-CM, the first digit has to be either a number or letter and all other digits are numbers.
ICD-10-PCS sections
There are 17 sections to ICD-10-PCS. The sections relate to the type of procedure being performed. They are the following:
Medical and surgical
Obstetrics
Placement
Administration
Measurement and monitoring
Imaging
Nuclear medicine
Radiation oncology
Osteopathic
Physical rehabilitation and diagnostic audiology
Extracorporeal assistance and performance
Extracorporeal therapies
Laboratory
Mental health
Chiropractic
Miscellaneous
Substance abuse treatment
ICD-10-PCS guidelines
Approved by the four organizations -- the American Hospital Association, the American Health Information Management Association, CMS and the National Center for Health Statistics -- the guidelines for ICD-10-PCS are a set of rules that have been developed to accompany and complement the instructions provided within the coding system. However, the instructions provided within ICD-10-PCS take precedence over these guidelines.
The guidelines provide additional instruction to the coding and sequencing instructions in the tables, index and definitions of ICD-10-PCS.
The purpose of these guidelines is to assist healthcare providers and coders to identify the procedures that need to be reported.
Changes to the ICD-10-PCS code set for 2017
All the changes made to the ICD-10-PCS guidelines for 2017 occurred in the Medical and Surgical Section Guidelines.
Changes were made to the Body System General Guidelines section, Root Operation (removing a body part) Guidelines section and more.
This was last updated in
May 2017
Continue Reading About ICD-10-PCS
Dig Deeper on ICD-10 implementation and training