Definition
21st Century Cures Act
The 21st Century Cures Act is a wide-ranging healthcare bill that funds medical research and development, medical device innovation, mental health research and care, opioid addiction treatment and prevention, and health information technology. The legislation provides, over 10 years, $4.8 billion to the National Institutes of Health over 10 years, $500 million to the Food and Drug Administration and $1 billion in grants to states to fight opioid addiction.
The bill, known as "Cures," was approved by large bipartisan majorities in both the House and the Senate and was signed into law by President Barack Obama on Dec. 13, 2016. The Cures bill also significantly loosens FDA regulation of the development of pharmaceutical drugs and advanced medical devices and eliminates FDA regulation of low-risk health apps.
Content Continues Below

Download this free guide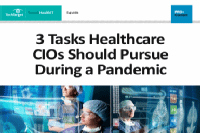 New Download: 3 Tasks Healthcare CIOs Should Pursue During Pandemic
During the COVID-19 crisis, healthcare CIOs are enabling a remote workforce and scaling out telehealth options. But they can also streamline a few processes that will help patients and providers. In this guide, you'll explore these 3 processes.
However, the act makes funding of most of the provisions contingent on Congress' reallocating money for them each year. This mechanism helped secure support from fiscally conservative lawmakers who were worried that the spending bill would further strain the federal budget deficit.
Several high-profile critics among the 31 lawmakers who didn't vote for the bill, including Democratic senators Bernie Sanders of Vermont and Elizabeth Warren of Massachusetts, criticized the bill as a giveaway to the pharmaceutical and medical device industries.
Mental and behavioral health advocates say the bill is the first major advance in a decade in funding research and treatment for people with mental illness and intervening in the early stages of psychosis, a promising development.
Some critics, though, argued that the act went too far in relaxing some privacy provisions in the name of better treatment.
Goals of the legislation
Congress intended Cures – with its broad reach across medical research and development, drugs and devices, mental health and health IT – to be a definitive step toward modernizing the U.S. healthcare system and recognizing the central roles of technology and science.
The 21st Century Cures Act focuses on innovative healthcare and medical research initiatives overseen by federal agencies.
The bill also recognizes the importance of and provides funding for cutting edge research projects such as the Precision Medicine Initiative, BRAIN Initiative (Brain Research through Advancing Innovative Neurotechnologies), Regenerative Medicine Innovation Project and Cancer Moonshot.
The 21st Century Act FDA language includes measures to streamline the design of clinical trials and expedite the approval of medical devices that have demonstrated potential to treat unmet medical needs and life-threatening conditions.
Impact on health IT
One of the 21st Century Cures Act interoperability provisions was among the law's first to be put into action, with the January 2018 announcement by the Office of the National Coordinator for Health Information Technology (ONC) of the Trusted Exchange Framework.
The law includes specific language directing ONC to set up the framework - a nationwide system for sharing health data among networks run by healthcare systems, health information exchanges, insurers and other healthcare organizations.
Some of the law's other health IT interoperability measures clarify ONC's authority to certify health IT software to ensure that electronic protected health information is transferred securely and patients have unfettered access to their own health data.
Cures also gives the government authority to bar vendors and healthcare organizations from the practice known as information blocking, or impeding the flow of health data among healthcare providers, networks, vendors and patients.
Impact on mental health
The 21st Century Cures mental health impact is considerable, according to the American Psychiatric Association.
Among other provisions, the legislation:
Establishes a new position, the assistant secretary for mental health and substance abuse, intended to coordinate fragmented mental resources across the federal government
Creates another new position, chief medical officer at the Substance Abuse and Mental Health Services Administration (SAMHSA)
Requires SAMHSA to develop a strategic plan every four years to better recruit, train and retain mental health and substance abuse disorder workers
Reauthorizes grants to support integrated care for mental and behavioral health, train mental health workers in evidence-based care, and fund college, university and professional programs to expand internships and field placement programs
Strengthens enforcement of the Mental Health Parity and Addiction Equity Act of 2008, which mandates that insurers treat mental and physiological health issues equally
History
The bill was introduced on Jan. 6, 2015 by Rep. Suzanne Bonamici, D-Ore.
The House approved the bill on Jan. 7, 2015 and Senate approved it on Oct. 6, 2015 with an amendment and sent it back to the House, which agreed to the amendment on Nov. 30, 2016.
On Dec. 7, 2016, the Senate agreed to a new House amendment, and on Dec. 8, 2017 the bill was presented to the president, who signed it into law five days later.
This was last updated in
February 2018
Continue Reading About 21st Century Cures Act
Dig Deeper on Federal health care policy issues and health care reform