News
Stay informed about the latest enterprise technology news and product updates.
Researchers use EHR data to predict opioid prescriptions
EHR data can help healthcare providers identify which patients in a hospital were most likely to be prescribed opioids after discharge, according to researchers at the University of Colorado Anschutz Medical Campus.

Download this free guide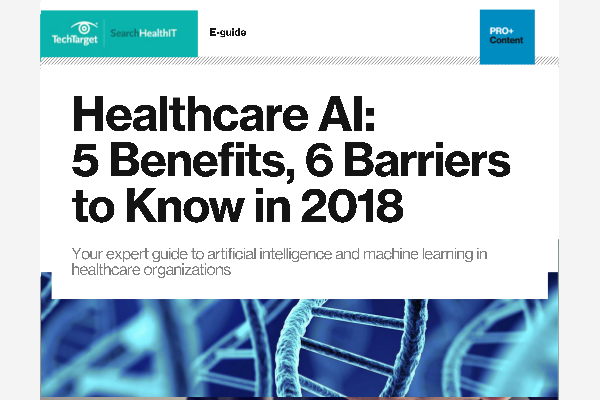 Your Instant Download: AI in Healthcare
AI is a popular topic in healthcare. However, hospital executives are asking fundamental questions around how and where to apply AI in its current state within their facilities. In this expert guide, learn 5 benefits and 6 barriers hospital leaders like you must know before adopting AI technology.
According to the Department of Health and Human Services (HHS), in 2016, more than 42,000 people died from an opioid overdose and 11.5 million people misused prescription opioids.
The researchers used EHR data from the Denver Health Medical Center that was collected between 2008 and 2014 to determine which patients were the most likely to progress to chronic opioid therapy (COT) after discharge. They defined COT as receiving a 90-day or greater supply of opioids with a less than 30-day gap in supply over a 180-day period, or as receiving 10 or more opioid prescriptions over one year.
Using that EHR data, researchers predicted 79% of future COT among hospitalized patients. They also predicted no COT correctly in 78% of hospitalized patients. Some of the variables researchers looked at were medical and mental health diagnoses, substance and tobacco use disorder, acute or chronic pain and surgical interventions while hospitalized.
The researchers concluded that a predictive model using EHR data could help clinicians "provide early patient education about pain management strategies" and "wean opioids prior to discharge while incorporating alternative therapies for pain into discharge planning." Currently, there is no predictive model to determine who will abuse opioids.
In a release, lead author Susan Calcaterra, said, "We can assist physicians in making informed decisions about opioid prescribing by identifying patient characteristics which put them at risk progressing to chronic opioid use."
Healthcare organizations and also government agencies are increasingly finding new ways to battle the opioid epidemic. Last June, HHS announced that it would award $195 million to community health centers to expand mental health and substance abuse services geared toward increasing awareness, prevention and treatment of opioid use.